Cat n Bull


North Carolina USA
Member since 2/17/06
Posts: 5530



Date: 11/24/13 9:37 AM

It has been over 20 years since I've sewn clothes for children, (besides dance costumes) and even then I only sewed for girls. Now I have a grandson and would like to make him some pajamas and a jacket, but not sure about pattern sizing anymore!

I remember the girl's sizing never seemed very accurate to me, and have no idea what today's patterns for kids are like!

My grandson is 3 1/2, tall and thin. It is hard to find clothes that fit him, he HAS to have adjustable waist pants because his waist is only 18.5", which is like a size 9 months! I made him LOTS of diapers and I always had to basically draw my own because no pre-made pattern EVER fit him even close enough to get by.

The closest to his waist measurement in a commercial pattern is the smallest in the toddler's, their size 1/2. Even that is .5" too big. Which is no big deal, but clearly the rest of him is not going to fit into that tiny size.

His chest is 20.5", pattern toddler's size 2.

His hips are 22" , smallest listed hip size is in Children's. Size 4 hips are 24".

The part that makes him even more challenging is his height, and back neck to waist measurement.

His height is 41", pattern children's size 4

His BNtoW is 10.75", which is a pattern children's 6x!

His shirts are always too short on him and he outgrows the body length before the chest and shoulders even really fit well.

So what the heck size do I get for him in a pattern????

I know if I get toddlers I am going to have to REALLY lengthen, and if I get children's I am going to have to shrink the width in significantly.

Does anyone have recent experience with commercial patterns for boys and have any suggestions for me? I am wondering if it's even worth it to try....

------
Cathryn

Michelle T


British Columbia CANADA
Member since 8/24/02
Posts: 4904
Skill: Intermediate

4 members like this.




Date: 11/24/13 10:09 AM

His shape sounds like that of my oldest son. He was tall and skinny. I made most this clothes until he went to school.

I found it is much easier to add length to patterns than to add width.

Keep in mind though that toddler pants often have extra room for a diaper.

My second son was the opposite, he was not short, but very stocky as a baby and toddler. I had to use larger sizes for the width and shorten them.

------
Proud parent of a Dwight International School Honour Roll Student

SewMentalMama

Cork Ireland
Member since 6/12/09
Posts: 41
Skill: Intermediate



In reply to Cat n Bull

1 member likes this.



Date: 11/24/13 10:24 AM

I think you should go for it & try sewing for him, if it doesn't work out well at least you've tried!

Children's sizes vary a lot between pattern companies, and many of the main pattern companies still tend to have a lot of ease in their children's patterns, in my experience.

One of my sons is a little like the shape of your grandson, and it's always been easier to lengthen patterns.

What I have noticed is that Burda patterns/magazines and Oliver+S patterns tend to have a slimmer fit, so could be worth trying. If you a nervous about sewing children's clothes again, Oliver+S have very detailed instructions and an online forum where you will also get lots of help.

Good luck

------
sewnbyangela on IG, Twitter, Flickr & Facebook


Cat n Bull


North Carolina USA
Member since 2/17/06
Posts: 5530



In reply to SewMentalMama

Date: 11/24/13 10:41 AM

Quote: SewMentalMama

Children's sizes vary a lot between pattern companies, and many of the main pattern companies still tend to have a lot of ease in their children's patterns, in my experience.

One of my sons is a little like the shape of your grandson, and it's always been easier to lengthen patterns.

What I have noticed is that Burda patterns/magazines and Oliver+S patterns tend to have a slimmer fit, so could be worth trying. If you a nervous about sewing children's clothes again, Oliver+S have very detailed instructions and an online forum where you will also get lots of help.

Good luck

Thanks! This is exactly the info I was looking for.

I couldn't find a hooded jacket pattern in Burda or Oliver+S, but I really appreciate knowing they tend to be more slim.

I am not nervous about sewing for him. I made dance costumes and prom dresses for years and burned myself out on pattern making and fittings. I just don't know if the MAJOR adjustments needed to make a pattern fit is going to prove to be more aggravating than I can take!

That's why I asked if anyone had recent experience with sizing. I REALLY appreciate you sharing yours!

------
Cathryn

Trinity.


Massachusetts USA
Member since 10/9/05
Posts: 1389
Skill: Advanced
Body Type:


2 members like this.




Date: 11/24/13 12:37 PM

This is one of the reasons I like the Jalie pattern. With all their sizes, it's easier to adjust the pattern to the measurements you need. My kids all need the patterns lengthened, too, and alot of times I can just trace the correct size for width and then extend the lines for the right length. Then I mark my patterns something like Sz N width/Sz P length. That way I know what I've done...'cuz I forget

And I agree with the other poster. burdas have less ease and a slimmer fit. I've made coats for my son and daughter (with different burda patterns) and both turned out beautifully. I don't get a Burda magazine subscription, but I don't mind taping a gazillion pieces of paper together, so I usually buy the downloads from the website or get the envelope patterns.

The Kwik Sew For Children patterns are a little dated, I think -- they tend to have 80's ease -- but I just use a smaller size and add length.

I do have a couple of Ottobre magazines (ordered one at a time off eBay) but I haven't used any of the patterns yet, so I don't have an opinion. Just mentioning them...

------
Trinity

I probably have too many sewing machines, but how am I supposed to resist when they're either free by the side of the road or people give them to me?

http://thimblesthreadsandneedles.blogspot.com/

SewMentalMama

Cork Ireland
Member since 6/12/09
Posts: 41
Skill: Intermediate



In reply to Cat n Bull

1 member likes this.



Date: 11/24/13 4:47 PM

I'm so glad my reply was helpful

A couple of hooded jackets I've seen are Burda 9828 which just goes up to age 3 & Burda 9672 which is from age 3 to 10. There's also a PDF downloadable pattern in the Kids section on the Burdastyle website.

Trinity mentioned Jalie which have a great range of sizes and a good fit. Ottobre have an excellent selection of patterns in each magazine, though I have found them to be wide fitting. Saying that, in recent issues they have included some slim-fitting boys patterns especially for trousers.

If you go with lengthening the patterns, there should be few other adjustments needed, & you'll just have to focus on not getting addicted to sewing gorgeous clothes for him

------
sewnbyangela on IG, Twitter, Flickr & Facebook


Cat n Bull


North Carolina USA
Member since 2/17/06
Posts: 5530



Date: 11/24/13 5:48 PM

Thanks Trinity and Angela!

I was looking for a hooded fleece pattern with ribbing on the bottom and cuffs, and ended up getting a pattern off eBay for $7 for one that looks very similar to the Burda 9828 instead.

I figured that is not a huge loss if I don't like it!

I still need to find pajamas, any recommendations?

I have some cute monkey flannel to use.

I can only take garment sewing in little bursts. I have been making quilts, and every once in a while I need a quick easy one day project in between intense month's long quilt projects!

Now, if I ever get a granddaughter, I will gleefully be sewing little girly clothes all the time! I still LOVE dresses.

------
Cathryn

SandiMacD


USA
Member since 2/8/09
Posts: 2563
Skill: Intermediate

2 members like this.




Date: 11/25/13 3:07 AM

I started sewing for my grandson when he was 2 as he is hard to fit in RTW- short and stocky. Take measurements whenever you get together. Start young so he gets used to it. I have taken everything- circumference of neck, chest, biceps, wrist, waist, tummy, hip, upper thighs, ankles and lengths- neck to waist (back & front), waist to shorts hem, waist to pants hem, shoulder to short & long sleeves (bend elbow) neck to ankle (for halloween costume capes) and head circ.

Make a table chart and record every 6-12 months. I can see trends and can now guess about where to add between re-measurements. We used to live 2 hours away, now we live 2 time zones apart.

Having measurements makes it easy to walk out finished pattern seams. I also keep muslins of the last size sewn. It helps when using a new pattern.

I found it so much easier to sew for my grandson- he is not picky about colors or styles. He is now 12 and still proud of what his grandma sews for him! And we have fun sewing together now when he visits in the summers.

------
sewing brings joy and meaning to my life...

Grandmomof7boys

Member since 7/13/10
Posts: 53



In reply to Cat n Bull

Date: 11/25/13 7:45 AM

As you can see from my log in name, I've done a lot of sewing for boys! The Oliver & S sleep over pattern is cute for flannel pj's. It has a nice retro look. I also like to make knit pj's for the boys, but have found it increasingly difficult to find reasonably priced, boy appropriate knit fabrics, especially for the older boys.

Cat n Bull


North Carolina USA
Member since 2/17/06
Posts: 5530



In reply to SandiMacD

2 members like this.



Date: 11/25/13 9:24 AM

Quote: SandiMacD
Take measurements whenever you get together. Start young so he gets used to it. I have taken everything- circumference of neck, chest, biceps, wrist, waist, tummy, hip, upper thighs, ankles and lengths- neck to waist (back & front), waist to shorts hem, waist to pants hem, shoulder to short & long sleeves (bend elbow) neck to ankle (for halloween costume capes) and head circ.



Make a table chart and record every 6-12 months. I can see trends and can now guess about where to add between re-measurements. We used to live 2 hours away, now we live 2 time zones apart.



Having measurements makes it easy to walk out finished pattern seams. I also keep muslins of the last size sewn. It helps when using a new pattern.



I found it so much easier to sew for my grandson- he is not picky about colors or styles. He is now 12 and still proud of what his grandma sews for him! And we have fun sewing together now when he visits in the summers.

HAHAHAHA! I guess sewing Grandmas think alike!

I have notes on my computer and sticky notes in all the drawers in my house and on my dry erase board in my sewing room of measurements of the ones I sew for!LOL! I even had the dog's measurements in a notebook.

My grandson stands and holds his shirt up when he sees me coming with the measuring tape.

I take care of him when his mom goes to school and works, and he has a sleepover every Saturday, so getting him to try something on isn't a problem.

GREAT ideas about keeping track of the measurements (besides the pencil height marks on the wall

).

I still have all my costume notebooks, couldn't get rid of them after pouring so much of my life into them. I think they

NEED

a page or 2 added for my grandson.

------
Cathryn
Printable Version
* Advertising and soliciting is strictly prohibited on PatternReview.com. If you find a post which is not in agreement with our Terms and Conditions, please click on the Report Post button to report it.
Online Class
Leather 101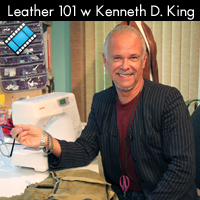 Online Class
Perfectly Fitted Shirt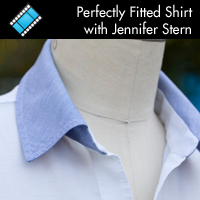 BurdaStyle Magazine 05-2009-118

by: yummymummy...
Review
McCall's 6796

by: Pattycraft...
Review
SewBaby Travel Nappers Pattern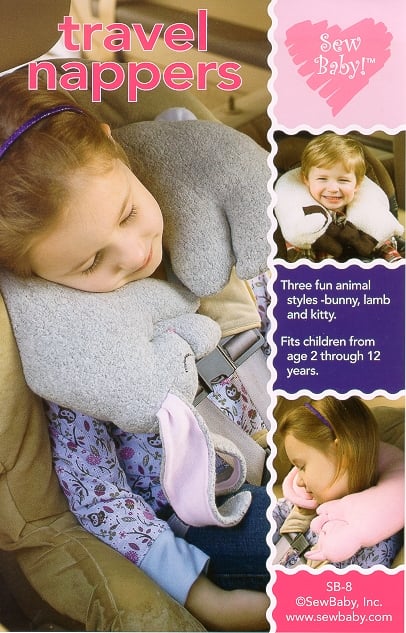 Pattern Details
Jamie Christina Hooded Scarf Pattern (JC307HS)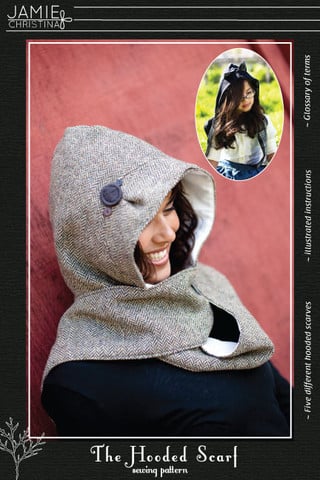 Pattern Details