Learn To Sew


Member since 4/12/05
Posts: 13580
Skill: Advanced Beginner
Body Type:


4 members like this.




Date: 12/31/13 2:20 PM

So begins my continuing saga of "will this quilt ever be done"...

This is my starting point. I look a raw edge applique class in October and decided I wanted my beach project to be more tropical than dark and gray than the original. I like tropical and brighter colors. All those browns and grays in the original project were dull and boring. Not me at all.

So for class, I changed the sky from pale blue to turquoise. The I changed the ocean from a blue/gray to the lovely blue/purple fabric. The beach colors originally were 3 colors, but I only need 2, as I put in the green foreground. I thought I was finally getting somewhere.

I cut out shapes and changed them. And changed them again and again. I am learning more about color and the value of the colors I need for the look I want. I ordered palm tree fabric, starched it good and trimmed my trees to look like trees. I am very happy with them. They will not be used for a few more weeks. They hang happily next to my quilt on the design board.

Yesterday I used invisible thread to base down the islands, hillside, ocean, the beaches and the foreground. I had a LOT of trouble with it and I am not happy with my work.

After a long chat with Cat, I will take out the invisible thread, use matching thread, top and bobbin and do them again. I'll use the foot I want (not sure which one yet), keep the feed dogs up and baste along everything. That invisible thread nearly drove me crazy. Besides, I will be set setting paints later on, and if I forget about the invisible thread, I will have a mess that might not clean up. I do not want to ruin things, so matching thread it is. I also could hand baste it.

One thing I learned from Cat this morning is I have to do it MY WAY. I have been trying to do it my teachers way, and I am fighting it every time I work on it. It is not the way I naturally do things. I have to find my way and proceed. Thank you, Cat, for your great wisdom.

------
Bernina 630, Bernina embroidery module, Pfaff 2036, Bernina 1200DA serger, Unique Sewing Cabinet 450L

Learn To Sew


Member since 4/12/05
Posts: 13580
Skill: Advanced Beginner
Body Type:


1 member likes this.




Date: 12/31/13 6:00 PM

I wrote my teacher and told her I hated the invisible thread and was taking it out. She replied that she had stopped using it a few years ago herself. Now why, after many email messages back and forth, did she not tell me this? I would never have used it yesterday.

She told me she now uses 100 silk thread. I wish I had known that yesterday before I used that invisible stuff. She also said the BSR and invisible thread do not like each other!!! No kidding; they hate each other.

I have changed the R island and I like it much better. When I turned the fabric from right side to wrong side and pinned it on the quilt, the island suddenly went back. It was amazing. The Left ones never did this, but I Saw the right one do this when I looked at it.

Now I have an hour or more of trying to rip out that nylon stuff and redo with matching thread. I will use Aurifil 50wt. That is the best I can do. Eventually I'll buy some of the silk, but for now, I will use some of that lovely Aurifil.

------
Bernina 630, Bernina embroidery module, Pfaff 2036, Bernina 1200DA serger, Unique Sewing Cabinet 450L

Cat n Bull


North Carolina USA
Member since 2/17/06
Posts: 5425



Date: 12/31/13 6:22 PM

Silk 100 is DELIGHTFUL thread! Expensive but oh-so-worth-it!

Unbelievable that the teacher failed to mention she stopped using the invisible thread also!

I am (im)patiently waiting to see the tree!

Hope you are excited this again.

------
Cathryn

Learn To Sew


Member since 4/12/05
Posts: 13580
Skill: Advanced Beginner
Body Type:


2 members like this.




Date: 12/31/13 6:54 PM

Cat wanted to see the palm trees, so I ram reposting this OLD picture. Compare it to the first one, and you will see the islands are much different. Med fabric color and not light. The islands are much smaller and more stretched out as well.

I don't like the scale of the palm trees, now that I look at them. Too large of palms. I will have to see if I can scale them down more. I need to add some yellow to the leaves as well. Not enough color tones in them. I had not noticed this before, but I can see it now.

And I squared it up some yesterday, as the extra fabric hanging off the sides drove me crazy. I could not figure out where to put things until that was done. Usually that is a final step, but not for me.

------
Bernina 630, Bernina embroidery module, Pfaff 2036, Bernina 1200DA serger, Unique Sewing Cabinet 450L

SewBusy63


Member since 12/10/07
Posts: 5494
Skill: Intermediate

1 member likes this.




Date: 12/31/13 7:35 PM

It will be beautiful when you are finished. It's a lot of work to do this type of quilt.

------
💐Diana💐

Bernina 830E 💝 1150MDA

✝The Lord is my Light and my Salvation: whom shall I fear? The Lord is the strength of my life; of whom shall I be afraid? Psalm 27:1✝


Warbler


Member since 4/15/07
Posts: 4271
Skill: Advanced



Date: 12/31/13 7:50 PM

Quote:
She told me she now uses 100 silk thread. I wish I had known that yesterday before I used that invisible thread.

I am so glad you said this because the fusible project I am working on, I am using 100 silk. I started with invisible and didn't like the look, I then test matching thread but still didn't like the finish. I tested silk and loved it. Unfortunately, it's too expensive so my project is moving slowly as I buy a couple spools when I can.

------
Janome MC6600 Bernina 240 Juki MO735 Singer 201-2 Singer 221-1

Learn To Sew


Member since 4/12/05
Posts: 13580
Skill: Advanced Beginner
Body Type:




Date: 12/31/13 8:22 PM

All the invisible thread is out. Unfortunately, I will have to re-glue in several places. Things have come up at the edges. Mainly the islands. Those are now pinned in place.

Tomorrow, I'll baste again in matching thread. I sure wish I had some silk thread now. I can see I will be buying a few basic colors in the coming year.

Which silk thread is best?

------
Bernina 630, Bernina embroidery module, Pfaff 2036, Bernina 1200DA serger, Unique Sewing Cabinet 450L

jannw


Washington USA
Member since 9/3/06
Posts: 8552
Skill: Intermediate



In reply to Learn To Sew

Date: 12/31/13 8:53 PM

JoAnn's has all thread at 50% off...there are a few colors in the silk.

Interesting to see this all come together...I thought I liked the first island on the right better...now, comparing the two, it looks like an iceberg!!

------
2009-113.25 yds
2010-115.5
2011-80.25+30+donated
2012 86.3 yds..
2013 21.0
Everyone who sews seriously has a stockpile of fabrics, because it is natural to purchase more than can be sewn in any one season" Singer, Timesaving Sewing, 1987



aslinnd


AUSTRALIA
Member since 5/28/07
Posts: 1259
Skill: Advanced Beginner



Subject: Learns Seascape Quilt Date: 12/31/13 8:56 PM

I've used YLI silk thread I bought a range of about 6 spools in neutral colors years ago, I've used them in both quilting & ME they seem very durable to me and in ME give a nice effect when combined with higher sheen threads. I only use for accents as it is expensive unless you catch on sale. I also have gutter man silk but haven't tried it yet

wendyrb

California USA
Member since 12/30/11
Posts: 3953
Skill: Advanced
Body Type:




In reply to Learn To Sew

3 members like this.



Date: 12/31/13 9:19 PM

I always love your sagas. This is priceless Miss Learn-

Quote:
All those browns and grays in the original project were dull and boring. Not me at all.

Dull???? Boring????

At least you are free of your teacher. She should get her meds adjusted and I don't say this lightly. They can really mess anyone up.

OK, on to your next post about flipping the right island fabric to the "wrong" side, but so much the right side for your piece. I only saw the original just now and was going to PM you about it. I'm so glad you softened that dark piece. There are definitely principles that are well understood for making things appear closer or further away. No question- dark or bright things come towards us and muted tones, lighter ones recede. Sharply outlined things and larger objects appear as foreground. Smaller things with softer edges appear as background. Diagonals will also help push things further back or actively move them forward. You can look in art books for this info, or take an art class in color, landscape painting, etc.

Have you seen the Craftsy class- Color Play for Quilters taught by Joen Wolfram? Her's a blurb about her-

Quote:
Joen Wolfrom has been active in the quilting and design community since 1974, when she left her career in the education field to become a stay-at-home mom. Known for her landscape textile art, free-flowing curved-piece quilts, and innovative log cabin quilts, Joen has a passion for nature-themed textile art and infusing contemporary elements into traditional designs. Joen is the author of 14 books and products that primarily focus on the role of color and design in quilting, and is the owner of JWD Publishing, a pattern company that prides itself in publishing high-quality patterns for quilters of all skill levels and interests. In addition to her published works, Joen has also led classes and workshops around the world that focus on color, design, and her innovative quilting techniques, and her work is featured in various international collections.

Maybe it could be useful for you?

Learn, you have great instincts. This is right on the money-

Quote:
And I squared it up some yesterday, as the extra fabric hanging off the sides drove me crazy. I could not figure out where to put things until that was done. Usually that is a final step, but not for me.

To compose a well-proportioned picture, it must have a border as a reference point. From the get go. You will really develop your eye if you put your work into a "frame". If you don't want to trim off things too soon, and I wouldn't, use masking tape where you think the finished edges will be. You can move it in or further out to "crop" where your picture looks best. I'd experiment with placing the edges as you work to get what you like. You may already be standing well back from your work to get a sense of it. If you took close up, you don't get the benefit of peripheral vision. I had a teacher who said squint and observe the masses. Whatever works to not scrutinize all the tiny details until you have to big picture working for you. These are all things artists do to develop and change their work in the creative process. You just happen to be working with textiles, rather than with charcoal or paint.

------
Always keep your words soft and sweet, just in case you have to eat them. Andy Rooney

Pfonzie- my honey Pfaff Creative Performance and Pfaff Passport, Bernina 930 and 830, Evolution and Enlighten sergers
Printable Version
* Advertising and soliciting is strictly prohibited on PatternReview.com. If you find a post which is not in agreement with our Terms and Conditions, please click on the Report Post button to report it.
Online Class
Beyond the BoatNeck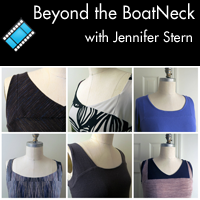 Online Class
Perfectly Fitted Shirt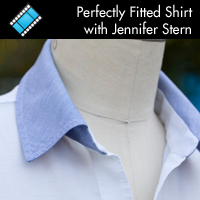 Peek-a-Boo Pattern Shop Open-Toe Slingbacks

by: schmammy
Review
Victoria Jones Collection Misses' Traditional Muumuu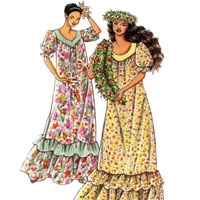 Pattern Details
Islander Sewing Systems Details Express Shirt (Size 1X-4X)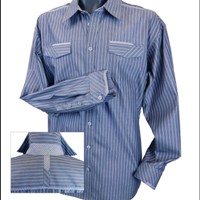 Pattern Details
Butterick 5846

by: MayenDesig...
Review