LisaInAlabama


USA
Member since 7/10/13
Posts: 1395
Skill: Advanced Beginner

7 members like this.




Date: 1/4/14 7:58 PM

I'm close to obsessed about learning more about organizing. I've watched those shows on TV, I've read the books, I've looked at everyone's sewing room photos, but it seems to me like a lot of the sacred principles of organizing need exceptions in the sewing room and often conflict with each other. I'd like to see a thread where we talk about how they apply -- good, bad, and the trade-offs we have to think about to use them.

There are lots of great threads that talk about concrete things to do to get organized, but I can't find a 'theory' thread.

If others are interested, I'll try to keep the OP (original post) edited to list the principles as we discuss them and give a pointer to discussion on that topic elsewhere in the thread or in other threads.

To get us started, I just threw some things together:
1. Plan periodic purges: Throw it out or donate it if you haven't used it in 6 months. (But what if I haven't quilted in 5 years but want to this year!?!?)
2. Use vertical space vs. I don't want to see the clutter.
3. Store often used tools near to hand where you need them, and store less often used tools out of sight. This can be contrasted with the 'no duplicates' rule.
3.5 If things you don't use are in the way when you try to get to things you do use, rethinking and moving things are necessary.
4. Have an index of what's on which shelf, in which bin, hidden in closets or in stacked tubs, etc.
5. Work on one or two projects at a time, then clean up the area and put everything away. (Do they even *think* about how most people sew?!?!?)
6. Use containers -- keeping things out and about leads to disorder.
7. Clean up at the end of every sewing session, every day, every project vs. I need to use my precious minutes actually sewing.
8. Use a standard unit of storage -- same size tub, box, or other container so that they'll all stack and all fit interchangeably into racks or other container holders. What is gained here is the ability to use all available space in an orderly fashion. However, the problem comes when the things stored are of vastly different sizes.
9. Label everything -- labels that are wrong or misleading are worse than no labels at all.
10. Store like items together. Store items used at the same time together. Store items of the same size together. -- Well, I guess we have to pick one or hybridize?
11. For an organizational system to work, it has to be at least as easy to put something away as it is to get it out. I would add that it would be very nice if it's as easy to put something away as it is to lay it down where you last had it, but that might require Rosie the robotic maid to come along behind me every few seconds, and I don't think I'm going to live long enough to meet her.
12. Use hooks on backs of doors and other hidden but easily accessible spaces for smaller things you might need to access in a hurry.
13. Whatever organizational system you choose must work with the space you have. Two different spaces might require two different concepts, the same way two different personalities do.

I'd really like to hear your thoughts and other organizational rules you believe in!

Edited to add to list.
-- Edited on 1/4/14 10:16 PM --
-- Edited on 1/4/14 10:36 PM --
-- Edited on 1/4/14 11:02 PM --
-- Edited on 1/5/14 2:41 PM --
-- Edited on 1/5/14 4:20 PM --
-- Edited on 2/28/14 9:55 PM --

------
I've been doing machine embroidery for 11 years, but I'm definitely a beginner at garment sewing.

UFOs completed in 2015: 4
Projects started recently completed in 2015: 56
Yards bought in 2015: 107.5
Yards sewn up in 2015: 71.3

LisaInAlabama


USA
Member since 7/10/13
Posts: 1395
Skill: Advanced Beginner

2 members like this.




Date: 1/4/14 8:00 PM

In this 2nd post, I'll try to keep a list of links to other threads that are really applicable:

Favorite Organizational Tips

------
I've been doing machine embroidery for 11 years, but I'm definitely a beginner at garment sewing.

UFOs completed in 2015: 4
Projects started recently completed in 2015: 56
Yards bought in 2015: 107.5
Yards sewn up in 2015: 71.3

TessKwiltz


Texas USA
Member since 9/21/07
Posts: 1624
Skill: Intermediate

17 members like this.




Date: 1/4/14 8:36 PM

There are two distinct types of people: clean space people, who are stressed by clutter, and people like me. If I can't see things I don't remember that they're there. My best filing system at work were vertical files that sat in bins on my desk. Once I file it away in a drawer it might as well be gone.

This causes a lot of conflict when clean space people try to 'help' me. They cannot relate and they don't know that they shouldn't try. It's really bad when the clean space person is my manager and convinces himself that my problem is my workspace is too cluttered because it would stress him out to work there.

I am a vertical storer on open shelves. Related items are sort of grouped together. I favor open-top bins and clear bins with removable lids.

That list of rules cracks me up. Definitely not written by a crafter. If I haven't used something for six months it probably means I forgot I have it

Edited to correct typos

-- Edited on 1/4/14 8:39 PM --

------
Tess

"I am a degenerate art supply junkie" - Jane Davenport

LisaInAlabama


USA
Member since 7/10/13
Posts: 1395
Skill: Advanced Beginner





In reply to TessKwiltz <<

5 members like this.



Date: 1/4/14 8:46 PM

That is exactly the kind of thing I'm thinking about! I think sewing rooms need to be optimized for the person(s) working in them.

I can't figure out if I'm a clean space person or a clutterer. Maybe I just flip back and forth between.


There is a lot to be said for being able to see the things you need to do the work. But there is also a difference between visual clutter where you know where everything is or can find it quickly and piles of clutter where I have to dig through it because I have no clue where I last used something.

I'm trying for a happy medium, I think.

Thanks for sharing your thoughts. You've really nailed one problem that bothers me!

------
I've been doing machine embroidery for 11 years, but I'm definitely a beginner at garment sewing.

UFOs completed in 2015: 4
Projects started recently completed in 2015: 56
Yards bought in 2015: 107.5
Yards sewn up in 2015: 71.3

SewPaula


Missouri USA
Member since 2/18/04
Posts: 461
Skill: Advanced Beginner
Body Type:


5 members like this.




Date: 1/4/14 8:53 PM

Interesting topic. I am looking forward to what other people have to say.

I am in the middle of putting up a pegboard in my sewing area now to store my scissors, hoops, etc close to my cutting table and more pegboards to put my thread racks near my sewing machines. I like clean surfaces and always clean up my area before I start a new project but I like having my tools where I can see them. I actually find it comforting and inspiring to look at them.



------
If I were a sewing machine, all I would have to do is lift up my foot and all my tension would be gone.

Sewing with my lovelies: Pfaff Performance 5.0, Pfaff Ambition 1.5 Kenmore 385.19365, Babylock Imagine and BLCS, 4 Brothers (PE150, PE770, 1034D, 2340V), and a chorus of vintage Singers

LisaInAlabama


USA
Member since 7/10/13
Posts: 1395
Skill: Advanced Beginner





Date: 1/4/14 9:01 PM

Congrats on getting the pegboard. I've looked at that option, but hubby bought it for his workshop and was disappointed, so I'm still considering.

I'm with you -- I like to see my tools and things needed quickly.

------
I've been doing machine embroidery for 11 years, but I'm definitely a beginner at garment sewing.

UFOs completed in 2015: 4
Projects started recently completed in 2015: 56
Yards bought in 2015: 107.5
Yards sewn up in 2015: 71.3

Restart06


USA
Member since 10/29/06
Posts: 2496
Skill: Intermediate

3 members like this.




Date: 1/4/14 9:06 PM

I second those Art Bin containers of various depths. I keep my to do projects and UFOs projects in them. In fact today I found several quilt projects that haven't been started in them when I was organizing. There are so many ways to organize depending upon your budget, taste, space etc. I just get things organized, then poof it isn't anymore with ufo everywhere!!

------
There is no easy way! quote from my Grandfather
Sharing is caring!








Warbler


Member since 4/15/07
Posts: 4052
Skill: Advanced

8 members like this.




Date: 1/4/14 9:20 PM

I went through a major reorganization of my sewing room last winter and it has been a huge help to keep me productive. In your original post # 7 for me is a hard one, but I have developed a fun way to put away works in progress that can easily be tucked away and brought back out for more work. I use plastic or paper shopping bags! Not the grocery type but the nice boxy type. My local quilt store uses these... well as shopping bags, but I've collected a dozen or so and they hang very easily in a closet so I can easily stow a project away if I want my room looking nice and tidy. Everything that goes with the project goes into the bag, like thread, pattern, fabric, templates and other supplies that are project specific. If I want to work on several projects over the course of the week then it makes this very very possible. The only items that will not go into the bags are things that are used regularly and are a part of my sewing table. I have drawers where regular supplies are stowed and so I always can find them because I always return them.

Changing behavior is the hardest thing to overcome when developing good organizational skills. Some of us have those skills hard wired in and some of us don't. I tend to be between two worlds and can swing either way. But having a system of behavior as well as a physical plan that makes it easy to accomplish successfully.

As for the rest of my sewing organization... my room is very tiny and so last year I had some shelves installed, so everything is within reach. I use magazine holders to keep thread charts, paper foundations, template plastic, etc. stuff that looks like clutter if left out. I have Super Satchel boxes for thread, a cart for all my pressing supplies. Completed projects don't hang around long enough to be a problem. Fabric is kept in dressers organized by color and only a few pieces have their own storage. I also like to look at Pinterest and Ikea for ideas.

------
Janome MC6600 Bernina 240 Juki MO735 Singer 201-2 Singer 221-1

LisaInAlabama


USA
Member since 7/10/13
Posts: 1395
Skill: Advanced Beginner





1 member likes this.



Date: 1/4/14 9:38 PM

Project organization is really an issue with me. I have some that have so much fabric they need a bathtub-sized container, others where I've just started looking at pattern pieces and comparing them between different patterns, others that are small enough to fit into a manila envelope.

Which size of the Art Bin containers do you use for your projects? Are the ones you use all the same footprint, just different depths? Do they nest?

I'd never noticed that brand was different from the others. What do you like about them that, say, you don't find in the off-the-shelf items at Wal-Mart or the neighborhood hardware store?


Quote:
then poof it isn't anymore with ufo everywhere!!


Are you looking over my shoulder!?! That is *so* me!


------
I've been doing machine embroidery for 11 years, but I'm definitely a beginner at garment sewing.

UFOs completed in 2015: 4
Projects started recently completed in 2015: 56
Yards bought in 2015: 107.5
Yards sewn up in 2015: 71.3

dmh1


North Carolina USA
Member since 1/13/13
Posts: 1460
Skill: Intermediate
Body Type:






3 members like this.



Date: 1/4/14 9:40 PM

I've got my sewing room divided with fabric in Ikea expedit shelves (folded on the comic book boards from Amazon, with the fabric details on labels on the boards) on one side and all my notions/scraps in expedit shelves on the other side (in assorted bins and boxes, all labeled). I've got two of the grundtal rails (also from ikea, see link ) screwed into the expedit shelves with hooks to hold assorted scissors, rotary cutters, and rulers, above where I keep my ironing board out with my gravity feed iron setup in the corner. I've also got one low ikea tabletop for my sm/serger and a tall ikea tabletop with my cutting mat on it. My tabletops are black, but I have a separate white tabletop that I put on top of my cutting area for when I'm tracing. My tracing paper stays off to the side on a roll holder gizmo I got from amazon. Oh, and all my binders with pattern envelopes, indie pattern lists, tutorials, and sewalongs stay on top of two of the shelving units. The actual patterns are in file boxes (labeled as big four or indie, with a box number noted for cross-referencing with my binders that have the pattern envelopes) underneath my cutting table. Oh, and I keep a list of patterns, fabrics, and threads in OneNote on my PC. My thread stays in the closet in the doublesided plastic thread containers from WAWAK. I find this setup very functional and easy to keep tidy while knowing where everything is.

------
Michelle

Printable Version
* Advertising and soliciting is strictly prohibited on PatternReview.com. If you find a post which is not in agreement with our Terms and Conditions, please click on the Report Post button to report it.
Online Class
All About Buttons and Buttonholes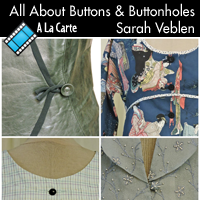 Online Class
Beginners Guide to Dyeing Fabrics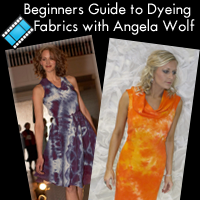 Go To Patterns Anywhere Dress

by: Deepika
Review
Favorite Things The Frayed Jacket Pattern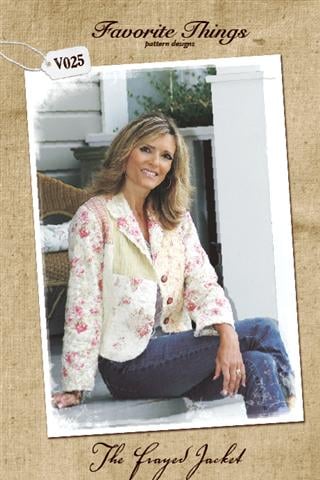 Pattern Details
Sewing Workshop Hudson Top & Pants Pattern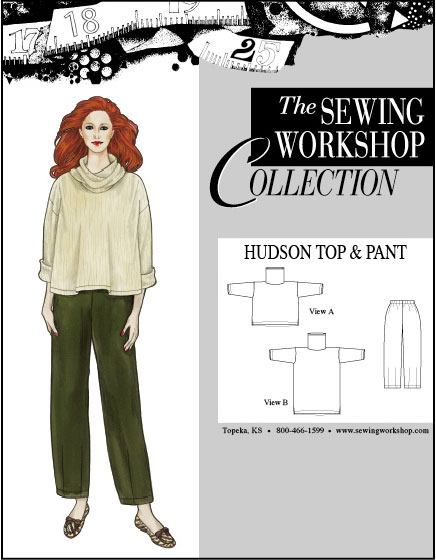 Pattern Details
Simplicity 2341

by: sewingsill...
Review