Changma


New York USA
Member since 2/20/12
Posts: 942
Skill: Advanced Beginner

6 members like this.




Date: 1/7/14 9:08 AM

Home sick (again!), and thinking...I am still only an advanced beginner, for sure, but certain things have definitely become easier. And some things seem to get more difficult the more I sew!- Perhaps I am just becoming harder on myself, something that might be typical the more one sews. Anyway, here's my list:

+: Sleeves are getting much better, actually EASING in general, a lot less of the "gathered-sleeve" look.
Much improved pattern matching with stripes, plaids, et al.
Working errors into the design- I'd have to get better, or I wouldn't be finishing anything!
Draping- actually, I'd always been good at draping; not professional, but good enough to drape a couple of skirts.
Cutting out evenly-see " working errors into the design" above.
Adapting patterns-sleeves, collars, top into dress; I am pretty good at "free-handing" this.
Lining and interlining a dress, even with silk...kind of impressed myself!

-: I used to have no fear of any pattern; now I am very conscious of the skill level. Doesn' t mean I won't try it, just that it makes me uptight.
Interfacing- my downfall! No matter what type of interfacing, my collars bubble. Not right away- looks perfect when I iron it on, and I make sure it cools off before I do anything with it, but still...Any help out there?
Time...I used to decide I was going to make something, and, poof, it was done! Now it could be weeks between cutting or tracing out the pattern, cutting the fabric, and putting it all together. Age and responsibilty, I think.
Pattern choices, and not even size-wise: the body I have at 55 is not the same as the one I had 5 years ago, so the styles can't be the same. And I never was one to dress yoing, but now I really have to check the style appropriateness.
Spending...notions, patterns, fabric, machines,Craftsy classes, books, fabric, supplies, patterns, fabric, patterns...notice a trend here? Never the most expensive, but I love most of my machines, like the others, and have rarely paid full price for any fabric, notion, supply, book, pattern, or class. I am ALWAYS looking for a good deal. I'd love to put the good deal part on the plus side, but then it would negate this minus, so here it stands.

Sorry for the lengthy missive, but it takes my mind off feeling crummy. I'm sure there are more, especially minuses, but having trouble concentrating. Please share your plusses and minuses, too.




RipStitcher


Member since 5/28/12
Posts: 2990
Skill: Advanced

6 members like this.




Date: 1/7/14 9:53 AM

Awwww.... ..... I hope you feel better!

I got up to my first cup of coffee this morning to find your post. You made me smile.

It seems you have fully embraced the sport of sewing! You're in it for the hunt (finding those deals can be challenging!)

So even with your plus and minus list in mind, the big question: Are you having fun???

------
Video of how the Bionic Gear Bag works is here: www.BionicGearBag.com
Neglected personal blog is here: www.RipStitcher.com
Share pics on Instagram: RipStitcher

Bernina 880 Sterling Edition, Bernina 550qe, Bernina 350SE Dragonfly
Babylock Ovation Serger & Babylock Sashiko
Pfaff Passport

Granddaughter: Bernina 560

& a new Sewmobile is now getting rehabbed! - see my last #sewmobile in Instagram

GlButterfly


California USA
Member since 8/28/08
Posts: 3596
Skill: Intermediate

2 members like this.




Date: 1/7/14 1:13 PM

Stress the positives! As far as all of that purchasing, you will use/need those items and thus will have them already at hand.

Interfacing collars: I always use sew-in. Old fashioned perhaps but no bubbling. I've not had much luck with iron-on either.

------
That's Gl = for Gloria, not G. I.

EleanorSews


Board Moderator
Member since 7/26/07
Posts: 5135
Skill: Advanced
Body Type:


16 members like this.




Date: 1/7/14 2:06 PM

I am very good at
1. Planning projects for myself
2. Putting off getting them started, let alone sewn

;-(

------
"We don't see things as they are, we see them as we are." Anais Nin

"Attitude is the difference between an adventure and an ordeal." unknown

sewdance

Michigan USA
Member since 10/18/04
Posts: 453
Skill: Expert/Couture

4 members like this.




Date: 1/7/14 2:20 PM

I'm very, very skilled at the same things as Eleanor!

Anne
-- Edited on 1/7/14 2:21 PM --

Kwaaked

Member since 9/25/12
Posts: 1183
Skill: Beginner

3 members like this.




Date: 1/7/14 2:52 PM

The trick to anything, and considering I used to do things I had no idea what I was doing, was to take it one step at a time and go slow. Most of the time, I get the results I want.

Now I make sure I understand how it's supposed to be done before sewing it, but it's still the same way.

Interfacing: I have iron on, but I tend to use sew in or organza.

mastdenman


California USA
Member since 1/12/04
Posts: 6223
Skill: Intermediate

3 members like this.




Date: 1/7/14 11:34 PM

It's not you. It's the interfacing. You can use self fabric for interfacing. It always behaves. I hate hems and buttonholes. I have no idea why.

------
Marilyn

January 2009 to January 2010 81 yards out and 71yards in January 2010 to the present 106.7 yards out and 146.5 yards in. January 2011 to the present: 47 yards out and 69 yards in.


wendyrb

California USA
Member since 12/30/11
Posts: 3723
Skill: Advanced
Body Type:






6 members like this.



Date: 1/8/14 0:42 AM

Feeling any better yet? I sure hope so.

Quote:
Home sick (again!)

I read that and thought- oh poor Maria's homesick. About ratings, guess I'm an advanced beginning reader. The PR Skill-Level Ratings are probably a shaky fit for most folks. For goodness sakes, you've just completed a batch of good looking tops and did you say 23 wallets for your 4th graders? You're doing great!


Quote:
Spending...notions, patterns, fabric, machines,Craftsy classes, books, fabric, supplies, patterns, fabric, patterns...notice a trend here?

You need to file this in the + column. You're not spending, you're investing in your education. You're an educator and know that's invaluable.

Interfacing- you've gotta use the best. Try Pam Erny's Interfacing

The more you sew, the more your eye will be trained to see and discriminate. This is how you can refine your skills, or simply appreciate what you've been accomplishing along The Way.


------
Always keep your words soft and sweet, just in case you have to eat them. Andy Rooney

Pfonzie- my honey Pfaff Creative Performance and Pfaff Passport, Bernina 930 and 830, Evolution and Enlighten sergers

SandiMacD


USA
Member since 2/8/09
Posts: 2563
Skill: Intermediate

1 member likes this.




Date: 1/8/14 7:39 AM

Pluses and minuses- love it!

Things do seem to take longer with me too. Now days instead of hours and hours instead of minutes and weeks instead of days.

Don't know why. I reached a peak of being fussy, years ago so that's not it anymore. I am much less concerned about perfection- whic used to eat up my time. Now if I make a mistake, its more about being creative and coming up with a solution. Also, I think I do a lot more planning and have more indecision as the process moves forward.

When I only saw one way of doing something I just did it and it was over. Now I see option A, B, or C and sometimes creative variations and then something else. By then I have either ruined it totally or I'm done and very pleased.

So yeah, with experience, for me it just takes more time.

------
sewing brings joy and meaning to my life...

Lizz


Member since 10/10/03
Posts: 303
Skill: Advanced
Body Type:


1 member likes this.




Date: 1/8/14 1:33 PM

Don't let the interfacing get to you. I use Bosal and really love it. The trick is to PRESHRINK! I do a yard or so in the tub or smaller bits with my steam press. No more bubbles. Also, reading the directions never hurts! :)
Printable Version
* Advertising and soliciting is strictly prohibited on PatternReview.com. If you find a post which is not in agreement with our Terms and Conditions, please click on the Report Post button to report it.
Online Class
Sew a Designer Unlined Jacket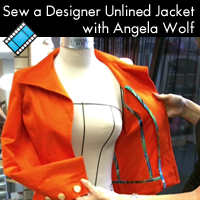 Online Class
Perfectly Fitted Shirt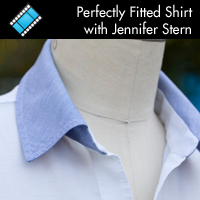 No Pattern Used Shapla Ruffle Skirt

by: peaceykeen
Review
Simplicity 2892

by: smarttart
Review
SewBaby Easy Pieces Pants Pattern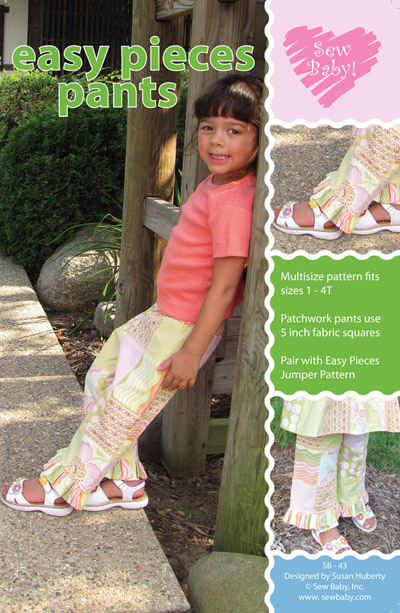 Pattern Details
DVD - Will this fabric work for you?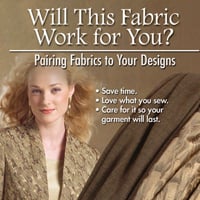 Pattern Details