drpepperholik

Member since 1/8/14
Posts: 10
Skill: Advanced Beginner

1 member likes this.




Date: 1/10/14 12:52 PM

Hi, I'm new to Pattern Review and I'm trying to decide which machine to get for my budget. I need under $200 and I'd like features including built in stitches for quilting, applique and general sewing. I want a blanket stitch and satin type stitch. I'm planning on doing free motion quilting so a drop feed feature would be fantastic as would a needle up/down button. I've looked at Brother and found the XR9500PRW to have the features I like and be in my price range but I am worried by some online research and a local dealer who told me Brother has 2 different lines, one for dealers and one for big box stores. I don't want the thing to beak and then cost an arm and a leg to fix. Also, is a computerized one better or worse than mechanical ones? I've heard the mechanical ones are better for long term use. Thanks in advance!

Soolip


California USA
Member since 6/18/08
Posts: 2476
Skill: Advanced

8 members like this.




Date: 1/10/14 1:32 PM

It is physically impossible for a mechanical machine to produce a true blanket stitch, so you will have to go computerized if this feature is absolutely crucial. A blind hem stitch on a cam-driven mechanical can be close, sort of.

That said, $200 will not buy you much in the way of quality. You can certainly purchase a machine from WalMart or Target for less than $200, but should one of these break, it would be cheaper to just buy a new one rather than pay for a repair.

You could go with a vintage mechanical. You'd definitely get more for your money. Keep in mind a vintage machine may need a tune-up or repairs ó intially. Generally they last a very long time and are usually trouble-free. If you have the knowledge and ability to condition and repair mechanical machines yourself, the performance vs. price ratio is quite attractive.

PattiAnnJ


Ohio USA
Member since 12/3/06
Posts: 9027
Skill: Advanced

4 members like this.




Date: 1/10/14 2:17 PM

Check out all the local dealers for slightly used machines. Do test drives to see how they handle your wish list.

Send an inquiry to Brother about dealer vs big box store to see what they say about the factory producing two versions of the same model so one can be sold at a big box store for less money.

It would seem to make more sense that the merchant who purchases mass quantities, has no designated sales staff or repair tech on the payroll would be able to offer the lowest price.

------
"Improvise, adapt and overcome." - Clint Eastwood/Heartbreak Ridge

"Isnít it a shame in todayís world you canít tell the truth. If you tell the truth youíre abrasive. If you lie youíre charming." - Bob Huggins/College Basketball Coach

drpepperholik

Member since 1/8/14
Posts: 10
Skill: Advanced Beginner

1 member likes this.




Date: 1/10/14 2:33 PM

I will send the company an email about that. I am curious what the differences are between dealer machines and big box ones.

Unfortunately I do not have a big box store near me that sells sewing machines other than Joann's which only sells Singer so I will have to buy online. There is one dealer in town. The neighbor city has some other dealers who sell Babylock, Juki and Janome all of which are outside my price range from looking online.

I've checked out Craigslist for machines near me that might be vintage but all I find is treadles.

Mufffet


Vermont USA
Member since 8/14/05
Posts: 13385
Skill: Intermediate



In reply to drpepperholik

4 members like this.



Date: 1/10/14 3:01 PM

Those dealers may have quality used machines which can do what you want to do. It is surely worth seeing if this is the case. I am not a huge vintage fan myself, but that can be an option, as others have said.

I very much doubt that manufacturers have two lines of machines. What they have is two or more levels of quality that they sell from bottom line on up to the real top of the line - we are talking price here, not necessarily quality of sewing. All the manufacturers make bottom line price machines, but the difference is in that bottom line price range. An Elna at the bottom of the price range is an excellent buy, and a Janome at the bottom is usually a really good machine. But, buy a full sized machine and you get better results than a smaller machine.

Go see what is in the dealers stores. Most of them have trade in machines for sale. Craigslist is one of those things - could be ok I guess but you are on your own there, and for the most part, if yours is like mine, it is mostly junk. Some people seem to get deals, but I prefer to buy from somewhere I can go back to and get service, and that can be a good online dealer as well. ;)

Good luck, and keep us posted.

-- Edited on

1/10/14 3:02 PM

--

------
"Be kind whenever possible. It is always possible."
--Dalai Lama

I have sewing machines

beauturbo

California USA
Member since 5/2/09
Posts: 5256
Skill: Advanced

3 members like this.




Date: 1/10/14 4:25 PM

If you want a blanket stitch for applique and turning corners and such, or cording something, or using with a wing needle, make sure to sew out all the blanket stitches in it too. And really watch how the needle really goes to form each one. Just since some are a lot better for somethings than others. Sometimes that is just a single layer of thread for the sort of "L" movement, sometimes several threads doubled over each other with back and forwards movement in several passes, and all sorts of different ways actually, so it does make a difference in metering corners or how easy that is to do, ( a more simple less stitches in it one) and also if using a wing needle with it, if it's going back and forth a few times on top of it's self, then I think more likely to hold your wing needle holes open later on too and look more pronounced that way.

If you got several of them, most times no way to even tell that kind of stuff, or just how it's going to sew out, by just looking at some icon or some printing painted on the front of the machine or such, you really do have to sew those out if you got several of them or even just one of them, to see what it's really doing when it makes that blanket or pin stitch.

tgm and Kittys


Wisconsin USA
Member since 3/8/10
Posts: 8594
Skill: Advanced Beginner



In reply to drpepperholik

2 members like this.



Date: 1/10/14 4:40 PM

Welcome...

You may like a Janome 2212, they are under $200 & I have had very good experience with mine. It is a good mechanical. Vertical bobbin, easy to choose & change stitch dials. I have sewn light weight & heavier fabric like fleece, make kitty beds... I have been happy with it. Maybe a Janome might be good. ...please keep us posted.

------
Remembering The Babykins ..11/2/03 - 3/7/16
I love you oh Baby I do, I love you oh Baby I do I do.
She's my Baby & I'll love her if I want to, love her if I want to.... you would love her too she's the Baby ...
I miss you an awful lot my Babykins...
5/7/16 2 months already..>^^
Lord please take care of my much loved kitty.



Brotherlover


California USA
Member since 10/7/07
Posts: 684
Skill: Intermediate



In reply to drpepperholik

3 members like this.



Date: 1/10/14 6:15 PM

Not true, they are the same machine, you are paying extra for dealer support, the machines for costco, joanns, and walmart are all the same. Same model number same insides no matter where you purchase it, be it online, big box store or dealer. This is essentially why I will not purchase a low end at a dealer as they are way more expensive at a dealer. If you are concerned you can contact brother directly.

------
Brother XL-3500i
SQ-9050
Dreamweaver VM6200D

bestgrammy


Oregon USA
Member since 8/29/06
Posts: 3555



In reply to drpepperholik

2 members like this.



Date: 1/10/14 6:32 PM

Hi...how are you...having a good start to the New Year? And...welcome to PR...glad to meet you.

I wish there was a way to take the worry out of a sewing machine breaking and costing an arm and a leg to fix.

A sewing machine tech's time and knowledge are valuable even if the repair is minimal...although I do think that $100 for a general service...cleaning, oil and lube...is steep...but generally that is the going rate whether it's a $10 thrift store find or an expensive dealer's exclusive. On the other hand, some PR members have posted that their local tech refused to work on a low cost online purchased sm. Best to check that point with your local dealer before you order a sm online. Also...is that place a Brother authorized repair service?

I don't think the dealer means that a sm mfg makes two versions of the SAME model sm...one that is cheaper made to be sold online and at big box stores...and one that is better made to be sold at dealers. I think there are models that are made for mass sales that are made as well as they can be made for the price they are sold for...and there are OTHER models that are made for exclusive dealers's sales which cost much more...sometimes much much more...because they are feature rich models and because of the dealer's continuous one on one customer service. So in that way...there are "two lines".

Looking for vintage sms at thrift stores, Craig's List etc. is a big waste of my time and $. Just because something is very old does not mean it's good. I admire those who can find vintage treasures for a song...but that is not my luck nor skill.

Luck and skill is a big factor in such an endeavor. After many years of looking I got an early 70's Singer at Good Will...which turned out to be a money pit and still is near its last stitch. And how would *I* know until I saw with my own eyes that it has no internal metal framework...that all its inside bits and pieces are simply screwed into its plastic casing...much like the low cost Brother sewing machines of today which are looked down upon for such internal design.

If a Brother XR9500PRW is the one you may order...consider where you are ordering...for instance check Amazon's return policies:

Amazon Return Policies

and

About Amazon Return Refunds

Read the return/refund policies of Wawwak for comparison.

Link:

Wawak policies
-- Edited on 1/10/14 6:43 PM --

cherilindsey

Texas USA
Member since 9/2/09
Posts: 116
Skill: Advanced Beginner
Body Type:




In reply to drpepperholik

4 members like this.



Date: 1/11/14 1:34 AM

I just bought one of these from Amazon for my grand-daughter's first machine. Took it out of the box today and was really pleased with the machine in general, and the features. For $149 she gets 100 built in stitches, semi-auto needle threader, quilting table, free-arm, hard plastic cover, and some alphabetic stitching (not true monogram, but useful). The machine is easy to use out of the box with very few things that I had to refer to the manual for, very user-friendly.

I wish someone had given me one for my first machine. LOL It is made of plastic, just as all the cheaper, computerized machines are these days but it will be serviceable for simple sewing, mending her childrens' clothing, and machine quilting. I think it was a good buy. Can't wait till she sees it tomorrow! She doesn't know she's getting a new one.

------
Babylock Ellisimo Gold
Babylock Ovation
Brother PR1000E
Brother Innovis-1500D
Brother Innovis-1250D
Singer Fashion Mate 362
Printable Version
* Advertising and soliciting is strictly prohibited on PatternReview.com. If you find a post which is not in agreement with our Terms and Conditions, please click on the Report Post button to report it.
Online Class
Break your Serger Out of the Box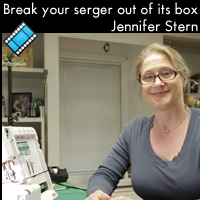 Online Class
Clone Your Favorite Garment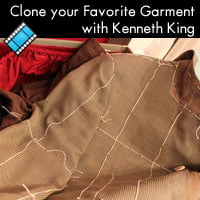 New Look 6699

by: Ryzajabest...
Review
Christine Jonson Cross Your Heart Top & V-Neck Tee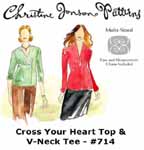 Pattern Details
Pamela's Patterns Classic T-Shirt Dress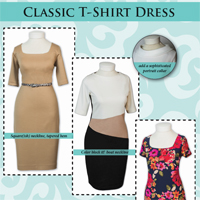 Pattern Details
McCall's 6969

by: Plus Style...
Review