Cat n Bull


North Carolina USA
Member since 2/17/06
Posts: 5179

1 member likes this.




Date: 2/10/14 10:37 AM

Week 1

For our first week, I want everyone to focus on your background fabric and shape, what fusible product you want to try, and your design.

Background and Design

When deciding on your background, I want everyone to think outside the 'square'. Especially if you are only making one block. Like for a pillow, wall hanging, etc.... Try a circle! Try an abstract shape! Think of something BESIDES 4 straight edges to put your applique onto. You can then layer your appliqued background onto anything you want.

(I am making a cover for my Kenmore machine. My background is a rectangle, appliqued to the front of the machine cover. I am using some scrolls to soften the edges and make it not so straight.)


Think outside of 'solid and white' also. Mine is bright yellow polka dots. A small print makes a wonderful backdrop for appliques. Or go dark, a black background is striking and gorgeous. A marbled fabric, a batik. Do not think you have to have a plain solid white or off white background for your appliques.

Design and Pattern

I have some simple floral shapes, but please feel free to use whatever shapes, patterns, designs you want to use.

(I just did a Google search of 'floral applique' and copied some pictures. It is easy to find pictures, just look for simple....simple shapes that can be cut out separately.)

Now I can not find the links, but I do have the pictures. I am NOT good with computer stuff! Here are some simple flowers:






Print your shapes out. I like to cut mine out of paper to help with my design process. You do not have to cut them precisely, you just want the general idea to use them for placement. This does mean you're going to need a few copies, because you still need one for your final pattern.

I always start with a master paper pattern. Then draw my design onto it. For example, for this machine cover, I made my paper pattern for the whole cover, then drew on it where I wanted my applique background to be, then drew in the applique design. It is easier for me to make it all on one master pattern instead of trying to make a few small patterns and put them together. I then trace off of the master pattern to get my applique patterns to cut out. (I have a light box that makes it so much easier)


I use pencil, and always have much erasing before I get my final design. I use my paper cut outs for the specific shapes, like flowers and leaves, and draw in things like stems and scrolls around them, directly onto the paper pattern. These drawn in elements will be traced and used as the pattern for cutting.



You can use any paper you can see through well enough to trace. I use packing paper I got from Wal Mart years ago. If you are using paper backed bonding web, you may be able to see through it well enough to trace directly onto it. If not, trace onto paper, then transfer that to your paper backed web. Just be sure you reverse it on the paper backing. I get SO CONFUSED with this! I don't use paper backed web enough to really have a good method for avoiding confusion, so anyone that has a method that works for them, please share!

I prefer to trace onto parchment paper. It is easy to see through, and I know I need to put the side with the pencil marks down on the back of my Misty Fused fabric. The parchment pattern pieces can be used multiple times.

Fusible Bonding Web

The second part of this week I want to discuss is HOW to stick your shapes onto your background. This is where you are going to have to experiment with some different products to see which one you like the most. They all serve the same basic purpose: fuse the applique shape onto the background and hold it long enough for you to sew around it.

Many many people use and love paper backed web. Steam a Seam and Wonder Under are two popular brands. You draw/trace your pattern onto the paper side, iron it onto the wrong side of your fabric, cut out your shapes, peel off the paper, then fuse it onto your background fabric. Then you sew around the edges of your shapes. You must make sure to reverse your patterns on the paper!

You can also use glue sticks or Elmer's glue (or ANY washable glue) to hold your shapes onto your background long enough to sew around it. A little drop of Elmer's washable does a marvelous job when you heat set it with your dry iron. Use a precision tip applicator bottle, do not try to use the tip it comes with. You just need a LITTLE bit of it. I got a precision tip bottle from Amazon, and I know some quilting stores sell them also.

My favorite product is Misty Fuse. It is a very light, airy web. You need a heat resistant pressing surface, I use teflon oven sheets, parchment paper, or a sheet I got that's made to be used with Misty Fuse called a Goddess sheet. You fuse the web to the back of your fabric. You can store your fabric fused with Misty Fuse indefinitely, it won't hurt your fabric. Parchment paper patterns can be pressed to the web on the back of the fabric, they stick just long enough to cut out your shapes, then can be peeled off and re-used. (Saves on tracing time over the paper backed web, where you have to trace each shape onto the paper.)

You need to decide which product you are using before you cut out your fabric pieces.

If you are using paper backed web, you will need to transfer all of your pattern shapes onto it. Don't forget to reverse them!

If you are using glue, it doesn't really matter what you make your pattern pieces out of. Whatever works for you to get from your master pattern to your fabric. Freezer paper can be pressed onto fabric, I would recommend using it to make it easier to cut your fabric. It can get so very tedious cutting around many small shapes and it really helps when the pattern is stuck to the fabric. Freezer paper patterns are re-usable too. Trace on the non-shiny side, and press the shiny side to your fabric. You will have to reverse your pattern for this also.

If you are using Misty Fuse, then I recommend parchment paper. It will stick to the web on the back and can be reused. I trace directly from my master pattern, then make sure the side with the pencil marks is touching the web. No need to reverse the pattern first.

The ONLY way to know what you like is to try it out yourself.

Please share your experiences with fusible web to help each other with the decisions on which products to try!

Please ask questions and discuss! I tried to think of everything, but am sure I missed something, this is a huge topic.

And remember, there IS NO ONE CORRECT WAY! Your way IS the right way! If it works for you, it is not wrong.


------
Cathryn

wendyrb

California USA
Member since 12/30/11
Posts: 3734
Skill: Advanced
Body Type:


1 member likes this.




Date: 2/10/14 10:47 AM

Wow! An auspicious launch. What a great post and way toooo bad I have to head out to work now! Thanks Cat. And also a thanks to Learn for keeping us together to this point. Have a good day everyone.

------
Always keep your words soft and sweet, just in case you have to eat them. Andy Rooney

Pfonzie- my honey Pfaff Creative Performance and Pfaff Passport, Bernina 930 and 830, Evolution and Enlighten sergers

Cat n Bull


North Carolina USA
Member since 2/17/06
Posts: 5179



Date: 2/10/14 10:52 AM

Misty Fuse pictures

This is the backside of the fabric with the Misty Fuse already on it. You can't see it in a picture, but it is there!

I traced the 2 different sized scrolls onto the parchment paper, right off of my master pattern. Roughly cut them out.


Place the parchment paper, pencil side down, onto the fabric back, cover with the Goddess sheet, and press. You can also use a teflon sheet, another piece of parchment paper, or any heat resistant sheet.


Once the first set is cut, reuse the parchment pattern for the 2nd set.


cover again with Goddess sheet, press, then cut out.


------
Cathryn

Learn To Sew


Member since 4/12/05
Posts: 13019
Skill: Advanced Beginner



1 member likes this.




Date: 2/10/14 10:58 AM

UrbanFool
Wendyrb
Sewbusy
Learn
BJ1400
Jannw
SheBear0320
DonnaH
Maia B
Southern Stitch
Patty Gee
Threaddy
Warbler
Crystal Woods
Enjoy Sewing
Cornut
Changma
Cherywashere
Scheri
Denise L. Perry
ASiverson
Cheri
Debbie
tmg & kitties
Sharon1952
goodworks1
aka4512
dmh1
Bodacious Bear
Celticstitcher
kajero
Sharon 48
quiltingwolf
Idolan
Maplecandy3

Ok, the list of beginners is posted. Unless Cat asks me to, I will not be updating it. I want this thread to be about learning the skills and techniques, and not about who is on the list.

------
Bernina 630, Bernina embroidery module, Pfaff 2036, Bernina 1200DA serger, Unique Sewing Cabinet 450L

Cat n Bull


North Carolina USA
Member since 2/17/06
Posts: 5179



Date: 2/10/14 10:58 AM

Sorry! I can't figure out how to link to just one album and not my entire Photobucket Library. I will work on that!
-- Edited on 2/10/14 11:39 AM --

------
Cathryn

Learn To Sew


Member since 4/12/05
Posts: 13019
Skill: Advanced Beginner







In reply to Cat n Bull <<



Date: 2/10/14 11:18 AM

I clicked on the link, put in the password PRAPP. I saw 4 flower designs and 7 pictures. I think it worked just fine.

------
Bernina 630, Bernina embroidery module, Pfaff 2036, Bernina 1200DA serger, Unique Sewing Cabinet 450L

Cat n Bull


North Carolina USA
Member since 2/17/06
Posts: 5179



Date: 2/10/14 11:57 AM

I am hoping Wolf will share how she does the paper backed web patterns. She does beautiful applique work and I know she uses it the most.

Please share Wolf!

------
Cathryn

quiltingwolf


Member since 12/15/02
Posts: 7039
Skill: Intermediate





In reply to Cat n Bull <<

2 members like this.



Date: 2/10/14 12:50 PM

Thanks Cat, that is a wonderful compliment coming from you. I've only used fusible appliqué when doing appliqué. The main reason I used fusible is to stop fraying. As I sew it on all by machine, thumbs don't like hand sewing anymore.

There are several out there but my favorite fusible product to use is Steam a seam 2 lite. Although right now using the Pellon one as that is the one available at Joann's that is in 8.5" by 11" and using coupons can get it at half price. These fusible are sandwiched by two paper sheets. This gives you a tacky feeling before ironing down but will stay in place on your project until you've determined the exactly how you want it.* It would appear for the Pellon anyway once you trace ahead as I seem to do it kinda of has a shelf life and it's best to use asap after tracing as the layers tend to separate make it hard to cut out your piece.

On the Pellon:

Pick your design you want to back with fusible web, trace the design onto the paper side (for Pellon it has a clear seeming side and paper one), remember if you are using fusible it must be reversed. To reverse your pattern an easy way is to hold up to a window and trace on the other side, put a white piece of paper underneath and trace on the other side, glass table, or if you have a light box use that. A lot of patterns designed for fusible appliqué are already reversed. Also another way to do it is if there are a lot of pattern pieces and you can run them through a copy machine and reverse the images. Or one of those copy places, Kinko's etc. This also might come in handy if you have a book and they say increase the size by 200. This is kind of tricky to do on a computer at least with the printer I have. But I have access to a very good copy machine at work.

So now you have your design reversed and ready to trace, trace onto fusible, peel off the opposite side, I use a pin to score it, it comes off easily. And place it sticky side down onto the wrong side of your fabric. Press it down, you can touch it down with your iron if needed but as I mention if fusible isn't old it's not necessary. Then cut out your shape, take the paper of the back (wrong side of fabric), then put your piece where your want it**. Once you finished placing all your piece(s) press down your piece with a dry iron for about 30 seconds. If you use too much heat it might make it harder feeling in the project but unless your doing a quilt it probably doesn't matter too much. Another way of making it feel softer is only doing the fusible around the outline. It's more time consuming and I've yet to try it, although want to on my next project. Then sew around the edges with your choice of blanket stitch, solid zig zag or loose zig zag or stitch of your choice.*** I use a small blanket stitch you can barely see as I don't really want you to see the stitches. But if you don't anchor in some way it can peel off after a time.

*A product that helps especially if doing pieces that are connected, is an Teflon sheet. This allows you to iron pieces together and the peel off sheet to iron as a unit onto your project. Cat gifted me one and I use it a lot, also great for FMQ but that's another topic. You can buy the one especially for sewing but can get them at cooking stores for a lot cheaper, check out Amazon.

**Sharp scissor are a must, but make sure you get a comfortable pair and they much cut with the point as well as the back part to get into those itty bitty shapes.

***Thread choices, I seem to have the best luck with rayon embroidery thread; since I have an embroidery machine I have a lot of this. But good cotton thread or silk is fine. Also clear monofilament thread. But the latter has its challenges. Also have to take into account how finished item is going to be used. If washed a lot, no on the Rayon. Best if use cotton. I think that's about it. Happy Appliquéing!


------
quiltingwolf.blogspot.com

jannw


Washington USA
Member since 9/3/06
Posts: 8552
Skill: Intermediate



Date: 2/10/14 1:40 PM

Thanx Cat and Wolf!!! I've found some packages of fusibles during my cleaning that I'm anxious to try...I do have lots of glue sticks!! Now to look through my fabrics and google to see what I want to make!!

------
2009-113.25 yds
2010-115.5
2011-80.25+30+donated
2012 86.3 yds..
2013 21.0
Everyone who sews seriously has a stockpile of fabrics, because it is natural to purchase more than can be sewn in any one season" Singer, Timesaving Sewing, 1987



quiltingwolf


Member since 12/15/02
Posts: 7039
Skill: Intermediate





Date: 2/10/14 1:56 PM

Glue sticks are kinda of tricky. Especially if you plan on washing your finished item as if you wash out the glue you could get fraying, depending on what kind of sewing you are going to do around it, if doing solid stitching then no worries but if using a blanket stitch etc you might get some fraying. And also risk gumming up your needle and then gumming up your machine. As the new computerized machines are a lot more sensitive then the older ones.

------
quiltingwolf.blogspot.com
Printable Version
* Advertising and soliciting is strictly prohibited on PatternReview.com. If you find a post which is not in agreement with our Terms and Conditions, please click on the Report Post button to report it.
Online Class
Altering Jackets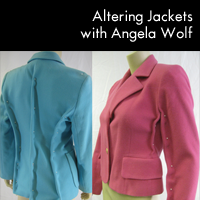 Online Class
Beginners Guide to Sewing Jackets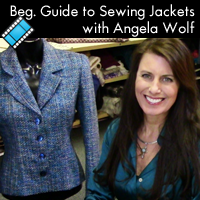 Vogue Patterns 7607

by: yummymummy...
Review
Sewn Square One Small Change Pattern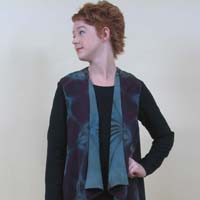 Pattern Details
Sewing Workshop Sandra Betzina Vest & Skirt Pattern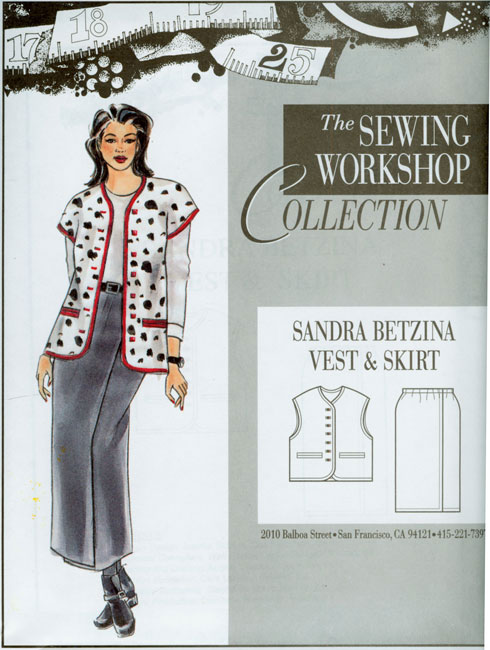 Pattern Details
Butterick 5391

by: Rosie who...
Review