Ok, so, I admit it... as if it weren't bad enough that I love vacuums and adore sewing machines, I *also* have an mini iron fetish... I think that admitting you have a problem is the first step to recovery, no?
So, I have 7 irons (had 8, but one started leaking water all over the power button and I threw it out a few nights ago).. AND a steam press. A couple of Rowents and an Oliso and some other cheap or vintage ones I picked up just for fun along the way...
I've always wanted a Laurastar ironing system, so when I noticed one on Craig's List for 100 dollars, I was very tempted. Then they reduced the price to 50 dollars. I simply didn't have a choice... I'm just back from driving and hour to pick up my new used Laurastar ironing system!
HUGE disappointment... The model I got is called the Premium Evolution and it does not have the fan under the board, so no "blow/suck" function. It's just a steam generator and that is it! :o(
I didn't even know they made Laurastars without the fan, so when I bought it, I didn't check to see if it had a fan... I just turned it on and it heated up and lights lit up and I heard a noise when I pressed the button on the hand piece (I wrongly assumed that noise be the fan, but it was the steam generator pump instead). I downloaded the manual before buying it and it referenced the fan several times, so I was really shocked to not see a fan under this board. I think the manual is for 4 different models and that is where the confusion came in...
Apparently, Laurastar makes some ironing systems with fans and cheaper ones with only the generators.
After I got over the shock and disappointment of that discovery, I realized that 50 bucks for a decent steam generator really isn't too bad. I tried it out and I'm quite impressed.. It's really a lovely board... it is wide and extends very high and is stable (my previous board is a cheapo that was 15 dollars at Wal-mart that I bought when I first moved out on my own... it falls over a lot)... And the steam is very dry and consistent. No leaking at all! The iron itself feels like good quality and it works very well on wrinkles!
So, do you have an experience with Laurastar products? What do you think?
I'm going to use this one while I keep looking for a *real* one that has the fan board... doubt it will be at such a price though!
I told you I had an mini iron fetish... here's the proof
I'm sure a site like this is the wrong place to go for rehab!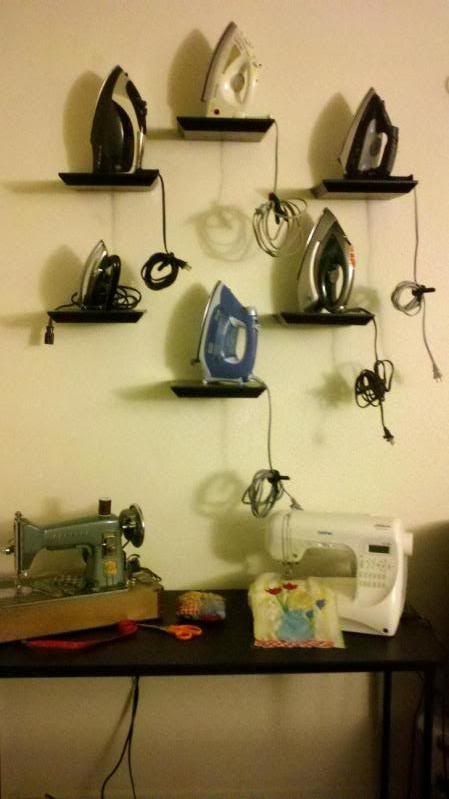 -- Edited on
2/13/14 9:03 PM
--
------
My machines listed in the order I got them:

Vintage metal Brother straight stitcher (Gretta)
Brother PC-420 (Benny) (soon to be re-homed)
Bernina Artista 200 (Miss Priss)
Vintage hand crank Singer 128 clone with LaVincendora decals (Vinny)
Vintage Baby Lock BL3-408 serger (still unnamed)
Brother NQ3500D (still unnamed)