wendyrb

California USA
Member since 12/30/11
Posts: 3610
Skill: Advanced
Body Type:


5 members like this.




Date: 2/24/14 7:01 PM

Every now and then an Embrilliance topic comes up and there's activity; then it fades away. I participated in various software threads as I shopped and recently decided on Embrilliance. I'd love to hear from more seasoned hands about which components you've got, what you're doing and how it's going. I also see this thread helping software shoppers.

I hope to be a contributor too. For starters, I saw a Facebook post from Embrilliance yesterday- a $10 coupon on their product, deducted from current sale prices. Here's that part of the post
Quote:
Hi! Brian here. Can't go to SewExpo? We didn't want you to miss out on saving! Use the coupon code FB214 at http://embrilliance.com/store and join the fun!
Looking for a program that lets you combine applique? Stay tuned for our next Embril...See More

I've got Embrilliance Essentials and Thumbnailer for my MacBook Pro. I'm leaning towards Alpha Tricks and/or Density Works with the $10 coupon. Anyone have either or both of those?

My local Babylock dealer had a 30% off sale on everything and Embroidery Works was $419. They demoed it and it sure looks like Embrilliance to me, just all rolled into one. With the addition of Alpha Tricks and Density Works, I think I'd be equivalent to the basic Embroidery Works functions? Anyone more fluent in these soft wares know if that's the case? Or, are there differences between the 2? My math says adding the 2 extra Embrilliance components keeps me at about the sale price of Embroidery Works. The store had only compliments for Brian, the creator of both, and how easy Embroidery Works is. Only part missing is Digitizing from both versions of his software.

The dealership salesperson offered classes if I needed support. So, I'm feeling in a good place with Embrilliance. Events in my personal life will hopefully settle down soon and I'll be digging into Embrilliance.

Hope to hear soon from everyone interested in Embrilliance- owners and shoppers alike. :)

*****
Here's all links to previous threads concerning Embrilliance. It's useful to read earlier posts, however, some comments do not reflect the current software. The 1st post has the most posts and then those with less comments follow.

* Embrilliance 3 pages, 25 posts, last 1 December 2011

* Embrilliance Essentials vs. EmbroideryWorks Everyday 2 pages, 15 posts, last one September, 2012

* Will I like this program? 2 pages, 13 posts, last one April 2013

* Embrilliance VS DG EmbroideryWorks everyday 2 pages, 12 posts, last one January, 2013

* Embrilliance Digitzing software for Mac and PC 1 page, 9 posts, last one December 2012

* New Embrilliance Digitizing Software 1 page, 8 posts, last one April 2013

* Embrilliance Software 1 page, 7 posts, last one December 2012

* Density Repair Kit by Embrilliance 1 page, 7 posts, last one January 2014

* Embird vs. Embrilliance Essentials 1 page, 3 posts, last one December 2012

* embrilliance software
1 page, 2 posts, last one February 2014

* Embrilliance Enthusiast
1 page, 1 post, last one January 2014
Whew!
-- Edited on 2/26/14 11:05 PM --

------
Always keep your words soft and sweet, just in case you have to eat them. Andy Rooney

Pfonzie- my honey Pfaff Creative Performance and Pfaff Passport, Bernina 930 and 830, Evolution and Enlighten sergers

Brotherlover


California USA
Member since 10/7/07
Posts: 576
Skill: Intermediate



Date: 2/25/14 0:09 AM

It is embrilliance with all the add ons instead of buying each one individually. You do get free online classes with embroidery works, and the advanced portion I believe has a lot more going on than the basics of embrilliance, I think some of the enthuisiast ios in the advanced. You can't go wrong with either. I love my embroideryworks advanced, you can really really fine tune a design. Its really the best comprehensive editing softwares out there. Sometimes digitizing softwares are not the best for editing because they are more complicated

------
Brother XL-3500i
SQ-9050
Dreamweaver VM6200D

wendyrb

California USA
Member since 12/30/11
Posts: 3610
Skill: Advanced
Body Type:




Date: 2/25/14 1:29 AM

The Embrilliance software $10 off coupon got buried in my loooooong post above.

Quote:
Hi! Brian here. Can't go to SewExpo? We didn't want you to miss out on saving! Use the coupon code FB214 at http://embrilliance.com/store and join the fun!

This is a further reduction on the sale prices for their various software.

Brian goes on with more info

Quote:
Looking for a program that lets you combine applique? Stay tuned for our next Embrilliance Essentials (FREE!) update - it will remove the top-stitching from hidden applique! More information coming soon.
As usual, we ask you to please share this post and spread the cheer to sewers and embroiderers everywhere! Thanks!


Here's the link mentioned to shopping Embrilliance software components.

------
Always keep your words soft and sweet, just in case you have to eat them. Andy Rooney

Pfonzie- my honey Pfaff Creative Performance and Pfaff Passport, Bernina 930 and 830, Evolution and Enlighten sergers

wendyrb

California USA
Member since 12/30/11
Posts: 3610
Skill: Advanced
Body Type:






In reply to Brotherlover <<



Date: 2/25/14 1:54 AM

Brotherlover- Thanks for posting and clarifying about EmbroideryWorks being a one-time purchase of Embrilliance plus all the add- ons. I also appreciate your point that dedicated editing software can have an advantage over those with digitizing included. I hadn't thought about it from the perspective of increasing complication with digitizing.

So, you have EmbroideryWorks Advanced. If I understand, is this right?

* Embrilliance Essentials + Alpha Tricks + Density Repair = EmbroideryWorks Everyday

Since it is less expensive to buy the Embrilliance parts, I'm wondering if there is something left out that I'm not seeing.

Is this 2nd comparison accurate?

* Embrilliance Enthusiast = EmbroideryWorks Advanced
There is a big difference in the price between these 2.

Maybe the price differences are in how these products are supported? The Embrilliance facebook page says over and over contact the website with questions and that every inquiry is answered. Maybe EmbroideryWorks has more classes and teaching tools readily available? Youtube has some good video tutorials for Embrilliance.

I downloaded the manual to my laptop and iPad- it seems very thorough, clear and a good road map to learn from. I also printed it out so I can make notes in the margins. Hard for me to judge materials and support when I am at the very beginning of my learning curve.




------
Always keep your words soft and sweet, just in case you have to eat them. Andy Rooney

Pfonzie- my honey Pfaff Creative Performance and Pfaff Passport, Bernina 930 and 830, Evolution and Enlighten sergers

SandiMacD


USA
Member since 2/8/09
Posts: 2564
Skill: Intermediate

1 member likes this.




Date: 2/25/14 3:57 PM

I attended a BL embroidery workshop and one block was devoted to BL Designer's Gallery (DG). Everything I learned applied to Embroidery Essentials (EE) as well, it could have been the same program. So I am guess Embroidery Works (EW) is also the same?

There are reasons for buying either- DG only works on Windows OS while EE is licensed for both Win and Mac OS. DG offers dealer support on site or in classes while EE only offers tutorials online. I suspect the same holds true for EW.
If you are a dedicated Mac OS user then EE is less expensive and runs native- you don't need virtual Win. But it also behaves in some ways like a Win program requiring a slightly higher learning curve.

If you are a dedicated PC user then either software is an option.

If you are a dedicated BL consumer then DG may make more sense if you own a PC. Or EW for Brother consumers. Know that when Win OS versions are upgraded you will most likely need to upgrade through your dealer for lessons and support. I don't have a clue if DG/EW upgrades are free or not. I do hope owners give insight- as EE continues to expand their modules I wonder if the same modules will be offered free to the DG/EW owners? Hard to say but I suspect that Brian is able to write future coding for all his software products.

If you expect to purchase future EMB machines that are not BLs or Brothers then the versatility of EE may be more to your liking. And if you are a on a budget, EE offers a way to get started for less of an investment than EW.

There have been dedicated PR threads for various software in the past, mostly when the need for Mac software is of concern. EE and Stitch Buddy (SB) are the top contenders for native Mac OS and they both have their strengths. SB behaves more Mac-like, integrates in Finder to view your files and is less expensive. The features are not neatly are robust as EE but it is easier to learn and pairs with iPad apps to manage files.

This thread takes a slightly different approach in that EE users can be either Win or Mac users. Of note, there are a few distinct differences between the 2 EE platform versions in the menu options. Also, the EE software may experience feature-approval delays from Apple because they need to go through the Apple Mac OS approval process.

Glad to see this thread - it is sorely needed as a reference. I am still strongly hopeful that PR will eventually offer a software review section like we have for machines. There is no way to demo software (many limit the features available or times you can open it) like we can demo our machines at dealers and the software is not returnable. Not to mention how pricey it is. Thanks for giving this a go again.

Edited to Add:
EE ver 1.124 running native on Mac OS 10.9x MBA
EE ver 1.11 running native on Mac OS 10.10.6.8 IMac
EE ver 1.06 running native on Mac OS 10.6.8 MM & MBA
-- Edited on 2/25/14 4:23 PM --

------
sewing brings joy and meaning to my life...

wendyrb

California USA
Member since 12/30/11
Posts: 3610
Skill: Advanced
Body Type:




Date: 2/25/14 6:15 PM

Sandi, thanks for your post, very informative. So, is Brian the creator of 3! Software programs that might as well be identical triplets?

I've got Embriliance Essentials (EE) and Designer Gallery (DG), I've only been vaguely aware of. That's probably because it is not for Mac and is for Babylock- a double not match for me. In the middle is EmbroideryWorks. It's good to know if my local Babylock dealer has classes in Designer Gallery or EmbroideryWorks, I can learn from those teachers.

If these 3 are close siblings, then talking about them, their features, what we're making and learning will help everyone. Differences due to Mac or Windows, I'm hoping will be minor and not present big stumbling blocks. My thought for this thread is in the title for Everything and Everyone. It appears we have a lot in common to share as we forge ahead.

So many threads are devoted to trying to shop and understand the software before plunking down money. EE does have a 90-day return policy, a good direction for customers. It would be so productive for us to take the next step as folks working through the features of the software basics and the add-on components. It's the best shot at in essence reviewing the software through a thread. Not super efficient compared to a review, but better than nothing at all.

------
Always keep your words soft and sweet, just in case you have to eat them. Andy Rooney

Pfonzie- my honey Pfaff Creative Performance and Pfaff Passport, Bernina 930 and 830, Evolution and Enlighten sergers

Brotherlover


California USA
Member since 10/7/07
Posts: 576
Skill: Intermediate





Date: 2/25/14 8:44 PM

Quote: SandiMacD
I attended a BL embroidery workshop and one block was devoted to BL Designer's Gallery (DG). Everything I learned applied to Embroidery Essentials (EE) as well, it could have been the same program. So I am guess Embroidery Works (EW) is also the same?



There are reasons for buying either- DG only works on Windows OS while EE is licensed for both Win and Mac OS. DG offers dealer support on site or in classes while EE only offers tutorials online. I suspect the same holds true for EW.

If you are a dedicated Mac OS user then EE is less expensive and runs native- you don't need virtual Win. But it also behaves in some ways like a Win program requiring a slightly higher learning curve.



If you are a dedicated PC user then either software is an option.



If you are a dedicated BL consumer then DG may make more sense if you own a PC. Or EW for Brother consumers. Know that when Win OS versions are upgraded you will most likely need to upgrade through your dealer for lessons and support. I don't have a clue if DG/EW upgrades are free or not. I do hope owners give insight- as EE continues to expand their modules I wonder if the same modules will be offered free to the DG/EW owners? Hard to say but I suspect that Brian is able to write future coding for all his software products.



If you expect to purchase future EMB machines that are not BLs or Brothers then the versatility of EE may be more to your liking. And if you are a on a budget, EE offers a way to get started for less of an investment than EW.



There have been dedicated PR threads for various software in the past, mostly when the need for Mac software is of concern. EE and Stitch Buddy (SB) are the top contenders for native Mac OS and they both have their strengths. SB behaves more Mac-like, integrates in Finder to view your files and is less expensive. The features are not neatly are robust as EE but it is easier to learn and pairs with iPad apps to manage files.



This thread takes a slightly different approach in that EE users can be either Win or Mac users. Of note, there are a few distinct differences between the 2 EE platform versions in the menu options. Also, the EE software may experience feature-approval delays from Apple because they need to go through the Apple Mac OS approval process.



Glad to see this thread - it is sorely needed as a reference. I am still strongly hopeful that PR will eventually offer a software review section like we have for machines. There is no way to demo software (many limit the features available or times you can open it) like we can demo our machines at dealers and the software is not returnable. Not to mention how pricey it is. Thanks for giving this a go again.



Edited to Add:

EE ver 1.124 running native on Mac OS 10.9x MBA

EE ver 1.11 running native on Mac OS 10.10.6.8 IMac

EE ver 1.06 running native on Mac OS 10.6.8 MM & MBA
-- Edited on 2/25/14 4:23 PM --


embroidery works also works on a mac as well as a PC. I would adk brian what the difference between enthusiast and advanced is, the DG embroidery works does come with free classes, and there are others you can purchase. The classes and handouts are very well done, and it was easy for me to really learn my program. I did not pay full price for embroidery works everydsy and advanced. Also embroideryworks you have to buy from a dealer in which you get free software classes and dealer support, well worth it when you need help. Those are a few benefits to buying from a dealer and the babylock version. If you buy it when there is a special through babylock or a sale it probably wont run you too much more than all the add -ons from embrilliance but some don't want to pay that much up front and like to buy as they go and aren't as interested in dealer support. If you need a class my dealer will make a class for you, so I do like the added dealer support

------
Brother XL-3500i
SQ-9050
Dreamweaver VM6200D

Brotherlover


California USA
Member since 10/7/07
Posts: 576
Skill: Intermediate



Date: 2/25/14 8:46 PM

You are provided 2 separate discs so if you change computers to mac or vice versa somewhere down the road you have the discs for both mac and pc

------
Brother XL-3500i
SQ-9050
Dreamweaver VM6200D

SouthernStitch


USA
Member since 8/24/02
Posts: 10927
Skill: Intermediate
Body Type:




Date: 2/25/14 9:50 PM

Wendy, I no longer use this software, but I kept and still do use Density Works. I have the stand alone, old version. It's nothing short of fabulous. I HATE overly dense designs. Embroidery makes me a little nervous to begin with, so you can imagine how I am when faced with something really dense.

------
Bernina 780, and 530
Babylock Evolution
Singer 403a

When life gives you green velvet curtains, make a green velvet dress.

wendyrb

California USA
Member since 12/30/11
Posts: 3610
Skill: Advanced
Body Type:






In reply to SouthernStitch <<



Date: 2/25/14 11:10 PM

This is interesting. Can you explain when in the process of editing you use Density Repair? I'd like to know what is logical and efficient for you working between different programs or with everything Embrilliance. Is it the last step once all the other editing is complete? Or after Density Repair do you look at the design again? Is there further tweaking? Or, Density Repair then stitch out? BTW, I'm more than a little nervous about embroidery.

------
Always keep your words soft and sweet, just in case you have to eat them. Andy Rooney

Pfonzie- my honey Pfaff Creative Performance and Pfaff Passport, Bernina 930 and 830, Evolution and Enlighten sergers
Printable Version
* Advertising and soliciting is strictly prohibited on PatternReview.com. If you find a post which is not in agreement with our Terms and Conditions, please click on the Report Post button to report it.
Online Class
Break your Serger Out of the Box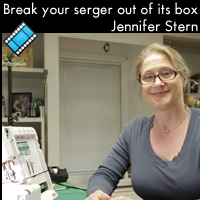 Online Class
Sewing with Slippery & Drapey Fabrics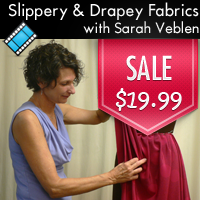 Self Drafted Pattern 99383-1001

by: julliams
Review
BurdaStyle Magazine 05-2010-105

by: DianeDrexe...
Review
Sew Liberated Esme Top Pattern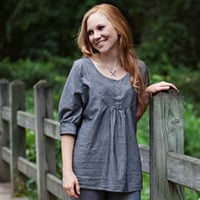 Pattern Details
Christine Jonson Fitted Jacket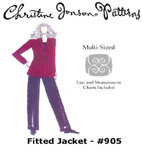 Pattern Details