Self taught, beginner here with muslin / fitting.
I know there's probably more than one fitting issue here, and I'm hoping to pin point exactly what those fitting issues are with the help and guidance of the PR experts. Hopefully my shoddy sewing wont distract from assessing the fit.
Also, the fabric is not actually muslin, but old cotton bedding that I salvaged, not sure if that matters much.
Ok, here is what I did:
The pattern was too small, so I added inches to pretty much everything.
My measurements:
HB- 39"
FB- 44"
W- 33"
H- 44"
The muslin side seam on the left (short sleeve side) was taken in 1/2" and up 1" at the armseye, just to see how it would look, which might account for that side looking a little smaller and shorter.
Also, I sewed the bottom of the front and back tucks closed on the muslin, (just to see how it would look).
The issues that I see:
-The front hem line hangs away from the body (side view)
-The (mid) back needs shortening, aka swayback?
-Bust dart is all wrong.
-front waist tucks are not flattering.
-The front is an unflattering length.
-Baggy blobs of fabric at the side seams below bust.
My plan of action thus far:
-Correct the bust point, lower the bust dart & change it to a french dart?
-Fold out the extra fabric from the back, and transfer change to pattern.
- Add length to the front by adding inches at the bottom?
-Maybe lengthening the bust area might help something?
The back alterations I've seen say to fold out at the back shoulder blades. Should I fold out at the shoulder blades or fold out where the fabric poofs out at my mid back just above the waist tucks?
What might be causing those side seam blobs, I couldn't hazard a guess.
As far as the way the front hem hangs away from my body, I have no idea what causes that.
And...
Those front tucks. What can I do to make those look better?
Thanks, it's been a pleasure having the opportunity to read the PR posts and I'm so looking forward to fantastic fitting feedback!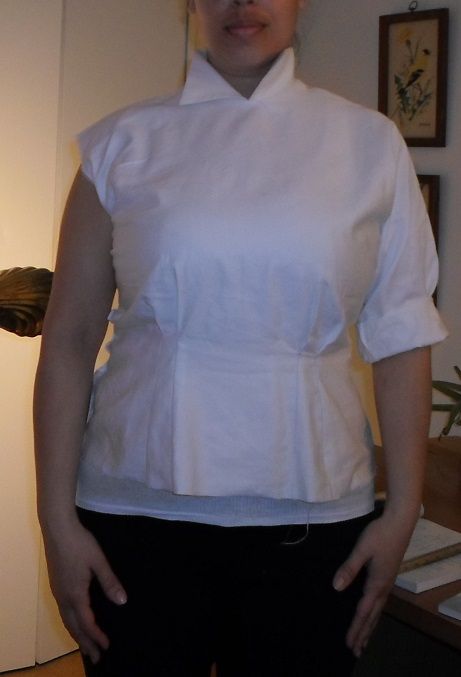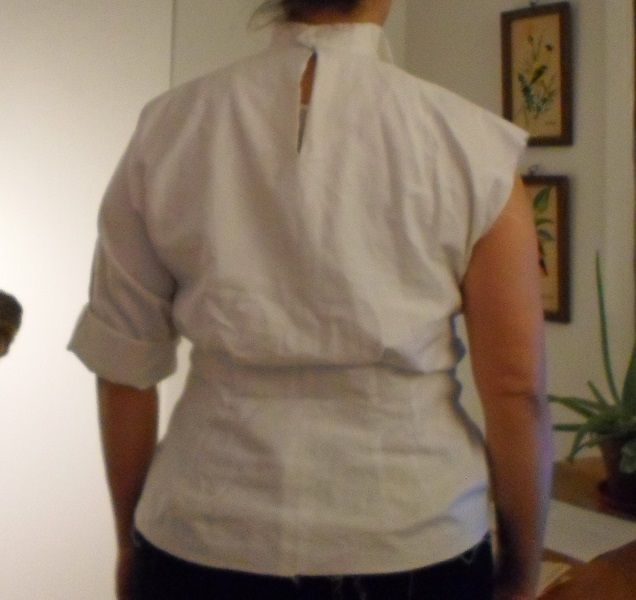 -- Edited on
3/15/14 0:16 AM
--
-- Edited on
3/15/14 1:10 AM
--
-- Edited on
3/15/14 1:39 AM
--
-- Edited on 3/15/15 at 2:50 AM --