blythebyname

USA
Member since 1/23/13
Posts: 186
Skill: Beginner

1 member likes this.




Date: 5/3/14 2:13 PM

My Elna 760 arrived (yay!), and I'm planning on making a stitch sampler book for it, to test out all the stitches. What are other steps I should take to test out and learn this new machine? It's computerized and much more "high-tech" than my previous mechanical Viking Tribute 140m, so I'd like to test it as much as possible within the next 30 days (my dealer has a 30-day return guarantee) to help ensure it's not a lemon.

I hope this is the right forum for this question--I wasn't sure if it belongs here or in the beginner forum. Thanks!
-- Edited on 5/3/14 2:13 PM --

Mufffet


Vermont USA
Member since 8/14/05
Posts: 11983
Skill: Intermediate





3 members like this.



Date: 5/3/14 3:09 PM

Make something simple like a zippered book sized pouch because that has several layers and a zipper. Sew out all the buttonholes - be sure to use stabilizer and pull the little buttonhole thingy down on the left as directed (I am assuming the 760 has that?). Let's see......and have fun! Use that knee lift - use the cutter - read the manual thoroughly when you want to do something, and if you ever think you'll need it try the free motion quilting and whatever else sounds fun! OH - yes, sew up something in a tee shirt knit and use all tips about sewing knits. Have a ball!

Congrats on your new machine!

------
"Be kind whenever possible. It is always possible."
--Dalai Lama

I have sewing machines

Melcalifornia

Member since 3/29/14
Posts: 353
Skill: Advanced Beginner
Body Type:


3 members like this.




Date: 5/3/14 6:07 PM

Congratulations!! How exciting!!

I agree to try all stitches, but then repeat a projec (or some parts of a project) that you d done before. See how your new machine handles compared to old. I tried a very tricky curved purse binding with my new machine and it was like night and day compared to my old Vikig. I did some quilting and made a couple of small zipper pouches and buttonholes. I ran my Juki for about 15 hours that first month to really see how it handled so that I could KNOW I was satisfied with it. I also went through all the manual instructions such as how to use the piping foot and edging foot...I basically just used my manual to guide me through these step by step. Have fun!!

------
Juki F600, Viking Emerald 116, Pfaff 2058, Babylock Eclipse DX, Janome 644

beauturbo

California USA
Member since 5/2/09
Posts: 4239
Skill: Advanced





2 members like this.



Date: 5/3/14 8:23 PM

If you mean via by mail or freight from someplace, and so checking for no freight damage, like in transient to you, then I would I guess make sure the fly wheel turns very freely, and when you are directly in front of it, and it's spinning fast, it even looks straight and moving in one place and no sideways wobbling of it there, side to side at all. Also just look at all the styrofoam packaging that is shaped to go around it in the box too. As if that looks pushed out of sorts, or broken up, maybe a sign of the machine moving around when something slammed into it even. Also that it just turns on. Then sew straight and zig zag and make sure it can do that.

How some particular stitching just looks though, when someone stitches it out onto something, and into anything really does often have a lot more to do with someone whom is just using something, and kind of how they choose to do it, and with what (thread, fabric, needle, stitch length combinations) and stabilizer under some fabric that might need that for some fancy stitches with width to them though and all that kind of user stuff, most of the time, just way more and just way more often, over anything actually ever "wrong" with a machine anyplace at all ever though.

So maybe keep that in mind, and check all that kind of stuff out for yourself too. Maybe ask for and get some lessons on it too, that's always a good thing, and maybe even the place you got it from, would have some good ideas on where and how to use, some of the stuff in it even. I would not discount or ignore that kind of thing, either.
-- Edited on 5/3/14 8:27 PM --

swirlgurl


USA
Member since 7/30/09
Posts: 100
Skill: Intermediate

2 members like this.




Date: 5/3/14 9:05 PM

I would also get the narrow holder and foot accufeed thing- IAF Dual Feed Single Holder - Ref Nr : 859833017 thats the holder and then the foot IAF Dual Feed Single VD Foot - Ref Nr : 859835101. This is invaluable for sewing narrow hems on trickier fabrics.


blythebyname

USA
Member since 1/23/13
Posts: 186
Skill: Beginner

1 member likes this.




Date: 5/5/14 11:07 PM

Thanks for all of your helpful replies! I've been having fun creating the stitch sampler book as a first step and will later try out your suggestions. Swirlgurl, thanks to yours and ryan's mom's recommendations to get the Accuflex narrow holder and feet, I already ordered those when I ordered the machine

I have a question about the back stitch. I noticed it's a little crooked. Here's a picture of the back stitch done on the first two lines on the left, with the third line being the regular-looking forward stitch for comparison:



Here's a picture of stitch #33, the welted buttonhole. You can see that the stitches on the left of each buttonhole, which are back stitches, are more crooked than the ones on the right of each buttonhole. These are all stitched out on quilter's weight cotton. Do these look normal to you--is a little crookedness expected/normal?



Also, please disregard the cat and dog hair on the pictures of the cotton! We're a fully stocked household
-- Edited on 5/5/14 11:10 PM --

Marie367

Ohio USA
Member since 5/28/11
Posts: 3486
Skill: Intermediate





1 member likes this.



Date: 5/6/14 9:17 PM

Congratulations on the new machine! I don't have an answer about this. It looks like the tension could be a little tighter but it might look different with some kind of stablizer too. Maybe someone else will know.

Melcalifornia

Member since 3/29/14
Posts: 353
Skill: Advanced Beginner
Body Type:


1 member likes this.




Date: 5/6/14 11:21 PM

I'm not an expert but it looks to me as though maybe the bobbin tension is a little loose? Is this through one layer of fabric or two (or more)? Hopefully someone else can help. AD maybe try sewing two layers of cotton to see whether that gives you a better stitch quality. In my novice opinion, it looks as through the stitches are a little loose and might look good through two layers of fabric.

------
Juki F600, Viking Emerald 116, Pfaff 2058, Babylock Eclipse DX, Janome 644

blythebyname

USA
Member since 1/23/13
Posts: 186
Skill: Beginner

1 member likes this.




Date: 5/8/14 1:15 AM

Thanks for your replies. Melcalifornia, the samples were done on two layers of quilter's cotton. I followed up with my dealer today about the back stitch, and he said that he had tested the back stitch himself on the 760 in their store after I'd asked him about it yesterday, and he noticed, too, that it's crooked, in that one stitch will go a little to the left and one to the right. He confirmed that this is normal, and that it seems that sewing machines' feed dogs (at least modern ones?) just aren't equipped to handle sewing a long back stitch perfectly straight (if it's going to be a long back stitch, you might as well turn it around and make it a forward stitch).

I tested out the back stitch on my Viking, too, and it does the same thing, so it looks like this is just how it is. This is a relief to me, as I really like this machine so far. I tried out the Accuflex narrow foot on chiffon, and it worked bee-yoo-tifully! And it worked well on jean material, too Now I'm looking to see what other feet I might add to the collection...

Julkane


Pennsylvania USA
Member since 9/14/07
Posts: 702
Skill: Intermediate

1 member likes this.




Date: 5/8/14 8:18 AM

Congrats on your new baby! I love this machine; I have the 740 and the improvements on the 760 are spot on. I especially like the pop off needleplate and the new accufeed system which makes changing the accufeed feet so much easier. If you do FMQ you want to get the lo-tension bobbin holder also. My 740 is my go to machine for free motion.

------
Elna Excellence 740, Pfaff Quilt expression 4.0, Janome 300E, Brother 8500D, Babylock Ellageo, Janome 900CPX CoverPro, Brother 5234 Project Runway Serger, Singer Treadle, Singer 66, Singer 99

http://juliannasjourney.blogspot.com/
Printable Version
* Advertising and soliciting is strictly prohibited on PatternReview.com. If you find a post which is not in agreement with our Terms and Conditions, please click on the Report Post button to report it.
Online Class
Break your Serger Out of the Box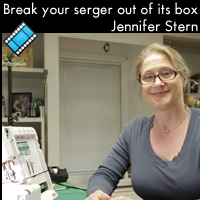 Online Class
Perfectly Fitted Shirt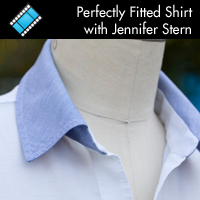 Burda 8200

by: HRigg
Review
You Sew Girl Tulip Dress Pattern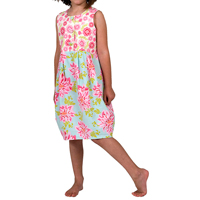 Pattern Details
Sew Chic Contance Dress Pattern (ln8404)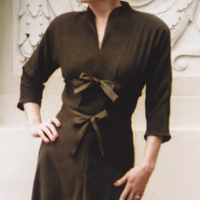 Pattern Details
McCall's 6326

by: Tonia Van ...
Review