txcwgrlmom

Texas USA
Member since 7/15/12
Posts: 94
Skill: Intermediate



Date: 6/23/14 2:22 AM

I realize when I retire I will need to supplement my income. I am thinking about a machine quilting business. I am looking at a JUKI TL - 2010q on a Grace frame. It will be just be the basic set up with basic quilting for now. My questions:
A. Pros and/ or cons for this set up.
B. About how long does it take to quilt a king/queen top?
Baby quilt?
C. What do you charge? Do they furnish batting or you? Is batting included or not included in the price?
D. Who finishes the binding? Is this a separate charge?

THANK YOU FOR YOUR HELP.
Thanks for you help.

Skratchie


Texas USA
Member since 1/29/13
Posts: 1054
Skill: Intermediate

8 members like this.




Subject: Help - Thinking About Macine Quilting Business Date: 6/23/14 10:18 AM

I'm not a professional long arm quilter, and I have no interest in becoming one, but I have a few thoughts about your post.

It doesn't sound like you've ever done any long arm quilting before, so before you make a final decision, you might want to find somewhere you can take a lesson to see if it's for you. I've dabbled with it as my mom had a set up, and it takes a certain amount of ... finesse I would call it. It definitely isn't something you can just jump in to and be good at doing. I intend to get my own set up eventually, but I gotta get the kids out of the house first.

Also, the set up you're talking about is fine for a hobbyist, but for someone who wants to make money with it, I would recommend a true long arm machine. With something like a Juki, you're going to spend more time rolling and moving the quilt than you will actually quilting. You really need something with at least twice as much space to the right of the needle, which means you're going to be looking at much more expensive machines. You can pick up a used Voyager 17" in great condition with a frame for around $4k. Personally, I wouldn't consider using a "long arm" quilter who didn't at least have a 16" machine (I'd prefer an 18" or larger).

How long it takes to finish a quilt will depend on a) your skill and comfort level; b) the amount of quilting requested by the customer; and c) your equipment, i.e., the aforementioned issue of arm space. Every long arm quilter I've ever known has offered batting pretty much at their cost, or the customer can provide their own. Charges are usually based on the pattern and by the square inch around here and should cover the cost of the thread as well as your time.

I've never known a long arm quilter who bound quilts too, but that would be something you would have to decide if you want to offer.

Good luck in your decision. I want a set up of my own, but I'll likely never use it for more than personal use. Even so, my foray with my mom's Bailey 15" machine sealed my desire to go with at least a 17" Voyager, or something with more space under the arm that is truly a quilting machine, not a stretch or a home sewer on a frame.

------
Brother PC-8500
Brother DreamCreator VM5100
Viking Opal 690Q
Singer 500A
Brother 1034D

My blog - http://texansun.wordpress.com/

Good enough is good enough for me!

MartiP

Member since 9/5/12
Posts: 900
Skill: Intermediate





2 members like this.



Subject: Help - Thinking About Macine Quilting Business Date: 6/23/14 10:59 AM

Just be sure that if you buy a machine that it will be capable to do the type of quilting you may be called upon to do.
I used to do a lot of sewing for designers, drapery, top treatments bedspreads, duvets, etc.
At one point in time, I decided to purchase a long arm quilter. I got a 12' Kenquilt setup. It worked just fine for what it was able to do. I could do pattern quilting and channel quilting up to a king-size. But the reach was not enough to do the large outline quilting that, as it turned out, was the most requested.
I ended up just selling the KenQuilt, and was fortunate to get almost as much as I originally paid.


------
MartiP

Ruckertt's Law; There is nothing so small that it can't be blown out of proportion.

Bernina 1230 Bernette 007D
Brother CS6000i Brother 2340 CV
New Home L372
Singer 221K (off white)
U.S Blindstitch, Model SL 718/2D
Simplicity SE2
Brother 700II


txcwgrlmom

Texas USA
Member since 7/15/12
Posts: 94
Skill: Intermediate

1 member likes this.




Subject: Help - Thinking About Macine Quilting Business Date: 6/23/14 7:10 PM

Thank you both for you input. I live in a rural area so I doubt I get any designer referrals and it is not computerized so it would be meander stitch or a simple pattern. I have quilted on my home sewing machine but not free motion. I was thinking of getting the stitch regulator too. I do not know if I can afford a long arm at this time but I will do some shopping. Thank you again.

Warbler


Member since 4/15/07
Posts: 4051
Skill: Advanced

7 members like this.




Subject: Help - Thinking About Macine Quilting Business Date: 6/23/14 9:26 PM

I agree the set up you are thinking of will not be adequate for a business setting. I do think it is appropriate to use it as a way for you to train, to see if it is indeed what you want, to quilt professionally. Then at the very least, you will have a machine you can use for your own quilts. If you find that you are proficient and ready to start a business, then you can invest in a more professional machine. I know several quilter's with the APQS Millie and others with the Gammill Vision. I also know a prize winning quilter who quilts with the Handi-Quilter Fusion, which is not as expensive as the other machines I mentioned. I also agree that you take lessons, many shops are expanding into this area, offering training and machine rental. Test the water a little before you sink your hard earned money into something you may not like doing....

I know one quilter who spent $$$$$ in a top of the line machine as an investment in her desire to quilt for hire... Turned out that while she did gorgeous work, she didn't like the pressure it placed on her. She also struggled with design as more & more customers requested custom work. After 3 years in business she threw in the towel and closed her business... In the end she had to sell her machine, which she still owed thousands and took a great loss in the end. If all you want to do is pantograph, it may limit your business. Please above all else take time to research and explore all your options and create a sensible plan that gives you the option to close if you have to.
-- Edited on Today at 9:32 PM --

------
Janome MC6600 Bernina 240 Juki MO735 Singer 201-2 Singer 221-1

txcwgrlmom

Texas USA
Member since 7/15/12
Posts: 94
Skill: Intermediate





1 member likes this.



Subject: Help - Thinking About Macine Quilting Business Date: 6/23/14 10:24 PM

Thank you warbler. This is one reason I was thinking of the Juki. To practice and learn. I also make quilts for family and I have a few projects to quilt. A lot of people here just want a basic quilt job for a t-shirt quilt or toddler size. Phantograh I know may limit choices and loose some business, but better that than $1000's down the drain. I will look at the models you described. Thanks.

lelliebunny


Member since 12/24/12
Posts: 1143
Skill: Intermediate

3 members like this.




Subject: Help - Thinking About Macine Quilting Business Date: 6/23/14 10:41 PM

Think putting the TL2010Q on a frame would be a pretty miserable experience. The harp space is only about 9", so you have very little room in which to work. The crown jewel, for example, has an 18" harp. If you are looking for a lower investment, you might consider the BL Tiara/handiquilter sweet 16. They have a 16" throat, but you have to move the fabric yourself.

------
it doesn't matter what type of sewing you do. you are sewing, and sewing is good.

AngieRose


California USA
Member since 6/1/09
Posts: 530
Skill: Advanced





6 members like this.



Subject: Help - Thinking About Macine Quilting Business Date: 6/23/14 11:06 PM

Hi,

First, you must love machine quilting to do it as "business". And as a business it is very physically demanding. The profit from machine quilting as a business is not much more than basic wages that you would make at any other job after you consider overhead, utilities, insurance, the quilting system purchase, all the threads, battings, practice you need to do, and I must mention you must make your clients happy-happy. I mention the clients contentment because, if you don't make that persons quilt look the very best, you risk her/him telling other prospective clients about your quilting expertise. This business relies on word of mouth a great deal of the time. Practice time before you even do your first clients quilt is approx. 800 hours.

In answer to your specific questions:
A: The set up you mention is very inadequate for a quilting business. It is too small. The machine arm/harp area is too small, and the frame rollers would not be strong enough to handle the weight of any over size quilt (as in king size) and due to the size of the 9" arm/harp area it would be very difficult to do a king size quilt anyway.

B. Depending on the design, edge to edge or custom quilting, (even if you could quilt a king size quilt on the system you mentioned)---it can take up to 8 to 12 hours or more. From preparing the quilt for the frame, loading it, doing the quilting, trimming the quilt if desired by the client.

C. Prices vary greatly by location, and you would need to do some research in your general location. City, state. What other quilters charge, and you should stay within the same price range. Quilting prices are usually determined by quilt size (in inches)

D. Most quilters like to offer two or three different types of batting, and provide their own batting if they can because sometimes the clients batting can be of a lesser quality that can cause you problems on your quilting system. (like scratchy inexpensive polyester batting can cause thread shredding and breakage)

There is a great little book by Cindy Roth.
www.LongarmUniversity.com The title is "Pricing for Your Longarm Quilting Business" It covers many of your questions, and more. Please order a copy. This book is priceless for anyone contemplating starting a quilting business.

Good luck with whatever you decide to pursue….


-- Edited on Today at 11:08 PM --

------
Angie Rose
Quilter & Machine Embroiderer
http://timberhillthreads.blogspot.com


txcwgrlmom

Texas USA
Member since 7/15/12
Posts: 94
Skill: Intermediate





1 member likes this.



Subject: Help - Thinking About Macine Quilting Business Date: 6/23/14 11:45 PM

Sorry but I am a little confused... a King Size Grace Frame can not handle a King size quilt? Thank you for all your info. Checking out Long arm University.
-- Edited on Today at 11:46 PM --

AngieRose


California USA
Member since 6/1/09
Posts: 530
Skill: Advanced





4 members like this.



Subject: Help - Thinking About Macine Quilting Business Date: 6/24/14 11:13 AM

In your first message you mentioned "Grace" frame. Perhaps I wrongly assumed due to the fact that you planned to use a small arm/harp 9" machine you were speaking of one of the smaller Grace frames. Not the King Gracie frame. One of their largest and most expensive frame….My apologies for the confusion.

In any case with a 9" arm/harp machine, even with the Gracie King Frame, it would be very difficult to machine quilt a king size quilt.

Also, please check the strength of the rollers of any frame you contemplate purchasing. Once a King Size quilt is rolled onto the leaders (backing, batting and quilt top) it can get very heavy and cause sagging in the middle section of the rollers.
A good way to test this is to bend yourself down to the floor a the middle of the frame, grab the closest roller in the middle, and pull yourself up using that roller to support your weight----I know this may sound strange, but it works. It the roller sags at all as you pull your body weight up to a standing position. It's going to sag when you have a heavy quilt loaded onto it too.

Strong frame rollers, one piece metal tracking, adjustable leg supports are very important.

Please do a lot of research about frames and machines before you make a purchase. Watch You Tube videos of quilters using various systems. Visit all the major brands websites, many now have videos of their products or details descriptions. Join online forums for the various brands of stand up quilting systems.

Take care, and wish you much success with your research and future business.

------
Angie Rose
Quilter & Machine Embroiderer
http://timberhillthreads.blogspot.com

Printable Version
* Advertising and soliciting is strictly prohibited on PatternReview.com. If you find a post which is not in agreement with our Terms and Conditions, please click on the Report Post button to report it.
Online Class
Expert Sewing Techniques for Jackets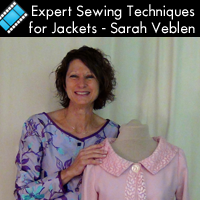 Online Class
Sew a Designer Unlined Jacket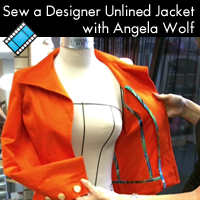 Vogue Patterns 8879

by: SueV
Review
Veronica Pocketbook Paper Pattern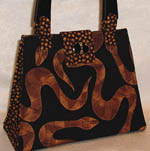 Pattern Details
SewBaby Wonder Jacket Pattern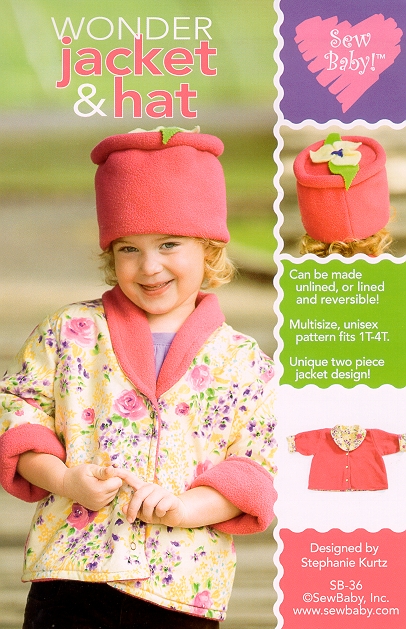 Pattern Details
Jalie 2108

by: JUNIPERJUN...
Review