Myuka

Arizona USA
Member since 5/17/14
Posts: 6
Skill: Beginner



Subject: Looking for a new machine, any suggestions?(Update: bought one) Date: 7/1/14 7:21 PM

Hi everyone! I'm looking for a new sewing machine as the title suggests. Right now I'm using a Viking Lily 550 that belonged to my grandmother. It's a lovely machine and it gets the job done, but my sister also sews and I'd like her to have it for too many reasons to bore you with. I'd really love some suggestions for a new machine.

I've been two places looking already and I'm still very unsure on how much I should spend and what brand would be best... I looked at Vikings, I was really interested in the Opal 670. I also went to another dealer today to try the Pfaff Ambition 1.0, 2.0 and the Baby Lock Symphony. I'm in love with the Symphony but it's a bit over my budget...

I liked the IDT on the Pfaff and the saleswomen demoed it going over thick layers of denim and with a knit fabric...I was impressed. The only reason I'm not sold is no auto thread cutter and the slowest speed setting is still very fast.

About me:
I've been sewing for a little over a year. I work a lot with spandex and knits. My main purpose in sewing is for cosplay, I do a lot of costumes(I'm working on five right now(four are for friends)). I also like to make my own clothes and I'm considering giving quilting a try because I love blankets and it looks fun. I'd really rather not spend more than $1000, but I will spend more if it's something that will last me at least 5 years. The most I can afford to spend is probably $2200, but that's almost breaking the bank.

Must have features:
Automatic thread cutter
Free-arm
Sew fairly slowly
overlock stitches
Can handle various fabric types and thick fabric

I feel like I'm asking for a unicorn...I think I would have bought the symphony today despite the budget difference, but the sales women changed the price on me way too many times...I'm not sure what the fair price on a Symphony is now that the Aria came out, so I decided to wait...I also wonder if it has more features than I really need(but it's so pretty!).

If anyone has any input on the models I've already tried or some new suggestions I'd be really grateful! -End of novel(I always write too much...)-

This is also my first time buying a machine.

-- Edited on Today at 7:22 PM --
-- Edited on Today at 0:31 AM --
-- Edited on Today at 1:48 AM --

HanPanda


USA
Member since 4/27/08
Posts: 1339
Skill: Intermediate
Body Type:


1 member likes this.




Date: 7/1/14 7:33 PM

FWIW, I have been using a bottom of the line, $80 Brother machine for over 7 years and have done some pretty darned awesome stuff with it

Check my reviews if you doubt, I even made my sister's wedding dress. Anyway, I say that to say that a nice machine should last you a long time--and if you're looking to spend up to a grand you're looking at nice machines.

Did the woman let you try yourself? You should really bring some fabric to try it out on, especially the stuff that tends to be unique for consistent sewing for cosplay, like spandex, vinyl, heavy denim, and fold over several layers to test out how it runs on multiple layers of "weird" fabric.

Also if the sales lady made you feel uncomfortable, you aren't going to want to go back for lessons or if there are problems. :/

The best advice I see passed around here a lot is to try out as many machines as you possibly can. Read all the reviews on here about each machine that you're interested in. Make a spreadsheet or a chart with the pros and cons. Figure out which one has a feeling that you love to sew on.

Would you consider a machine that maybe doesn't have an overlock stitch but is cheaper, allowing you to spend money on a separate serger? Just a thought. The Brother 1034D serger is super popular and available for around $200 usually (overstock.com or Amazon usually).

------
2015 In: 36 yards
2015 Sewn: 25.5 yards
2014 In: 99.75 yards
2014 Sewn: 80.5 yards

I'll try anything once :)

Please excuse my typos...sometimes it is harder to go back and edit on mobile than it is worth!

SouthernStitch


USA
Member since 8/24/02
Posts: 12024
Skill: Intermediate
Body Type:




In reply to Myuka

1 member likes this.



Date: 7/1/14 7:55 PM

The Opal 670 sounds like a fantastic match for what you're looking for. I don't presently own any, but I like Viking machines. They do have a good walking foot. I guess with the Pfaff line you have to go up a little more to get the thread cutter, but their IDT is really nice.

Do you have another Baby Lock dealer around? If you're sold on the Symphony, then it might be worth it to go farther out. Shopping a dealer is just as important as shopping the machine.

Good luck!

------
Bernina 780, and 530
Babylock Evolution
Singer 403a

When life gives you green velvet curtains, make a green velvet dress.

denise60s

Washington USA
Member since 12/25/13
Posts: 1070
Skill: Intermediate
Body Type:




Date: 7/1/14 8:02 PM

$1000-2000 puts you within Bernina range too... used or new.

------
SM's: Berninas: 450 Aurora 75th Anniversary Edition, emb module, Embrilliance software, 530-2 Record. Singers: 221, 15K88, 15-91, Juki MO50e .

textilehappy

Member since 6/8/13
Posts: 413
Skill: Intermediate

1 member likes this.




Date: 7/1/14 8:52 PM

I have been looking myself these days, (actually wanting my pfaff 1475cd but with long throat and thread cutters). I've tried many machines and brands. My budget is $2000 , too.

I've decided not to give up my IDT . One of my tests is to take along a piece of bias tape, a 10 inch curved piece of fabric like a raw arm pit and two pins. That weeded out a number of hopefuls. I'm now on the lookout for the Pfaff Performance 5.0--see review by Knit techie -- good overall review. My dealer here in Canada is offering it @$2200. I think it's cheaper in the US.

Good luck on your search.

P S. I've also looked at keeping the 1475cd --there are a number of of nice

Pfaffs with IDTs on ebay, and buying a nice Juki 600 which has the long arm and the snips....

------
Pfaff 7550, Bernina 185, Elna Carina

Maia B


Illinois USA
Member since 10/27/10
Posts: 5305
Skill: Advanced Beginner



Date: 7/1/14 9:10 PM

If you can do without a free arm, consider a Janome 6300, 6500, or 6600. All the same platform, just more features and stitches as you go up the line.

I was also going to suggest the Pfaff Performance 5.0. IDT rocks!

The Symphony was $2000 new, 4 years ago, so it should be less now, IMO.

The Juki F600 has SO MANY devoted fans. $1000.

I really, really urge you to thoroughly test drive as many of your candidate machines as possible.

I'm a Bernina girl. Just love the knee lift, presser foot lifter in the rear, vertical bobbin, and solid full-shank presser feet that easily swap out with one-hand. The #2 overcasting foot changed my life. Just try a 530 or 560. Might stretch your budget, but you'll know when you test sew if they seem worth it to you.

All the test-driving prevents buyer's remorse and that "what if" feeling.

Best of luck!

------
🌸 Plenty of machines, mostly Berninas 🌸

beauturbo

California USA
Member since 5/2/09
Posts: 5411
Skill: Advanced



Date: 7/1/14 11:05 PM

"I work a lot with spandex and knits. My main purpose in sewing is for cosplay, I do a lot of costumes(I'm working on five right now(four are for friends))."

I think you might want a overlocker for that, not a sewing machine. So, maybe get a lesser sewing machine, so you have money left over for an overlocker too, for all that knit and spandex instead. Just kind of two very different kinds of machines, that work different from each other, so then it would be like having a unicorn and a pegasus up your sleeve and as tools and not just only one of them at all. Not one better than the other, but having both at the same time would be good and even better than just one of them.

Myuka

Arizona USA
Member since 5/17/14
Posts: 6
Skill: Beginner

1 member likes this.




Date: 7/2/14 0:28 AM

Thank-you everyone for all the suggestions so far! I will look at all the machines suggested and I will make a graph and chart!

Unfortunately the store I went to is part of a chain and on the baby lock website they are the only ones who sell baby lock in my area and the other stores in the chain are pretty far from me. I'm not 100% sold on the Symphony. It's pretty, but probably more machine than I need if I'm honest. The ladies at both the Viking and the Babylock store I went to today were very nice and patient with me. I just don't like how the lady at the Babylock store kept changing the prices. The Symphony went from $1200 to $2999 in a very quick time....I'll go to the farther store and test it again and back to the Viking store to be sure. I think the Opal is perfect it has everything I need at a price I'm willing to pay, I just have this gut feeling not to buy it...and maybe that's just from reading a few bad reviews about stuff not working properly, but it's there and I usually regret it when I ignore that gut feeling....I loved the Pfaff if it sewed slower I could live without the thread cutter, it just goes so fast though...T_T

For those who suggested a serger instead, I'm very interested in trying one out, but since I've never used one before I'd like to take a class first.

Also I did bring some of my own fabric to test the Babylock, but not he Viking. The woman I talked to actually brought out denim, spandex and some regular cotton though so I didn't end up using mine.

I used a Bernina in my sewing class when I started learning and that's when I realized what a difference a nice machine makes, I loved sewing on that Bernina. I'll go to a couple more shops to test drive this week. I hadn't considered the Pfaff Performance because I thought it would be way over my price range, but I'll check it out. Luckily a lot of people sell Pfaff out here.

This is harder than I thought it would be, I really thought I'd just find something at the one store and take it home today :P I've been reading reviews online like crazy the last two weeks and still not sold on anything...

-- Edited on Today at 0:39 AM --

Melcalifornia

Member since 3/29/14
Posts: 523
Skill: Advanced Beginner
Body Type:


1 member likes this.




Date: 7/2/14 0:51 AM

Welcome! First, I'd recommend you look at the sewing machine reviews to see the PRICES others have paid for the machines you are comsidering. It was good for me to have a general idea of what other dealers charged for the machines to know how much I could negotiate.

Second, I was in a similar price range as you, and wanted similar features, and ended up with a Juki F600 which I love ($944 out the door online). I love the feet that are included, and the extension table, and knee lift. I hadn't realized I wanted a knee lift until I owned one, and now it is a feature I will want in all machines

I do need to play with tension - auto tension isn't perfect on it - but I'm fine with that.

I also love the Bernina 560 - it cost $3000 at my local dealer but I think it can be found for less. If I hadn't purchased the Juki and was willing to spend more, that is the machine I would have gone with. The feet are pricey but really nice quality. Good luck and try to have fun trying out machines (it can get stressful but it can also be exciting and fun!)

------
Bernina 630, Juki F600, Pfaff 2058, Babylock Eclipse DX

Liamsmama


Alberta Canada
Member since 12/23/13
Posts: 508
Skill: Advanced
Body Type:




Date: 7/2/14 0:58 AM

I have the opal 670, I just bought it a few weeks ago. So far I really do like it, there are a few things I'm not crazy about like how the thread cutter doesn't work on top stitching thread and at first I hated the needle threader but I've since figured it out and it's actually way better than the one my janome had. It hasn't had any issues sewing over anything and I've been making jeans with proper felled seams so it's had some thick seams to go over. I really like the ambition 1.0 when I was looking at machines but the Viking won me over. I like that most of the feet aren't terribly expensive either, I bought the felling foot for $16 and a topstitching foot for $25.
Printable Version
* Advertising and soliciting is strictly prohibited on PatternReview.com. If you find a post which is not in agreement with our Terms and Conditions, please click on the Report Post button to report it.
Online Class
Altering Pants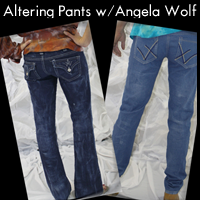 Online Class
10 Clever Techniques To Help You Sew Like a Pro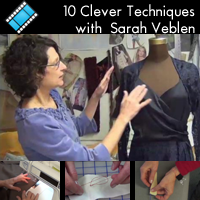 Vogue Patterns 8747

by: SewWil
Review
Butterick 5716

by: Kabunta
Review
Sewing Workshop Odette and Ivy Tops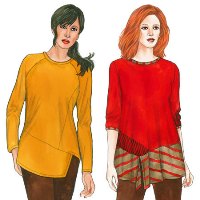 Pattern Details
Petite Plus Patterns Walking Jacket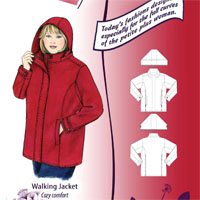 Pattern Details