kathieh9


Pennsylvania USA
Member since 10/22/08
Posts: 578
Skill: Advanced Beginner
Body Type:




Date: 7/9/14 10:22 AM

After taking about 5 hours to read my pattern , circle cutting layouts, lay out fabric, and cut fabric out, going to bed at 3:00 am a few times, just wondering what is a normal , within reason amount of time to do the above mentioned. this is the pattern I cut out last night McCalls m6736

------
Sewing is my therapy, as long as my spine will let me
Bernina 430, singer 99-13, singer 201-2, singer babylockimagine ble1at

Liamsmama


Alberta Canada
Member since 12/23/13
Posts: 508
Skill: Advanced
Body Type:


2 members like this.




Date: 7/9/14 10:36 AM

It depens on the number of pieces, and I've definitely improved over the years but usually it takes me about 1-2 hours to layout/cut. Generally I read all of the instructions and cut or trace the pattern pieces beforehand which probably takes about another hour. I'm really liking PDF patterns right now because I don't have to worry about saving the other sizes in case it doesn't fit properly or if I need a different size down the road because I can just re-print it :)

dmh1


North Carolina USA
Member since 1/13/13
Posts: 1829
Skill: Intermediate
Body Type:


1 member likes this.




Date: 7/9/14 10:49 AM

I usually spread out my pattern preparation steps. I always trace my patterns, so that usually takes about an hour, maybe more if there are lots of pieces. Then I make any adjustments I know are needed (add 3" to torso length, sigh). I also go ahead and punch holes in the pattern for any markings that will need to be made (dart points, pleats, etc). Then I put everything away so no kitty will nibble on the paper.

The next day I cut out my fabric, which doesn't take too long, maybe 30 minutes. I have a big cutting table and use a rotary cutter with pattern weights, so that helps. I usually don't look at the cutting layout. If I'm using a fabric with a stripes or checks or a pattern that needs to be matched I'll make it so I don't have to cut anything on the fold (trace a full pattern piece) so that adds about 1/2 an hour on. I also use a pattern notcher to make the clips in the pattern and use either chalk or a water erasable pen for any markings that need to be made. So all told, it usually takes me from 1 1/2 to 2 1/2 hours to get my pattern traced and my fabric cut and marked. I usually make a muslin so I don't usually go through the directions until I'm sewing, if I use them at all.

------
Michelle


solosmocker


Member since 1/23/06
Posts: 2367
Skill: Advanced

2 members like this.




Date: 7/9/14 1:09 PM

With a rotary cutter, mat and under ten pieces, maybe fifteen minutes for the cutting, more or less. Pattern prep I do usually the day before. I will cut out the pieces as well as iron them while watching TV. The next day I simply lay out the fabric, layout the pieces per grain, and roll away.

------
http://lasewist.blogspot.com/

NancyZL

New Jersey USA
Member since 6/18/08
Posts: 650
Skill: Intermediate



In reply to kathieh9

1 member likes this.



Date: 7/9/14 1:17 PM

I don't think there is a "normal"... if I'm short on fabric it may take a long time.... I don't look at the clock. If its a pattern I've
made before it does goes quicker. But I really enjoy the cutting out process/thinking so I don't rush it unless I have a need for the
garment the next day!!

marymary86


Georgia USA
Member since 7/20/08
Posts: 3946
Skill: Intermediate

4 members like this.




Date: 7/9/14 1:26 PM

I really fuss with the fabric prep. Often it's easy with a high quality woven cotton. The fabric is on grain and it just needs to have an edge squared (I often pull a thread and then cut) and a press.

With a pricey knit, I'll thread trace the "grain" following a line of knit stitches. It takes forever but when I'm done, the garment doesn't twist after laundering. I'm a knitter and this step really makes sense to me. Lynn Rowe describes how to do this in detail on the beginner knit sewalong.

knit sewalong

The actual cutting takes me an hour or less depending on what I'm making.

I feel like this process is worth my time to do right. If pattern pieces aren't cut out right (and if they aren't on grain) then it's just downhill from there.

-- Edited on

Today

at 1:29 PM --

------
Mary




DOGLOVER389

Member since 1/11/12
Posts: 507
Skill: Intermediate

6 members like this.




Date: 7/9/14 3:29 PM

Hi Kathieh9,

I know it takes me much longer than five hours to do all you have mentioned.

I have started tracing my patterns, and that can take an entire day, depending on how badly my back is spasming. Once that happens, I am no longer able to do anything. If I made the pattern adjustments during the tracing process, I don't have to do them later. If not, than that will take additional time.

I do not have an area large enough so that I can put all of the pattern pieces on the fabric at once, so I have to pin and cut them a few at a time. I am meticulous about measuring the grain line, so I know that part of the process takes me much longer than it does most others. Again, back issues play a large part in the amount of time I am able to work before I am sidelined.

I would like to be able to get everything done like I did when I sewed as a kid - lay the cutting board on teh floor, lay out the fabric, place and measure the pattern pieces, cut and then get to the machine. But I have had to accept that a lot of things have changed.

Back then I didn't need to make much in terms of pattern adjustments, and body aches and pains were not part of my daily existence.

Instead of beating myself up about what I cannot do, or how long it takes me, I try to accept that it will take me longer, and enjoy the part of the process I am able to do at any given time.

I have found that pushing myself beyond physical tolerance only yields in errors, and with me being very, very unhappy.

Who cares how long it takes, or how long it takes one compared to another? The goal is to make your garment to the best of your abilities. Some things will naturally get faster with experience and sometimes experience tells you to slow down.

Enjoy what you are doing, regardless of the step of the process or how long it takes.

DogLover389

------
Cut my teeth on a Kenmore 117.58

http://pages.sewing-machine-manuals.com/173/PictPage/1922064294.html

Singer Merritt 9612
Singer 99-13
Singer 15-91; 1955
Singer 237

beauturbo

California USA
Member since 5/2/09
Posts: 5405
Skill: Advanced



In reply to kathieh9

2 members like this.



Date: 7/10/14 1:02 AM

I probably would do that stuff while watching a movie video at the same time or such, and I think it very much matters on the particular pattern and how many pieces and how laid out, but for that kids dress, I would probably spend maybe 5 minutes opening up and reading/scanning the pattern foldout pages to see if I understood how it was sewed and laid out for cutting. Before even cutting anything. Then maybe another 10 min tops to just cut out the tissue pattern pieces, and if my fabric had already been washed and ironed before hand, then maybe I think 1/2 hour tops to lay it out on the floor on top of a cardboard cutting mat (how I just cut) just pin the pattern pieces onto it, and cut it out with scissors. So I think that's about 45 minutes tops maybe. I might not do that all at once though. The actual cutting of fabric all at once, and reading the pattern and just cutting out the tissue might have been on different days even though.

I have been sewing a long time though, but I think you are just going to get faster and faster the more you do it even. So it's going to get much quicker for you as you go along, for sure. I would not hurry cutting though, as most just sewing mistakes can be undone or re-done, it's the actual cutting mistakes instead if they are made, that are a lot harder to undo or work around and cause the most problems. Have had some had some cutting mistakes before too. So you do want to double check everything before cutting and not hurry too much. Particular if something with nap to it, placed the wrong way or something like that. So I think best, to just take as long as it takes to do it right.

I actually don't circle cutting layouts and highlight my size on the patterns or back of them, but I do remember doing stuff like that, when I was a newer sewer, and I think it did help.



sewbusy888


Member since 6/10/14
Posts: 528
Skill: Advanced Beginner



Date: 7/10/14 4:09 AM

I have to agree with Doglover...it takes as long as it takes.

Rushing causes mistakes and it is better to spend more time in the (prep) laying out pattern pieces/cutting.

To the OP there is no hurry. Unless you are working in a factory time is not a factor in home sewing/sewing for enjoyment.

Your comment about taking 5 hours is more than reasonable to me :)

------
2015 Stash In: 219

AnneM


Contest Committee
Member since 7/30/02
Posts: 7478
Skill: Intermediate

4 members like this.




Date: 7/10/14 8:14 AM

Every time I read about someone making a garment, even a simple t-shirt, in 2 hours I think to myself "I barely have my fabric laid out in 2 hours!"

It does get faster as you get more experienced, but some people (like me) just aren't going to be fast at sewing. Sometimes I feel frustrated that I'm not faster, but when I'm sewing I enjoy taking my time with the steps. And I make enough mistakes without trying to rush!

I do find using a rotary cutter and large mat helps. I was even slower with scissors.


------
With a great wardrobe that's still in the flat-fabric stage.
Printable Version
* Advertising and soliciting is strictly prohibited on PatternReview.com. If you find a post which is not in agreement with our Terms and Conditions, please click on the Report Post button to report it.
Online Class
Altering Pants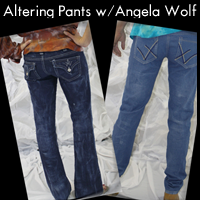 Online Class
Sew a Designer Unlined Jacket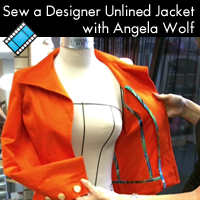 Papercut Patterns 1013

by: junips
Review
Simplicity 2082

by: kristalkk
Review
SewBaby Alphabet Take-Along book Pattern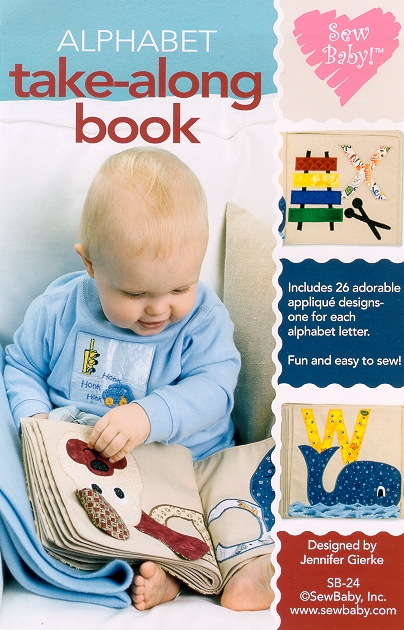 Pattern Details
Sew Chic Phantom Jacket and Pant Pattern (ln1106)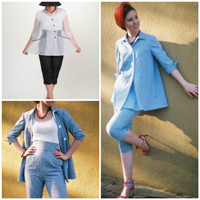 Pattern Details