LibertyBelle10

Member since 5/12/14
Posts: 27
Skill: Advanced Beginner



Date: 7/9/14 7:27 PM

Hi Everyone,

I am not exactly a beginner, but it's been a long time since I've sewn a project. I bought a new machine in May and still haven't actually sewn on it yet.

Years ago, I sewed some clothes for my kids (dresses, button down shirts, sweat suit) myself (maternity jumper, button down shirt, simple seersucker top, skirt - the skirt didn't fit as well as I'd hoped it would), and a velour bathrobe for my husband, and a few other simple projects. In the past, I tended not to cut my patterns, opting to trace them instead so that I could maximize the use I got from them - especially if they could be sized up as needed that way. So now that I'm getting back into sewing, I am wondering if it is more customary to cut or to trace a copy of my patterns? I would kind of like to just cut, but my obsessive compulsive side may have me tracing again. Your thoughts would be appreciated. Thanks in advance!

dmh1


North Carolina USA
Member since 1/13/13
Posts: 1629
Skill: Intermediate
Body Type:


3 members like this.




Date: 7/9/14 7:37 PM

I prefer to trace for two reasons:

1. I can go ahead and make adjustments to the pattern without worrying about ruining the pattern. I have certain adjustments I make on almost all my clothes, so I can go ahead and get that out of the way.

2. It seems wasteful to cut a pattern - I know lots of folks will buy more than one since the big 4 go on sale so often, but I just can't do it! And yes, I do have OCD, and avoiding waste is one of my issues.

Don't feel bad about either decision. Do what you enjoy doing - if tracing is not enjoyable to you then don't do it. Don't let any kind of attachment to the process get in the way of your enjoyment of your hobby.

------
Michelle


CM_Sews

USA
Member since 9/18/04
Posts: 1983
Skill: Intermediate

4 members like this.




Date: 7/9/14 7:51 PM

There's no right or wrong way to do this. It's more a matter of personal preference. There have been a number of discussion on the PR forum about this issue.

I prefer to trace because I need to make alterations anyway, and I'll always have the original pattern to go back to, if I need to start over. I use a lot of vintage patterns, so just going out and buying another one is not always easy or even possible. When I trace, I can use multiple sizes of the same pattern. I find flimsy pattern tissue a pain to work with, and I find the Nancy's Notions Pattern Tracing Paper (medical exam table paper) that I use to be sturdier than most pattern tissue. These are all logical reasons for ME to trace, I LIKE tracing, but I readily admit it's a personal preference ONLY, not a recommendation for anyone else.

On the other hand, sewers who just cut into the tissue have equally compelling reasons for not tracing. They don't like tracing, they don't plan to use the pattern again, they bought the pattern on sale for 99-cents, so they can just buy another one. Or, they prefer making alterations with the pattern tissue, etc., etc., fill in the blanks. All good reasons, too. There are times when I don't trace, and I agree with all the reasons to NOT trace.

Ultimately, it's only a pattern, it's only paper. Jump right in and cut the pattern, if that's what you choose to do. There are no Sewing Police to knock on your door to scold you, and no person, puppy or kitten will be harmed.

CMC

Speech girl


Member since 5/11/03
Posts: 2833
Skill: Intermediate
Body Type:


2 members like this.




Date: 7/9/14 9:09 PM

I am a tracer for many reasons, but I will cut a one-size-fits-all kind of pattern.

But there is no right or wrong and no pattern police.

------
Kim
formerly mikkim
http://girlwithatimemachine.wordpress.com/

HanPanda


USA
Member since 4/27/08
Posts: 1339
Skill: Intermediate
Body Type:


2 members like this.




Date: 7/9/14 9:35 PM

It depends on how I feel about the pattern and what I'm making it for. Kids clothes are traced without question because they're easy to size up and necessary. Most everything is cut at least in its largest size. If I'm doing a bunch of alteration or the pattern has really weird components that don't cut well across all sizes, I'll trace that pattern piece. If I'm going to make it a bunch, I'll trace the pattern. If I'm making something for someone else, I'll usually cut the pattern to size and to alteration. /lazy :D

------
2015 In: 36 yards
2015 Sewn: 25.5 yards
2014 In: 99.75 yards
2014 Sewn: 80.5 yards

I'll try anything once :)

Please excuse my typos...sometimes it is harder to go back and edit on mobile than it is worth!

beauturbo

California USA
Member since 5/2/09
Posts: 4958
Skill: Advanced

3 members like this.




Date: 7/10/14 1:16 AM

If I needed multiple sizes on some kids patterns, for growing kids, I might and have traced before. But that was also back when, years ago, when the best sale price for McCalls, Simplicity, Butterick, or Vouge Patterns was something like 40" or 50% off the actual price printed on those pattern envelopes.

Now I actually buy my McCalls, Simplicity, Butterick, patterns on sale for $1.99 and my Vouge Patterns on sale for $3.99, maybe more than half time, no matter what the price printed on them, often at my local Joann's and Hancocks fabric stores. During sort of the monthly sales in both those paces. Also I don't need to keep all the sizes in a pattern intact for any reason. So at those very low prices, I do have to ask myself, how long it would take to trace something, or just instead buy two of them even even if I wanted something in two sizes, at $1.99 and $3.99, and I think for me, buying the pattern twice would often and does just win out. As I think it would take me a long time like at least 45 min to even set up and trace a lot of patterns or longer maybe. So I don't trace, I just cut.

If you feel like cutting, and that is what you are paying for your patterns, I say go for it. That's your excuse right there, if you need one

-- Edited on

Today

at 1:18 AM --

KiwiWendy


International AUSTRALIA
Member since 8/24/02
Posts: 3374
Skill: Advanced

7 members like this.




Date: 7/10/14 2:56 AM

We don't get $0.99 or even 1.99 sales in this country, but life's too short to trace patterns unless they're original-vintage or a rare oop that you've had to rebuy cos you lost the first copy (that's a very recent memory).

Tracing a pattern copy is enough to put me off starting, and I don't need any more procratination than I already have

------
Sydney, Australia

JeanM


Virginia USA
Member since 6/25/05
Posts: 208
Skill: Intermediate



In reply to LibertyBelle10

1 member likes this.



Date: 7/10/14 9:58 AM

I am almost always a tracer these days. I sew mostly for my (skinny) younger son and myself (not skinny).

A lot of the patterns I use for Younger Son are from Ottobre Design, and need to be traced - but that, for me, makes the adjusting fairly easy during tracing (use the width he needs, extending out to the length he needs, rather than slashing/overlapping).

I've also found it easier to trace my patterns. My tracing paper is sturdier than the tissue paper, and if I mess up I still have the original. My options for new patterns are Joanns (which often doesn't have a copy of the pattern in the size I need during those sales), or online purchase. I'm also slowly exploring some of the indie patterns, which rarely have the pricing down so low. Some of those are tissue patterns which I don't want to damage (and have to repurchase), others are multi-sized on sturdy paper and I don't want to lose the sizing options (because I move from one size to another, especially on patterns for knits; and because I have changed size over time...). Or multi-sized pdfs, which I'm finding I'm prefering to trace... Also several of my adjustments can be accomplished by sliding and/or pivoting, easily done while tracing.

What works for each of us is different, though. Try both methods, and see what works for you. You might find cutting the pattern works for certain styles or projects, and for others that you prefer tracing.



Marie367

Ohio USA
Member since 5/28/11
Posts: 4714
Skill: Intermediate



In reply to LibertyBelle10

2 members like this.



Date: 7/10/14 10:09 AM

I think it depends. I will trace a more expensive pattern (I have Jalie and Kwik Sew) but if it is a $.99 pattern I won't. I really do not like tracing. Since you are getting back into sewing, it might be wise to trace so you can adjust patterns as you need to to get a good fit.


MrsCharisma


Member of the Year
Minnesota USA
Member since 2/1/13
Posts: 4933
Skill: Intermediate
Body Type:


1 member likes this.




Date: 7/10/14 12:32 PM

It depends.

:)

I will trace some Vogues and Kwik Sew for sure. I would trace any of my non-pdf indie patterns (there's only a couple...)

I have traced Big 4...e.g.; my TNT S2700 pants pattern is still in tact and now the pattern is OOP. So I will likely not cut that one.

But the majority of my pattern stash is Big 4 under $2 patterns so they get cut. My tracing paper is primarily used for my recent Burda Style fascination!

------
www.sewcraftychemist.blogspot.com
Singer Stylist 7258 | Kenmore 1503 | Brother 1034D

My Big 4 Sizing: Medium | Tops 14/16 | Pants 18 | Skirts 16/18.

My Measurements: 36 HB | 39.5 FB | 34 W | 44 Hip


Printable Version
* Advertising and soliciting is strictly prohibited on PatternReview.com. If you find a post which is not in agreement with our Terms and Conditions, please click on the Report Post button to report it.
Online Class
Altering Pants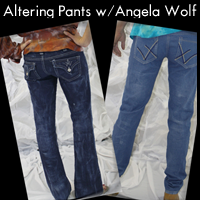 Online Class
The Technique of Underlining Garments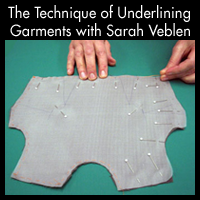 Butterick 6019

by: Bex81
Review
Pamela's Patterns Favorite Bias Skirt Pattern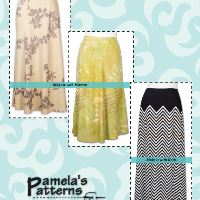 Pattern Details
Sew Chic Victory Jacket Paper Pattern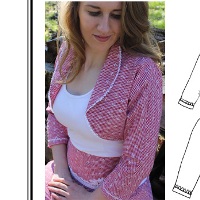 Pattern Details
McCall's 5753

by: arianamani...
Review