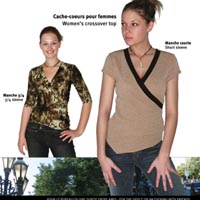 I made Jalie 2005 (a tee with 3/4 sleeves) and had to add width to the sleeves. It turned out well I think (I need to get pictures so I can review it).
As I'm tracing 2449, I wondered how the altered sleeve would compare. When I lay it on top, it's as big as the biggest size - AA. I'm tracing off size V that corresponds to a 40" bust.
So my question is - do any of you ever cut larger sleeves than the pattern size you are using? I think I read somewhere that you can do that.
I'm going to trace off both and cut both sleeves if I have enough fabric but I thought I'd ask here too.
------
Mary