julieraegold

Florida USA
Member since 7/31/14
Posts: 5
Skill: Advanced Beginner



Date: 7/31/14 5:20 PM

Hello, I'm brand new to this site, just joined a few minutes ago, and brand new to machine embroidery, as in I haven't even bought the machine yet. Anyway, I've been doing lots of research trying to find answers to my questions and I hope someone can help me, so thanks for reading this!

My project involves doing applique of letters and pictures on T-shirts, just strictly applique, no embroidery designs or anything fancy. It doesn't look as professional and it takes forever when I'm appliqueing the letters with my sewing machine,and I wanted to get an embroidery machine to do the job.

So I was thinking of buying the Brother PE770 and the PE Design Next software so I can upload my designs (simple coloring book type pictures) and my letters (simple block letters) so the machine can applique them.

My question are: Is this a good machine to buy for just doing applique?
Do I need the PE Design Next for this project or is there something cheaper and/or better for this specific project?

Thanks so much for your help to anyone that can advise me!

Julie

beauturbo

California USA
Member since 5/2/09
Posts: 5256
Skill: Advanced



Date: 7/31/14 7:10 PM

To a hooped embroidery machine, doing an applique is just another embroidery design, the actual machine can't even tell the difference between an applique one and a non applique one.

It' more in how the person whom made the embroidery design, just made it instead.

But to sew out either from someplace, on anything, you would have to have some kind of embroidery machine, a embroidery design you want to use that someone else or you made for applique, if it's not already built into the machine, and a way to get outside embroidery designs into a machine, as even a starting point. those 3 things are pretty much a given.

I did see a lot of little "Brother Applique station only" kind of machines around for a while, but I think it was a long time ago. And maybe even in Joann's fabrics or Walmart a long time ago.

But they took special embroidery design cards for the appliques, and you had to have special thread cartridges for them too. I don't think they make any of those things anymore even.


-- Edited on Today at 7:28 PM --

PattiAnnJ


Ohio USA
Member since 12/3/06
Posts: 9027
Skill: Advanced

2 members like this.




Date: 7/31/14 7:32 PM

If you want to create your own "designs" you will need a digitizing software program. The brand of embroidery machine does not matter, but Brother is the best. A machine that embroiders a maximum of 4" x 4" is limiting and the PE 770 would be a better choice.

If you go to the Brother website you should be able to download the manual for the software. This will give you an idea of what can be done with this product.

-- Edited on

Today

at 7:51 PM --

------
"Improvise, adapt and overcome." - Clint Eastwood/Heartbreak Ridge

"Isnít it a shame in todayís world you canít tell the truth. If you tell the truth youíre abrasive. If you lie youíre charming." - Bob Huggins/College Basketball Coach

julieraegold

Florida USA
Member since 7/31/14
Posts: 5
Skill: Advanced Beginner



Date: 7/31/14 7:46 PM

Thanks so much for your reply! I looked up the Brother Application Station, and you're right, they have been discontinued. You can still find them for sale, but apparently the problem is finding the thread cassettes and cards because those are running out, even if you can currently find them for sale on eBay. Also, you have to iron on the applique after it's created, and I'd rather applique directly onto the t-shirt I'm making because I'm afraid the iron-on wouldn't last through several washes.

I think you're right that I'll have to buy some kind of software since I have specific designs in mind that I want to applique and I'd like more font choices, too.

julieraegold

Florida USA
Member since 7/31/14
Posts: 5
Skill: Advanced Beginner



Date: 7/31/14 7:49 PM

Thanks, PattiAnn! I think I was replying when you wrote yours because I didn't see it at first. I'm glad to know that Brother is a good choice, and the area I'm appliqueing is definitely going to need the 5x7 hoop so that's why I've been looking at that particular machine. Funny how the software costs more than the machine...

julieraegold

Florida USA
Member since 7/31/14
Posts: 5
Skill: Advanced Beginner



Date: 8/1/14 6:51 AM

Oh, I have couple more questions. For the images I'd like to use, can I use the free embroidery designs available online and then have the machine just do the basic outline of the object, say like an ice cream cone, and not do all the fill-in stitches? In essence just using an embroidery design to applique with and do the same thing with the block letter font as well, is that possible? And can the designs be increased from say 2 inches to 5 inches without any distortion?

And if that is possible, can I just use the Brother PED-Basic Software for Downloading Embroidery Designs instead of buying software? Because I'm not really interested in creating my own drawings. All I wanted to do was find coloring book outlines online to download for applique, and if I can just use the embroidery designs to outline and not fill in, that would be great.

Thanks for your help!

PattiAnnJ


Ohio USA
Member since 12/3/06
Posts: 9027
Skill: Advanced



Date: 8/1/14 9:41 AM

The problem with other designer's work is that it can be protected under copyright laws. This can mean no changes and no selling to customers. Although some designers will give permission to sell a limited number of the stitch-outs. How this is monitored, I do not know.

When in doubt, contact the design owner.

------
"Improvise, adapt and overcome." - Clint Eastwood/Heartbreak Ridge

"Isnít it a shame in todayís world you canít tell the truth. If you tell the truth youíre abrasive. If you lie youíre charming." - Bob Huggins/College Basketball Coach

MartiP

Member since 9/5/12
Posts: 963
Skill: Intermediate



Date: 8/1/14 9:53 AM

If you go to the Embroidery Library's website you will find illustrated tutorials on how to do applique.

I have a Brother machine and like it very much. It was a good buy with all the features it has per dollar spent.

-- Edited on

Today

at 9:56 AM --

------
MartiP

Ruckertt's Law; There is nothing so small that it can't be blown out of proportion.

Bernina 1230 Bernette 007D
Brother CS6000i Brother 2340 CV
New Home L372
Singer 221K (off white)
U.S Blindstitch, Model SL 718/2D
Simplicity SE2
Brother 700II


julieraegold

Florida USA
Member since 7/31/14
Posts: 5
Skill: Advanced Beginner



Date: 8/1/14 12:26 PM

Thank you both, Ladies. PattiAnn, I hadn't even thought about there being a restriction on the design since I was only going to use the outline, but I saw on one of the designs I was looking at that they allow limited reproduction of it, just like you said. So I'll do some research on that and find out more. And Marti, thank you for recommending that website! There are video tutorials of exactly what I need so that's a huge help.
Thanks again!
Julie

beauturbo

California USA
Member since 5/2/09
Posts: 5256
Skill: Advanced



In reply to julieraegold

Date: 8/1/14 1:19 PM

I don't use PED Basic software at all, but do know how that stuff works in general. When you buy an embroidery design someone made, you have to agree to their terms of use. So, just what ever their license agreement on it is each time. That is what makes it O.K. to sew it out on something you sell to someone else instead or not.

If you buy it from some big stock embroidery company, whom makes them for that purpose, on purpose, then most times that is fine, or else they would not even be selling it in the first place as then they would have no customers. At that point they would not care if you changed it around to make it work with your fabric better, or just used bits and pieces and parts of it at all or not.

If you buy something for personal use, you still could change it around or use bits and pieces of it on just something you sew and wear on yourself, they would not care or even ever know, and you would be the only one wearing it, just anyways.

Someone that did not want you to use their embroidery design you had bought from them on anything you sold to other people, might care a lot though, and particular if they thought it made their design look bad with something you did with it. So you would have to ask for permission then, or pay them extra maybe if they agreed.

I could use some embroidery designs that were not made for applique as applique instead, and without even having any kind of embroidery digitizing program at all to change around any stitches in the design at all. But, they would have to be made in some certain ways to even do that. Like very simple with large filled in areas and those areas all having a really wide satin stitch column around them. And they would have had to have at least one layer of straight stitch underlay under that satin stitch column. But if so, you could just let the outline underlay stitching sew out first, stop a machine on purpose, then stick some fabric over it, back up a machine so it sewed that part again and stop it on purpose, cut the edges of your fabric off, skip the whole solid filled in part, and then let the satin stitch outline, cover your fabric edges, sometimes, even if the design was not really made for applique sometimes.

But to even do that, you would need to be able to walk through a design or just sew it out, and see how it might stitch out first. and even see if the way it just happened to be made, was maybe kind of suitable for fooling around with it that way. Or, if you really had a full manual digitizing program instead and knew how to use it good enough, you could change a design in some better ways even in a computer, to make that happen too somtimes. But, you most times can't tell how someone even made something, or the order it stitches out even, and exactly how and where, until you already have bought the embroidery design first, so I would not count on it working out that way easy ever. I think that is why a lot of people, just buy embroidery designs made for applique, more special like that from the get go instead.

Also why a lot of people buy a digitizing program, with a nice keyboard lettering program in it, with built in keyboard lettering fonts in it, so they could make letters any size they want and maybe make them suitable for applique in just the way they even stitched out or not.

I think you can use some coloring book outline for anything you want for yourself, or on your kids T-shirt, and the coloring book people are not going to care. I don't think it makes any difference on with a regular sewing machine or a hooped one. But, use that on something you are selling to other people, and all of a sudden, they are going to care and probably a lot, and might try to sue you over it instead though. Just because it is someone else's art work you are pretty much, misappropriating that way, and for profit, and they would not like that at all and probably will try to stop you and even get all or any of your your profits for themselves, and more money from you on top of that even. In that case, always better to just draw your own stuff and use your own art, and avoid all those problems.


-- Edited on Today at 1:34 PM --
Printable Version
* Advertising and soliciting is strictly prohibited on PatternReview.com. If you find a post which is not in agreement with our Terms and Conditions, please click on the Report Post button to report it.
Online Class
Leather 101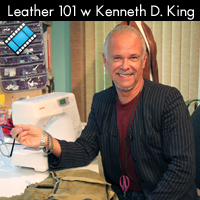 Online Class
Beginners Guide to Sewing Jackets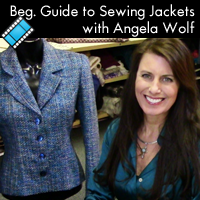 Simplicity 1430

by: JennyQNY
Review
You Sew Girl Mod Bag Pattern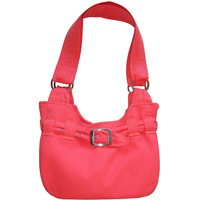 Pattern Details
Beginner Sewing Lab 103 - A downloadable Book by Shannon Gifford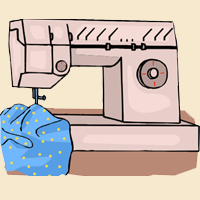 Pattern Details
StyleArc Susan Top

by: clothingen...
Review