Artsewer

New York USA
Member since 3/2/11
Posts: 2599
Skill: Advanced Beginner



Date: 8/7/14 10:43 AM

Im interested in Auto Digitizing simple Drawings that I can transfer from my computer. Then use fill it, or line to translate.

I am finding the Bernina Software really difficult to use.

I have had it for a few years and every time I try to do something I end up with a headache.

My DD is staying with us this summer and has shown an interest in the software.

I thought yeah! She will help me. she is

Very PhotoShop and computer savy, has done a lot with animation and computer generated art in college and since, said the V6 software is badly designed and really hard to use. That made me feel better in one way as I thought "its not just me" and then not so happy after spending so much money on a program that I cant seem to use the way I want to.

Anyone use the Auto Digitizing?

------
Bernina 790, 635E, Juki 2010
Babylock Evolve Babylock Sashiko2

LisaInAlabama


USA
Member since 7/10/13
Posts: 1878
Skill: Advanced Beginner



In reply to Artsewer

Date: 8/7/14 6:24 PM

I have been really disappointed in the results when I've tried to use the autodigitizing feature of the software. I found it was less trouble to learn to manually punch the designs than to do all the image adjusting and tweaking of the autodigitized product afterward.

I know there are a few people who are good at it, but most of the Bernina software teachers I know personally can't make it work.

I wish I had taken 4 photos and 4 or 5 colored coloring book pages with me and made them show me the results before I plunked down the money.

Sorry I don't have the magic bullet to make it work. Maybe we'll get lucky and someone who can will tell us how?

------
I've been doing machine embroidery for 12 years, but I'm definitely a beginner at garment sewing.

UFOs completed in 2016: 7
Items started and completed in 2016: 32
Yards sewn up in 2016: 32.5
Days I did not sew in 2016: 48

aslinnd


New South Wales Australia
Member since 5/28/07
Posts: 1488
Skill: Advanced Beginner

1 member likes this.




Date: 8/8/14 3:20 AM

That was my thought back when I first started with ME never trust the sample photos they use with the demo, bring your own. I'm not familiar with the Bernina product so I can't offer any advice but your comment about bringing your own drawings to trial is so true

Shamin01

SOUTH AFRICA
Member since 3/7/11
Posts: 60
Skill: Beginner



In reply to Artsewer

1 member likes this.



Date: 8/8/14 3:23 AM

I echo your sentiments. When I bought my Ver6, the dealer really did a hard sell on the Auto digitising. I was silly enough to fall for it. The results are far from satisfactory. Now my dealer says, "oh no, she manually digitisers all her designs" Well, to cut a long story short, it was a waste of a lot of good money. My dealer is trying to tout Ver7 saying that it's really better than Ver6. I'm not falling for that again

Artsewer

New York USA
Member since 3/2/11
Posts: 2599
Skill: Advanced Beginner



In reply to Shamin01

Date: 8/8/14 8:08 AM

Does anyone have the Creative book. I'm hearing that is needed

If you do it's pricey. I I don't understand Bernina or any company it selling a product withou detailed instructions on how to use it especially at that price point. And then having a book for it And charging over hundred dollars for it .

------
Bernina 790, 635E, Juki 2010
Babylock Evolve Babylock Sashiko2

annenet


Virginia USA
Member since 8/2/03
Posts: 4231
Skill: Advanced



Date: 8/8/14 8:31 AM

I have it and it's great! What version of V6 are you using? I've got V7 now but learned a lot of V6 with the guide.

The book isn't produced by Bernina but by a dealer that teaches it. There are some webnars for it and also a yahoo group. You might check that out.

-- Edited on

Today

at 8:33 AM --

------
So many projects, not enough time
At my house in VA:
Bernina Activa 220, B570QE, B790
Singer 201-2, 221, BL Enlighten, BL Sashiko, BL Cover Stitch, Consew 75T

At my Lake House in PA:
Bernina B580, Bernina 1010, Singer 503A, BL Evolution

http://sewingtechie.blogspot.com/

SouthernStitch


USA
Member since 8/24/02
Posts: 12040
Skill: Intermediate
Body Type:




In reply to Artsewer

2 members like this.



Date: 8/8/14 9:17 AM

In the software itself, there is the manual, and tutorials as well. I think that they are under the help menu. The manual is pretty detailed. The Creative Machines workbook though, is popular because it breaks everything down in a manner that goes from simple to complicated. And, it does it in a very conversational tone, with lots of reminders along the way.

Have you joined the V7 yahoo group? It's very helpful. I don't think auto digitizing works exceptionally well in any software program actually. Manual is always better, no matter what.

Is what you're trying to auto digitize a complicated design, or rather simple?

------
Bernina 780, and 530
Babylock Evolution
Singer 403a

When life gives you green velvet curtains, make a green velvet dress.

Artsewer

New York USA
Member since 3/2/11
Posts: 2599
Skill: Advanced Beginner



In reply to SouthernStitch

Date: 8/9/14 11:07 AM

all of your suggestions make me feel there is hope!

I want to auto digitize simple designs and line drawings.

I want the designs to feel like they were drawn by hand.

------
Bernina 790, 635E, Juki 2010
Babylock Evolve Babylock Sashiko2

beauturbo

California USA
Member since 5/2/09
Posts: 5503
Skill: Advanced



Date: 8/9/14 3:32 PM

Maybe try this one, as a cheat sheet, even though for a version above, it might help some, but if you want things to look hand stitched, then red work or single running stitches probably would be good.

http://www.google.com/url?sa=t&rct=j&q=&esrc=s&source=web&cd=8&cad=rja&uact=8&ved=0CFQQFjAH&url=http%3A%2F%2Fwww.itsastitchonline.com%2Fmastery_on_the_web%2FMastery_V7_Software_Part-2_11-1-13.pdf&ei=lG_mU-TfB-LE8AGZzICQDQ&usg=AFQjCNFX7UZWh93-UJqgnNU5PPAwJF7bAw&bvm=bv.72676100,d.b2U

I have not tried that brand/kind of one, have used lots of other autodigitizing though. Autodigitizing is kind of wierd. I find it more easy to actually full manual digitize something often. But, I will say, that no autodigitizing software, anyplace would work for me good, no matter which one I tried, before I knew how to manually do it.

But, once I knew how to manually do it first,in a couple programs, now pretty much they all work for me, to some degree. So, it's one of those things, if you know how to reverse engineer something, things just work a lot better than if you don't!

But since autodigitizing is so totally dependent on a graphic you feed it, unlike non autodigtizing, (where it does not really matter so much at all) the main thing is always to determine what it's looking for each time in a graphic to work on best, when it does it's thing, and then just make sure you feed it a graphic that is by it's self, what it needs or has been previously tweeked to be what it needs and wants to see each time, to do a half way passable job on it.

That is why, if you watch some demo of it someplace, no matter the brand of it, of course all that demo art works works good, just because they have already run it through all that stuff before and made sure to get the art work in the best of ways suitable (or just find some that way already) for it, pretty much first, each and every time. So if autodigitizing (non specific) in general has any secrets, that is probably it.

The best thing to do when learning/playing with any of them, is not to get too hung up or heart set on, one piece of graphic /clip art at all. Instead, grab a big collection of clip art, (like a big IMSI package or Dover Clip art or something like that-sold at computer stores with thousands of images on there) and just start tossing many things into it, all in a row, each time from there. Pretty soon you will always begin to see, what it likes the best, and how to even then tweek some existing art (in some other graphic program first) the best to try to make it do your bidding on it, or maybe just make some of your own to use with it.

Don't make any of your own art at first though, just run a ton of clip art though first to get a feeling for it first. After that, you will know better how to make your own art to feed it later, that is how I think most times, it works out best.

I still like real manual digitizing a lot more than autodigtizing though, but kind of a lot fun sometimes too,to just toss art into autodigitizing things and just see what you end up with each time too.




Printable Version
* Advertising and soliciting is strictly prohibited on PatternReview.com. If you find a post which is not in agreement with our Terms and Conditions, please click on the Report Post button to report it.
Online Class
Create a Jacket Muslin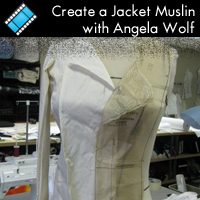 Online Class
Break your Serger Out of the Box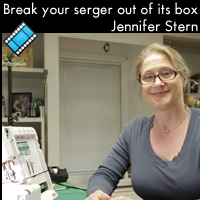 Lutterloh Supplement 288 #147

by: Lagolden2
Review
Self Drafted Pattern 274558-1004

by: jadesabre9
Review
Paradiso Designs Anna Handbag Pattern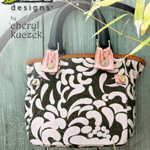 Pattern Details
Christine Jonson Shirred Top & Princess Wrap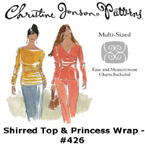 Pattern Details