3 more reviews
Viewed 2065 time(s)
Reviewed by:
grays08




About grays08
IL USA
Member since: 9/13/11
Reviews written: 97
Sewing skills:Intermediate
Favored by: 32 people
sewing machines reviewed: 1
Bio: more...

Posted on:
3/25/14 11:51 AM
(Updated: 7/2/14 9:31 AM)
Approx price paid:
$1350
Had this machine for:
5 months
Recommended?
Yes
Online Merchants:
Amazon.com



Features


Needle Threader
Adjustable Stitch Length and Width
Adjustable Presser Foot Pressure
3 Thread Serger
4 Thread Serger
Differential Feed
Rolled Hem
Auto Threading

Find the right Sewing Machine with the Sewing Machine Search Wizard

Discuss Sewing Machines with PR members Sewing Machine Forum
Review Rating:
Very Helpful by 40 people
Review:
Please note price paid reflects a bundle deal (MO-1000 machine+Tutto rolling tote bag+12 MaxiLock thread spools+100 Organ needles+serging book and reflects 10% promo discount from SewVacDirect). Serger itself retails for approx. $1299 at the moment.

I love this machine! I bought this a little over a month ago and have used it now on several garment projects that presented different challenges all of which it passed with flying colors (a poly/lycra charmeuse top, a cotton/lycra jersey knit cardigan, a boucle sweater top, a cotton child's dress). The MO-1000 delivers everything I was looking for in a serger, however I should note this machine does not provide a coverstitch. I purchased a separate Janome 1000CPX coverstitch machine for ease of switching back and forth on projects so I wasn't looking for this in a serger however if you are, please note the MO-1000 is not an all-in-one.

I bought this machine to replace a Brother 1034D serger that I lost/was destroyed in a tornado in November but had used heavily for a couple of years. I sew every day (primarily garment sewing) and need work horse machines that can handle a variety of fabrics so I decided to spend more on machines this go around having the unique opportunity to start from scratch. I was initially drawn to this machine for the air threading and loved the fact that all of the tension adjustment was still manual (I know I'm probably in the minority here, lol). I am comfortable adjusting tension and find it quick and painless to do after serging for several years on my old Brother. I test drove a Babylock Imagine at my dealer however was unimpressed by the lighting, the stitch/tension quality as well as the fact that my dealer quoted me an Enlighten price for the now aging Imagine and his floor model at that….not my ideal situation so therefore I started looking around and saw Juki just introduced this serger using Babylock's patent for air threading (and had also just bought a Juki F600 that I loved, so that got me looking more at Juki).

LIKES –

Air threading for loopers is awesome (uses Babylocks now expired patent) – love that it is air threaded easily, troubleshooting is easy should it not pop out of the tube, love the threading tool/cleaner for the threading pipes, air threading is loud but not horrible (sounds like an air tool or compressor). Bottom line – no more tweezers for me and that is wonderful!
Needle threading and inserting needles is much easier than on my old Brother 1034D. There are two auto threaders for the needles that work reliably as long as you have the hand wheel lined up (there is a notch to show you which is nice) and you get the thread into the threader well before pulling it up. I find the needles MUCH easier to insert than my Brother even without using the tool provided, but if you use the tool (a little plastic tool that holds the needle for you), it's extremely easy. I always had difficulty getting both needles up into the Brother so this is a dream compared to that even though it does not tilt out like the Elna Pro 664 I tested.
Adjustable cutting width is great to have and easy to adjust. I adjusted this out of the box and haven't had to touch it since. It is very obvious to me when it needs to be adjusted (versus when say tension adjustments are needed) so I don't mind this and like the idea of being able to adjust for different purposes.
Knife is very easy to retract or deploy, much more intuitive and faster than on my old Brother. It's literally a switch that immediately pulls the knife down with no hand wheel movement. To re-engage the knife, flip the switch back and turn the handwheel once or twice.
Tension adjustment is very responsive, quick and easy to adjust, and stitches look fantastic. I am a perfectionist and am a stickler for the tension being spot-on so I was a little irritated with some of the results I saw on the Babylock Imagine. It did an okay job in most cases that I tested, but I like having full control over the adjustment of the tension and stitch quality which is not something you can do with the Imagine should it be off even with its adjustment knob that only applies to the loopers. I think the stitch quality is much better with this machine however I understand it is a tradeoff for those that aren't as comfortable adjusting tension or who don't want to spend the time adjusting it to have it auto-adjusted.
2 thread and rolled hem conversion is very simple (moving a changeover attachment to the left)
Lighting is great (uses an LED light, not so with the Imagine or Brother), and it's easy to see your work, not something I could say for the Imagine I tested
Sewing radius is wonderful (distance between needle and knife is 9.95mm versus 15.5 on conventional models) and makes curves easy to manipulate
Wide and high throat area on machine is nice (height is 72.4mm), presser foot also allows for additional room underneath it by moving upwards by holding lever up higher
Waste collector is nice to have and is quite large for a serger. Initially I had issues keeping it on the machine but realized I wasn't getting it latched well. I love that it's nice and big and that there is one. As silly as it sounds, that was something that aggravated me about the Imagine.
Differential feed does a great job and is also easy to adjust via a knob
Can use any needles with this machine – hooray! I appreciate being able to buy whatever needles I want and use in this machine with success. I have used both Schmetz and Organ needles both regular and ballpoint and all work well and produce great, reliable stitches.
A lot of the "tools" are stored in the machine itself like the screwdriver you use to change needles…..I can't tell you how handy this has been as I used to scour my drawer looking for my serger bag that contained this for my Brother. It's the small things, but this is nice. It also stores the dust brush, the thread tool (which you can use for threading Wooly Nylon through the air looper manually or use it to clean the looper tubes which collect thread lint), etc.
Perhaps I'm a nerd, but I like that Juki made this machine to where it will open up. The left side of the machine literally is on a hinge where you have full access to the insides of the machine (which are solidly built by the way). It just seems like if I should ever have to troubleshoot something or have it worked on, this will be very nice to have.



DISLIKES -

Thread cutter (note not the serger knife) is located in an awkward spot on the upper back of the machine and slightly underneath that makes it hard to get to and also does not cut well, more of a snag. I can get one thread to cut but getting all to cut is very difficult even when forcing it through taut. This isn't a huge deal since I can use some scissors to cut the thread chain when done but annoying considering other machines have very practical, usable cutters. I find it unusable and just don't use it at all and when I do force myself to try it again, I'm usually cursing, lol!
Not so much a dislike as just something that shocked me initially, the air threading (when pushing the button to suck the thread through) is LOUD! It reminds me immediately of my husband's old air compressor. It's brief (just while you hold the button) but be prepared for it as it's loud enough to wake you up a bit!
Again not a detriment to this machine that I have discovered so far however in an ideal world, I would probably prefer the needles to not be slanted but straight up and down. I'm not sure if this is just industry hype or a reasonable feature to desire, but it was something that made me a little leery in this price range. I have yet to notice any issues due to this being a slant needle machine however and don't know that I will, just something I see noted as a "pro" for a lot of other machines and something to note. I do wonder though if there is validity to the whole slanted versus straight up and down argument.
Extra feet are all optional (there are six available for the MO-1000 – blind stitch, elastic, cording, beading, piping and gathering) at extra cost. I bought a package deal with my machine so they were included however priced out alone these can be pricey.
No free arm. This isn't a huge deal for me as I rarely used it on my Brother 1034D but something worth noting here.
Perhaps this is the way of the world now however important to note, Juki doesn't seem to have a customer support phone number per se. Product support seems to be handled from their website email, which on a machine down situation, perhaps isn't the most satisfying method for customers.



Summary
I will continue to update this review as I use the machine more but wanted to get something out there for this machine since it is brand new this year. I have been extremely happy with the results so far and have used it in a variety of scenarios where I've been forced to adjust for things (i.e. presser foot tensions, differential, cutting width, tensions, etc.). I couldn't be happier and hope to enjoy this serger for many years to come.

UPDATE
4/3/14 - So after a month of using it, my MO-1000 foot controller started malfunctioning. Malfunctioning as in refused to stop sewing at all...only start and speed control via the pedal. The only way to get it to stop was to raise the presser foot or power the machine off which was dangerous. The only way to contact Juki for support (which I was instructed I must do for the first year, then go through Sew Vac Direct for the extended warranty I purchased from them) was to leave a message on their web email and await a response. Sew Vac Direct was top notch at helping me any way when Juki failed to respond intially (took two days). I was initially unsure of who to work with so I contacted them after I failed to hear from Juki.

There is apparently one main serger tech that Juki uses (the infamous Elbert Shirley out of GA) and so everything seems to funnel through him. Despite being a little frustrated by this process, a week later I have now received a new foot controller under warranty that now allows my machine to function properly which makes me very happy. I have been instructed that Juki wants the defective foot controller back which I am now trying to hunt down a shipping label from them to do (note this also required a return authorization form from Juki).

So the process is a little wonky, no real phone number to call for support and its on their timeline with the tech, but Juki did respond and I have a new pedal so guess I can't complain, just important to note the support process here I think. Communication was pretty bad during this process - basically two days after I logged the issue I heard back from Juki via email who CC'ed the tech and told me I would be contacted by him.....never was. After several days I sent another note asking for an update and was then given the RA and told that a new pedal was headed to me and that I would be given a shipping label (still haven't received this). So for what it's worth, that's the low down. It's hard for me to beat them up since a week later it's corrected under warranty, but I suspect I still have a hurdle to climb in getting the shipping label from them so I can return the faulty one which is required. I still love this machine and with the new foot controller, it functions perfectly once again. Hooray!

04/09/14 - Started experiencing another malfunction, the left and right needle are now occasionally skipping but never together, one or the other. It almost happens every time I serge, skipping one stitch occasionally out of the blue. I have tried changing needles, thread, tensions, rethreading, presser foot pressure, fabric, etc. and am now seeking help from Juki as it continues. UPDATE - Juki tech never contacted me on this however I believe it was caused by the table that I had it on and the vibration at higher speeds.

05/29/14 - Experienced pedal failure AGAIN (in that it failed to stop the machine). This time it ruined a wrap dress I was making as it cut a large hole in it when I jerked to reach for the power button as it chewed through pins. I logged the issue with Juki support and was told that there is a known issue with the original series of pedals used - a spring failure - that results in the pedal working for a little while and then failing. Both pedals they gave me were originals, so now they are sending me a new one, which they assure me fixes the problem. I will keep review updated with info as I test this new one out. I love this machine when it works, but it has been a nightmare with this pedal issue.

Troubleshooting:
The only troubleshooting I've really had to do with this machine so far was on initial setup. I had an issue due to my poor choice of where to cut the threads off that came already threaded in the machine. Part of the threads got stuck inside the threading tubes after I snipped them and did not pull out with the thread tail however I used the manual threading tool that comes with the machine to "clean" out the tube which produced the thread remnant that had been trapped. I was immediately able to air thread the machine without issue. In general I have found threading issues (both with loopers and needles) to be very easy to troubleshoot and usually comes down to the threading lever for the loopers (and making sure handwheel is turned until it clicks) or handwheel location for the needles.

*LOGIN to add a comment to this review
* Only registered members can post comments to the reviews. Membership is free. if you are not a member, please Sign-up now!
24 Comments
Login to Add a Comment
Altering Pants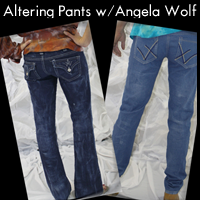 Create a Jacket Muslin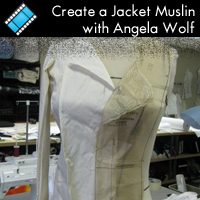 Sew Liberated Aida Top Pattern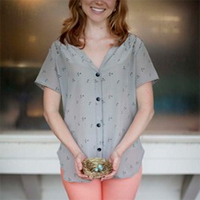 Buy Now
HANDBAG CONSTRUCTION - A CD Book By Kenneth King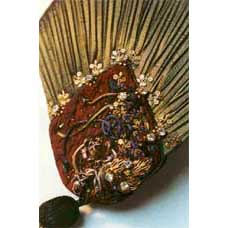 Buy Now