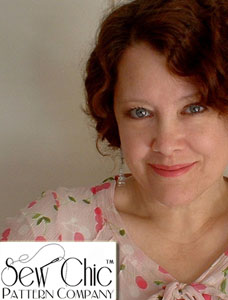 Notify Me when new patterns are available for sale

Shipped from Sew Chic Patterns (Oregon, USA)



Show All

Recent Catalogs

Feb-2016
November-2015
March-2013
Categories
Accessories
Coat/Jacket
Costumes
Crafts
Dresses
Easy to Sew
Formalwear
Junior
Lingerie
Outerwear
Pants
Skirts
Suits / Separates
Tops
Uniforms
With a blend of modern, classic, and timeless styling, and just the right touch of vintage, Sew Chic Patterns are perfect for the modern girl that longs for the beauty of a by-gone era. A unique numbering system that runs similar to Ready-to-Wear, together with quality pattern making, sizing, and fit standards, ensures each pattern sews together perfectly with a consistent fit between styles.

Instructions are organized using quick and professional construction techniques to make the best use of your valuable sewing time.

About Laura Nash: I've been sewing since I was a child, making quilts for my soon to be born siblings, designing dresses for Barbie, and bras for myself. In 1988 I turned professional as the "in house" seamstress for several high-end retail stores and private clients. In 1993, once the last of my 4 children enrolled in school, I enrolled too, completing a BS in apparel design in 2003, all the while designing custom gowns for clients and also for competition. In 2007 I began preparing to produce many of these patterns for a line of patterns. In 2009, I grabbed up the name "Sew Chic" and was open for business!