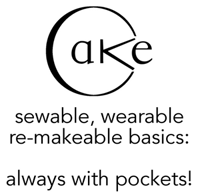 Notify Me when new patterns are available for sale
Stephanie Cousins is the designer behind Cake, a line that features sewable, wearable basics for busy women...always with pockets!

So what's Cake?
There's been some chatter on sewing blogs about sewing 'cake' vs. sewing 'frosting.' It's a sweet way to describe the difference between sewing frothy, fun or 'out there' statement pieces and sewing the basic underpinnings of a good wardrobe. I love frosting, I sew plenty of frosting myself, and some Cake Patterns will totally feature a thick layer of frosting. But frosting melts when it's left on its own... Cake is a pattern line devoted to having fun while sewing wearable basics suited to a busy woman's lifestyle.