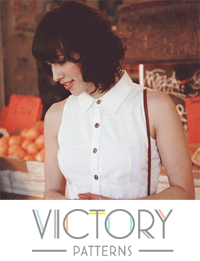 Notify Me when new patterns are available for sale

Shipped from Victory Patterns
Kristiann, left her job as a costume maker and spent the next ten months writing a business plan and developing the first collection of patterns. What she loves most about these patterns is that they encourage the creation of more sustainably, socially conscious clothing. Whether you know it or not, by making your own clothes and buying less fast fashion, you are doing a small part to make this world a better place! I hope you find something that you like for yourself. Make it with care and take pride in knowing that each stitch is made with love by you!
Available in Digital as well as Paper format.