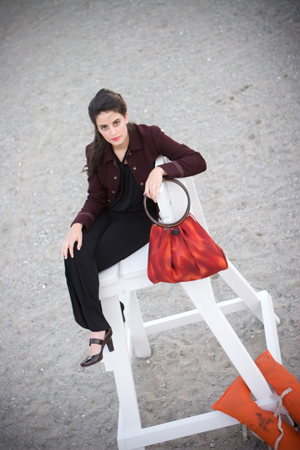 Handbag: "No No Kimono" design by Jennifer Sauer, www.vesselcouture.com; Photos: Michele Manning, www.imagesbymichele.com



So, you made a fantastic garment. Now, you want to photograph it for posterity. You just don't want the final image to resemble a mug shot. The good news? You don't necessarily need to hire a professional photographer. Here, I'll outline my five-step plan for fashion photography. It works for model photography (i.e. with a person in the garment) or for a still-life (where the garment is arranged on a table or such). I teach it to my students every term. It's foolproof. And fun.

FOLLOW A FIVE-STEP PLAN

1. Tell a story
The difference between basic photography and an editorial spread in Vogue is the story behind the photo shoot. Don't settle for snapping your garment in front of a boring wall or on the deck. Come up with a mini story.

PHOTO STORIES

STORY: The model is trying to save her luxurious VESSELcouture handbag from the elements, down at the dock.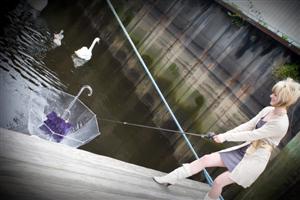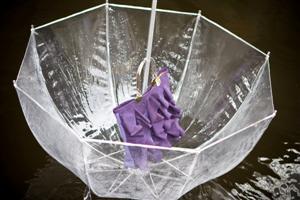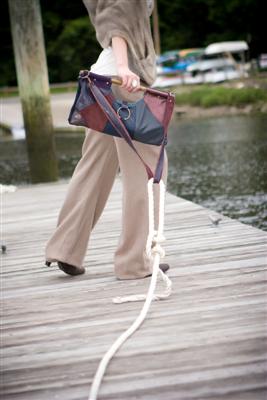 (Photos: Michele Manning, www.imagesbymichele.com)
STORY: Here, the models are hitchhiking or running away.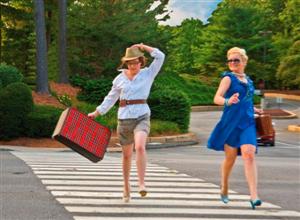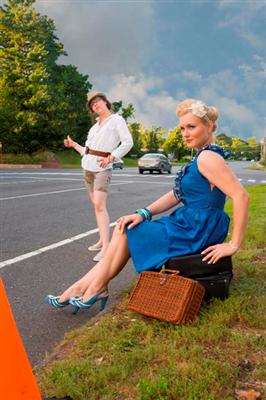 (Photos: Carmine Paladino, www.cpphotographics.com; designs by Emma Velush Coates)
STORY: A modern-day Alice in Wonderland.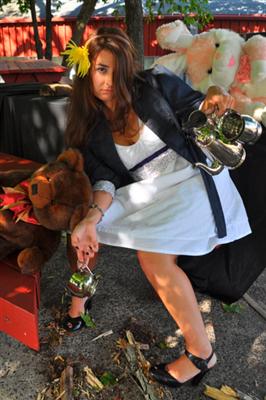 (Photos: Carmine Paladino, www.cpphotographics.com; designs by Samantha Austin)
STORY: Diamonds in the Rough.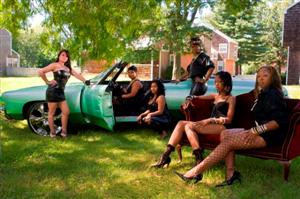 (Photos: Carmine Paladino, www.cpphotographics.com; styling by Etta Weaver)
2. Plan your scenes
Once you have your story, come up with scenes within that story. In yet another scenario, for instance, one scene took place at a bench on the train platform. Another scene centered around a model collecting change with her designer bag. I tell my students to think outside the box. Add an unusual element or spin to the story. A good fashion photo has edge.
3. Tap into your inner model
To be a model, you don't need to be super tall and rail thin like Heidi Klum. But you do need to be confident and comfortable in front of the camera. So, before you step in front of a camera, shake out your arms and legs, then think like an actor and get into character. Also study celebrity photos.
Notice that they never stand straight in front of a camera. They turn slightly to the side because it's slimming and flattering. Practice in front of the mirror. Figure out which is your best side, smile like you mean it, and toss back your hair. Natural and free is the best way to be. And check out Tips from the Pros.
The more photos you take, the looser you will get. That's why professional photographers are constantly clicking away. Sometimes the best shots of the day are when the subject is caught off-guard and isn't posing.
4. Don't forget to style A gorgeous garment will look like a dud without top-notch styling. And, a dud garment can look amazing when paired with other garments and the right accessories. Push up sleeves for a little pizzazz. Layer on necklaces. You name it. Contrast works well in photography, so try a lemon yellow belt with a purple cardigan. Or a bold blue necklace on a grey dress. Hair and makeup are also a part of styling. In my book, no one should step in front of a camera without proper hair and makeup. EVER.
Even men and children need a little blotting paper or powder to reduce shine in the T-zone (forehead, nose and chin).
5. Location, location, location Again, no blank walls unless the wall is part of your story. Some of my students opt to build a set, but scouting out a great location is actually the better option -- and it saves time. A pretty park bench, the corner table at your favorite restaurant, a small grove of trees, even the dumpster in back of your office can infuse life and substance into your composition.
And don't work alone if you can help it. Enlist the help of a friend or family member. It's virtually impossible to be model, stylist, and photographer. Let them work the camera, or you work the camera and they model.


THEN WRITE IT OUT
Once you have all of these five fashionable ducks in a row, type up a photo plan, and pass it out to everyone involved in your shoot. As I noted above, it can be a challenge to style and shoot, so try to get at least one friend to help out. Teamwork can produce amazing photography, as you can see in the photos showcased here.
For my class, I also insist on a detailed timeline, and ask my students to look through existing magazines for examples of poses and styling. These help focus the hair and makeup. Models will also use the magazine tear sheets to get into character.
I tell my students to "Plan, plan, plan. Then roll with it." Fashion photography is meant to be fun, invocative, and inspirational. You have to be open to changes during the photo shoot. It's important to loosen up, experiment, and play. Hey, what's the worst that can happen? You'll need to take more photos. That's not a hardship. Not at all.
Tips from the Pros
Carmine Paladino, of CP Photographics (www.cpphotographics.com), offers up a few simple ideas to make your photos look high-end. They work for any point-and-shoot camera.
Composition:
Fill the frame with your subject. A common mistake is to shoot too far away from the subject. Know your focus, and get close. You don't want the background to compete with your model or garment.
Try lots of different angles. Experiment. Play. Don't be afraid to tilt your camera. Everything doesn't need to be straight.
Click away. Take tons of photos from lots of different angles. An amateur photographer takes one shot and steps away. A professional keeps snapping away, knowing that in every batch of outtakes, there will be one or two amazing shots. It's only digital space, after all. Don't be afraid of using it.
Lighting:
Avoid on-camera flash. Whenever possible, use available light, and make sure it hits your subject on an angle. It will give you a more natural effect. If you have to use flash, don't point it straight at your subject. It flattens the picture. Instead, bounce the flash off a wall or the ceiling.
Shoot early or late. Midday sun casts harsh shadows. Photograph early in the morning or toward dusk when the light is soft and diffuse.
Bounce light with a reflector. Your main light source should be off to the side. Create a low-tech reflector for the other side, to bounce the light back onto the subject and soften shadows. A simple piece of white cardboard works wonders.
Diffuse light. If you're using a light or flash, cover it with a piece of white gauzy fabric or white tissue to soften the light. Just make sure a hot light doesn't singe the fabric or paper.
Editing:
Shoot at the highest quality setting. It may take up a little more digital space, but it's worth it.
Go a touch brighter. Most computer monitors and camera screens are a little dark, so adjust your photos accordingly in photo-editing software.
Sharpen. Always sharpen or bump up clarity. Also don't be afraid to bump up contrast on your photos. Try adjusting saturation (all levels) or vibrancy (just midtones), as well.
PHOTO SERIES
The more photos you take, the better. Here are five still-life shots (out of the 20-plus that I took) of my "No No Kimono" bag from my VESSELcouture Retro line. See if you can tell the differences, and which "beauty shot" I ended up choosing.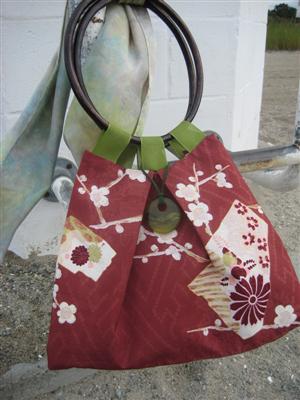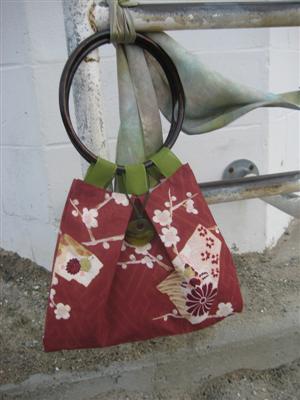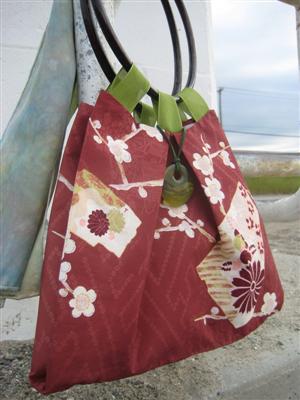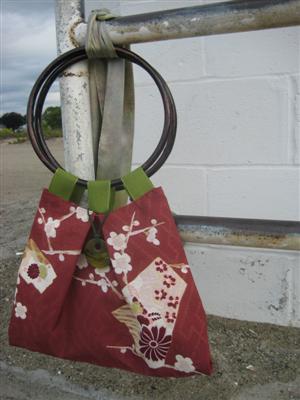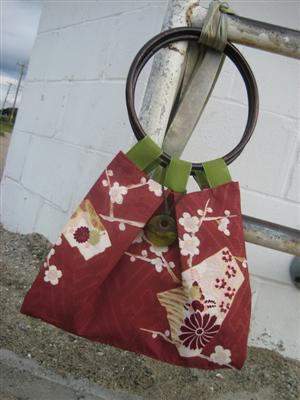 (Photos: Jennifer Sauer)


You guessed it right! The first handbag photo is the one I used, as it shows the full bag and handles, and I like how the breeze picked up the scarf. I also really loved the angle of the third shot, but it cropped out the handles.

And here are some outtakes from my "Go Beyond the Edge" article. I styled the tank right on my front steps.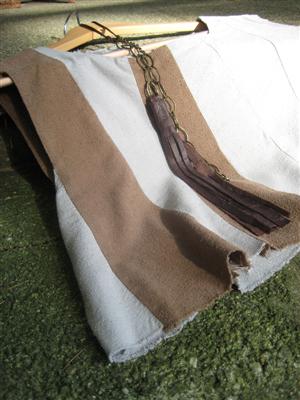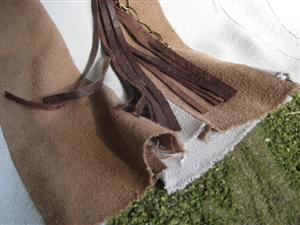 (Photos: Jennifer Sauer)