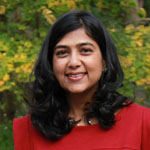 E-mail me when new classes are up.
Deepika Prakash is the founder of PatternReview.com - A site she started in November 2001 when she couldn't find any sewing resources online. A lover of fabric and patterns she has a simple goal. "Everyone should sew!" and with this goal in mind she decided to teach her first video class right here on PatternReview.com. "Anybody CAN sew", she says.. "You are only limited by your own desire to learn".

Deepika has been a contributor to many sewing publications over the last few years like Threads and Stitch. She is currently designing easy to sew patterns for all body types. She has also been featured on It's Sew Easy TV series.