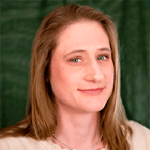 E-mail me when new classes are up.
My passion for sewing and design started at the age of 5. My mother loves to tell the story of how I spent the day in my room "recreating" an apron I spied on a cover of Good Housekeeping from an old sheet and a hand needle–ruffles and all!

I am an instructor on patternreview.com and in the fashion department at Sanford-Brown College.

I've designed a line of fashion patterns that have a unique fresh look.

My blog is filled with easy to follow how-to tutorials. In addition to providing on-line learning, I also love to travel around the country teaching workshops on pattern fitting, construction techniques and design.