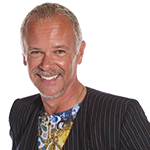 E-mail me when new classes are up.
Kenneth's love for sewing began 40 years ago, starting with Barbie when he was four years old. He started making clothes for himself in High school, and studied fashion merchandising in college. Haberdasher to the stars, Kenneth D. King has designed clothing, home furnishings, and accessories for Elton John, Jim Carrey, and others. He is professor of haute couture at the Fashion Institute of Technology in New York City and sewing expert on the PBS series Sewing Today. He is the author of the book Cool Couture.

Kenneth has taught many workshops for PatternReview in Massachusetts and New York. Kenneth's Books on CDs.

In addition to teaching, Kenneth D. King Design is a small haute couture house that has a distinct aesthetic identity. King produces one-of-a-kind, made to measure pieces for women and men, as well as limited-edition pieces for boutiques.