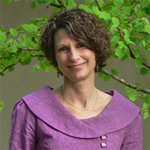 E-mail me when new classes are up.
Sarah Veblen is a custom fashion designer with a home-based business that focuses on creating clothing for her clientele, and that concentrates on teaching and writing to promote the craft of garment-making. She has a Certificate in Fashion Design from Baltimore City Community College and a BA from Stanford University.

Dedicated to promoting sewing at all levels, Sarah teaches in her studio and other classroom venues, as well as online through PatternReview.com. She has been a guest lecturer and held workshops for many sewing groups and organizations across the country.

Drawing on her years of experience fitting clients and students, Sarah has written a comprehensive and beautifully photographed and illustrated book on fitting. The Complete Photo Guide to Perfect Fitting gives detailed information on custom fitting garment patterns. And it provides easy-to-understand explanations of patternmaking principles and skills to make the resulting pattern changes logical and straightforward.