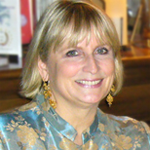 E-mail me when new classes are up.
Susan Khalje received her professional sewing training at the New York couture salon Chez Cez et Bez. After a 25-year career as a couture dressmaker, she is now a Contributing Editor of Threads Magazine and was recently honored with the Association of Sewing and Design Professionals' Lifetime Achievement Award.

She founded the Couture Sewing School in 1993 and teaches nationwide, and regularly travels to Paris with couture enthusiasts.

She is also the author of Bridal Couture - Fine Sewing Techniques for Wedding Gowns and Evening Wear (Krause); it was followed by Linen and Cotton: Classic Sewing Techniques for Great Results (Taunton). Over the years, Susan has written for every major sewing publication. Bridal Couture is now available as a CD on Patternreview.com.