It's late August, which is the perfect time to start thinking about your plans for Halloween 2016. As Pattern Review's official cosplayer extraordinaire, I would like to take this opportunity to shine the big lights on my favorite type of sewn garments: costumes/cosplay. Whether you are making them for yourself, your partner, your children, or the entire family, Halloween costumes are serious business for many of us in the Pattern Review community. In this feature, I present to you how to make the most of cosplaying for Halloween 2016 and a plethora of gorgeous inspirational ideas.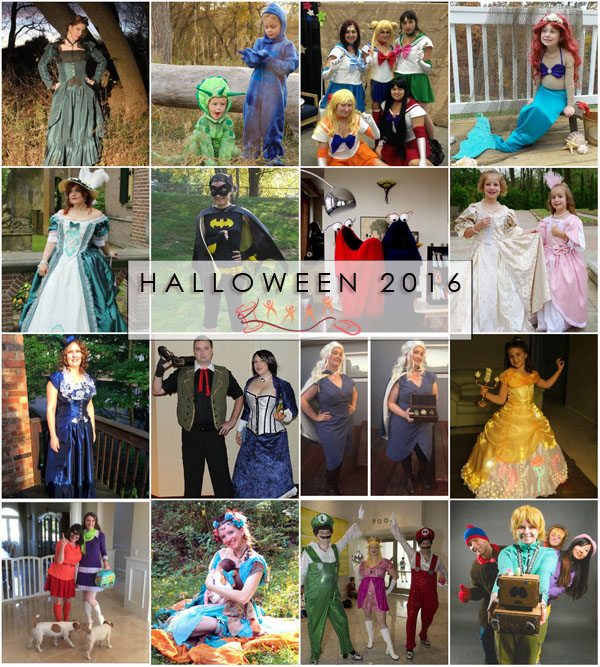 Halloween is Easy as 1-2-3!
Here's a quick cheat sheet for getting your no-stress Halloween costumes done on time:
Timing is everything. Halloween always occurs on October 31st. A good way to plan your time is to get started no later than Labor Day (September 5th this year) and make sure your costume(s) are finished by Columbus Day (October 10th this year). Minor cosplay mishaps happen most of the time, so if you have any unfinished seams, ill-fitting collars, uneven fairy wings you will have exactly 21 days to fix them. Use the time between October 10th and Ocober 31st to test out your costumes and adjust as necessary.
Figure out who you will be sewing for and stick with the plan. Many of us are the only sewists in our respective immediate families and this can be both a blessing and a curse. If your partner and/or your kids want homesewn costumes this year make sure they let you know sooner rather than later.
Pick costumes that have corresponding sewing patterns. Some of us are pros at drafting patterns from scratch but when you're on a time-crunch, commercial sewing patterns are super useful. Take advantage of Pattern Review's extensive costume pattern collection.
Anime: Simplicity 1092, Butterick 3648
Sailor Moon is the quintessential anime series that many of us grew up with in the 1990's. It is a perennial cosplay favorite at anime conventions – I have found a Sailor Moon cosplayer at every single anime convention I have ever been to. Furthermore, it's perfect for cosplaying with one's friends. JennestaRose and four of her friends do exactly so using Simplicity's 1092 pattern the results are amazing!
Trinity Blood is known for its spectacularly detailed costumes – so intricate that they scare off all but the most daring and experienced cosplayers. Here is my rendition of Mary Spencer, admiral of the Albion Navy, using an old Butterick men's costume pattern.
Video Games: Simplicity 1040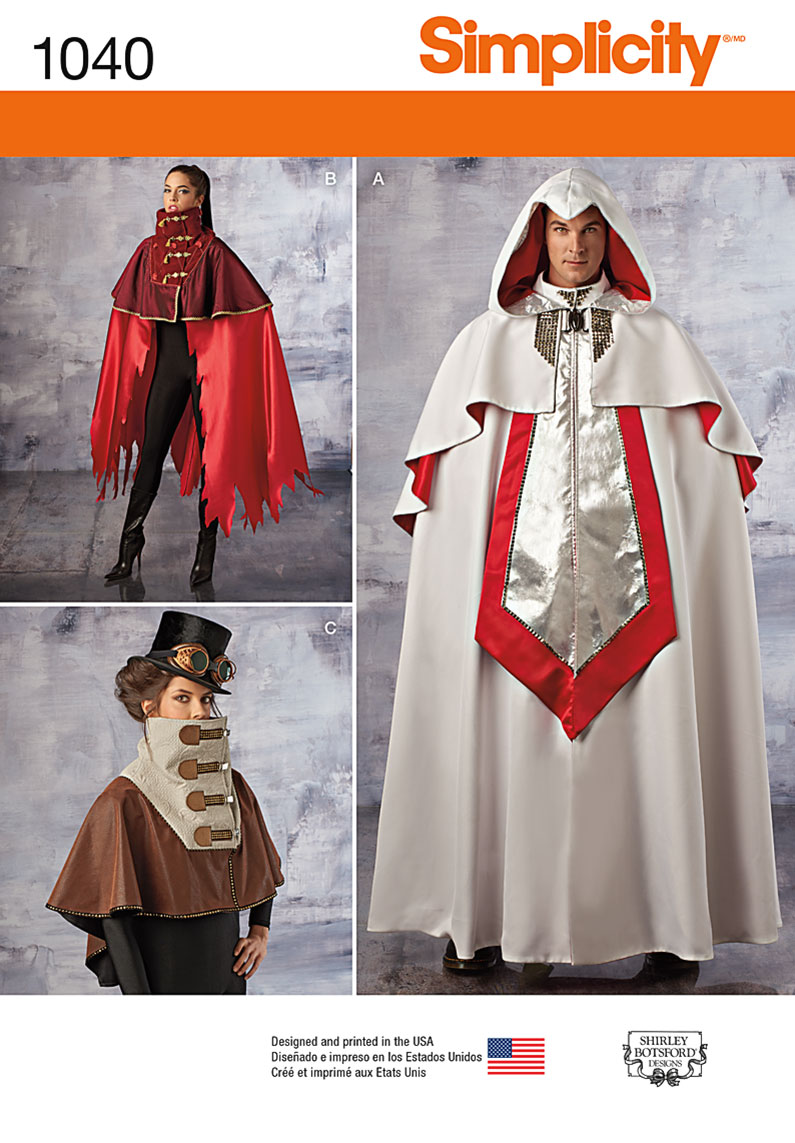 Assassin's Creed is one of the bestselling video game franchises in history (over 50 million games sold). Without a doubt, the costumes from this series are ultra-popular at video game conventions. Here is Marie-Claude cosplaying as the Templar Grand Master – she uses Simplicity's 1040.
jadesabre9 has so many cosplay reviews – here are two of her self-drafted cosplays, the first is of Mario/Luigi/Peach and the second is of Elizabeth and Booker from Bioshock.
Sci-Fi/Fantasy: Simplicity 5840, Simplicity 1008
Many of us automatically think of Star Wars when we think Sci-Fi. May the force be with fourkid, who used Simplicity's 5840 pattern to make fantastic Jedi robes for her daughter.
Simplicity's 1008 is a cosplay pattern for Daenerys Targaryen from the fantasy book/TV series Game of Thrones. relliotts made an excellent rendition.
Comic Book: Simplicity 1036, Butterick 5748
BlossomKyle revs up her inner superhero for a Halloween bash! She used Simplicity's 1036 to transform into Batgirl.
HanPanda used her imagination to make a 1950's retro-stylized Harley Quinn. She used Butterick's 5748 pattern to turn herself into an astoundingly classy comic-book villain.
Historical: Simplicity 8161, Simplicity 4092, Simplicity 4764
History, whether realistic or imagined, inspires many of us to make costumes. Check out Marie-Claude's historically accurate 18th century highlander outfit (Simplicity 8161) and her sumptuous Rococo Marie Antoinette gown (Simplicity 4092).
KamiSue2 made wonderful costumes for her daughters' Halloween celebration – she turned her girls into Jacobean princesses of the Baroque era. She used Simplicity's 4764 pattern and a whole lot of 1630's – 1660's paintings as inspiration.
Ren Faire / Steampunk: Simplicity 1550, Simplicity 2172
If you're looking for something more whimsical than historically realistic, try Simplicity's 1550 Ren Faire fairy pattern. dontknow is the fairy with the most glitter!
Retro-futurists take note: Halloween is the perfect time to show off your Steampunk costume sewing skills. hazeljae plans on wearing her Simplicity 2172 gown on Halloween THIS year. SometimesSewist made her own version of the gown for a Halloween celebration. Both ladies used beautiful taffeta fabric.
Family: Simplicity 1765, Simplicity 5363
Sixtiesgirl made a great mother-daughter cosplay for her family's Halloween celebration. She became Velma and her daughter became Daphne from Scooby-Doo!
MissMarnie took her inspiration from Sesame Street when she and her husband cosplayed as Yip Yips on Halloween. Her conclusion: "Yip yip yip yip yip yip!"
ArtsyAmy looked to the prehistoric age and made her sons dinosaur costumes with Simplicity's 1765 pattern. Her older son became a t-rex and her younger son became a triceratops.
Family costumes can include new members as well as soon-to-be members. ZulmaFrench made this beautiful fairy costume with Simplicity's 5363 pattern that worked before and after her child was born!
Disney: Simplicity 4043, Simplicity 1583, Simplicity 9902
Disney is a perennial favorite amongst children and parents for Halloween cosplay ideas. quiltwoman used Simplicity's 4043 pattern to turn her daughter into Ariel from the Little Mermaid.
Mel W. took a different approach when it came to sewing up something special for her daughters' Halloween. She used Simplicity's 1583 children's cape to turn her daughters into Maleficent from Sleeping Beauty and Evil Queen from Snow White. She says, "This is a must have pattern for households with kids who love creative role play!" Why be the hero when being the villain is so much more fun?
TaylorMade07 took cosplay to the next level with the dress she made for her daughter. She used Simplicity's 9902 pattern to turn her daughter into Belle from Beauty and the Beast. Not only was the dress on point, TaylorMade07 made it light up with extensive electrical engineering using LED lights! She even made a matching Beast cosplay for her son.
With creativity and imagination, have your best-dressed Halloween yet. Pattern Review is always here for you with inspiration, sewing patterns, and encouragement from community members.
For those of you who missed it, here are the three previous editions of inspirational pieces: Inspiration: Summer Celebrations Inspiration: Shorts for Summer Inspiration: Swimwear for Summer