Its September 1st! Among other things - It is the official start of our 2015 Sewing Bee. Keeping this round a secret has been hard for us too. But no more. Here are the rules for Round #1. Rememember all PR members (free or paying) can participate as long as they have been a member for 90 or more days.
About the Bee...
If you are just joining us, The Sewing Bee is a contest inspired by the popular BBC show The Great British Sewing Bee. The participants will be competing in four rounds of challenges with prizes awarded each week. At the end of the contest, a grand prize winner will be announced!

Challenges
For each round, contestants will have a week or more to sew the mystery item announced that day, with particular guidelines set by the Contest Committee. Our Contest Manager, MrsCharisma, will also be here to act as your mentor throughout the bee. By the deadline date, participants must have their submission posted. Taking clear photos and writing detailed reviews of your item will make it a stand-out in this competition.

Rounds
After each round, there will be a number of eliminations, based on the total number of entries. Only the selected participants will move on to the next round. But don't worry - this sewing bee is all about making great projects and having fun along the way!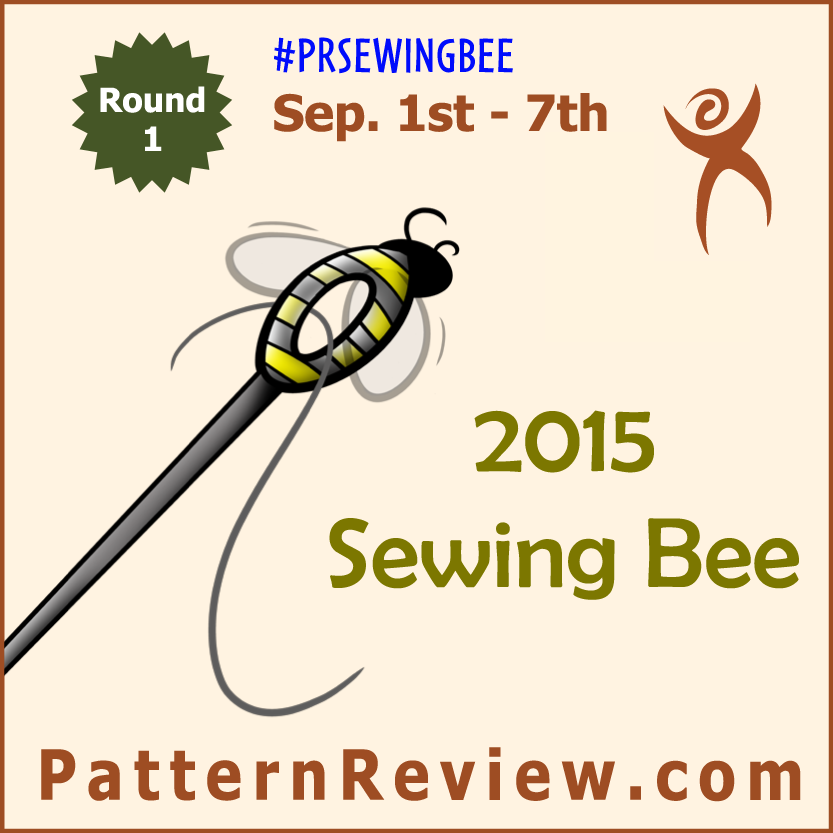 Round #1 Project
You will have one week to cut, sew and photograph A Fitted Blouse and submit a review with required photos. Only one entry per participant is allowed. Any member of PatternReview (free or paying) who has been a member for atleast 90 days prior to September 1st is eligible to participate.

Neither the Contest Committee nor the Contest Manager will evaluate whether an entry qualifies prior to the end of the contest. Participants are expected to read and interpret the rules.
Rules
1. Blouse must conform to the following:
The blouse must use shaping through the use of darts, or dart equivalents such as princess seams, gathers, tucks, or pleats, to follow the contours of the body through the bust and waist. Review MUST STATE how shaping was achieved.
Closure required (buttons and buttonholes, loop buttons, zippers, hook and eye, tie, frogs, etc.)
Because the blouse is fitted, it CANNOT be a pullover or wrap style.
Collar optional
Fabric - Woven or Stretch Woven only. Knits are NOT allowed. Can be a print or a solid - any color.
Set - In Sleeves required - Either short or long. Raglan/Dolman/Cut on sleeves NOT allowed.
Sleeveless entries are NOT allowed.

2. A minimum of three photographs are required. Although you can now upload upto 5 photos when you write a review so more photos is better. Front, Back and inside are required. The front and back MUST be a photograph of the fitted blouse on a person since the judging criteria includes 'best fit'. Front and back photos of the fitted blouse on a dressform, hangar or lying flat will cause entry to be disqualified. Photos MAY crop the head out of photo, if desired for privacy issues. Inside photos do NOT need to be on live model.

3. All fabric cutting and sewing can only be done from September 1 – September 7.

4. Commercial or self-drafted patterns are allowed.
5. Links to blogs will NOT be allowed for this contest. All details and photos must be included in review.
Judging
There will be a five-day judging period: September 8 - 12.

The winner and those advancing to the Round 2 will be announced on September 12.

Your Judges for this round include the Contest Committee and Deepika (founder of PatternReview) . Judging criteria includes:

1. Follows all contest rules. Failure will result in disqualification and entry will not be judged.
2. Well assembled; inside as neat as outside; smooth sewing.
3. Comprehensive review with pertinent details; outlines steps taken; explains how modifications helped achieve result.
4. Good quality photos; Can envision the project as if viewing in person
5. Project incorporates one or more creative elements.
6. Fit - how well the item fits body.
7. Ingenuity - "Wish I had Thought of That"; A garment people would ask "Where did you get that?"

Prizes


Winner: The Winner of this contest will receive a $100 Gift Certificate from Blackbird Fabrics.
Random Winner: We will pick a winner by random drawing. The random prize is $50 Gift Certificate from PatternReview.com
How to enter your project in Round 1
Step 1: Read the Rules and Join the Contest (last day to Join Sep 7th midnight eastern).
Step 2: Sew your Project and Write a Reviewusing the template provided. The use of template is required.
Step 3: Connect your Review to the Contest by either clicking on the button which says "Enter this review in the contest" After Step 2 or Manually connect it here.
Visit the Contest Topic for more discussion.
Let the sewing begin! #prsewingbee