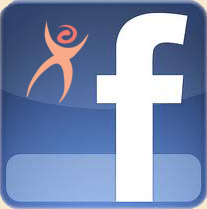 We'd like to know:
"What are you sewing right now? Is it what you are in the mood to sew? If not, what are you actually in the mood to sew and why can't you sew it right now?"
Tell us in the comment field below!
Here is what other members said on Facebook:
"I'm sewing fabric coasters (141), a nice easy project between my next big ones."
"I am working on a skirt for myself. I need to get the zipper on and finish it up."
"Working on a dress for a client but I really want to work on a corset for myself."
"Theoretically sewing baby clothes, not really sewing because of said baby
"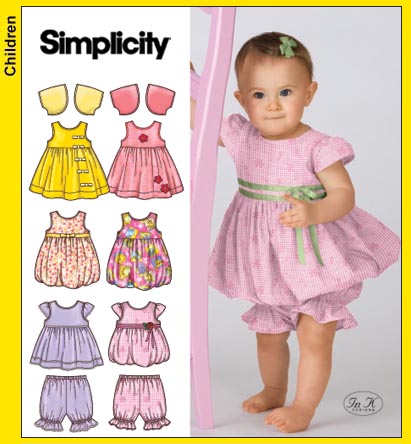 Simplicity 3854 Babies' Dress, Pantaloons
"Working on a wardrobe for my trip to London, Paris and Cologne in April. I plan to take a small carry-on and a small checked bag since I'll be traveling by train, so I have to be strategic."
"Just finished a great jacket for myself with fabric my son gave me for Christmas. Now going to start tackling a prom dress for my daughter..."
"Headed to Yoga class, then Needlers group, then home to sew!"
"I have an outfit planned with a new-to-me vintage pattern that I just recently got but have to wait until payday to buy the fabric."
"Making Ravens hats & scarfs & lovin' it!"
"A birthday present for someone special..."
"Polar fleece hats for my girls!"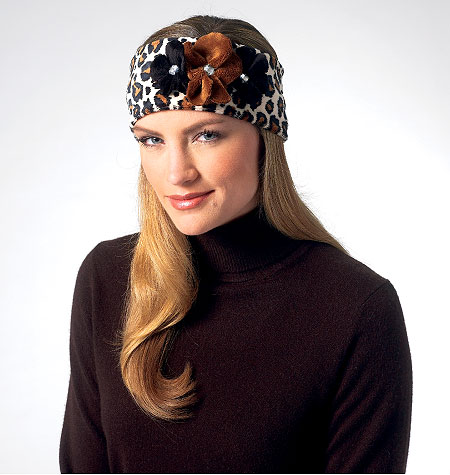 Kwik Sew 3967 Adult and Child's Hat and Earmuffs
"I'm working on a dress that's not quite working. It may need to be put aside for a while."
"Sleep sacks for my LO, but it's a new machine to me and the tension is off due to the thickness of the polar fleece Flung them aside out of frustration, and no more time away from LO to finish them! Need to figure out how to use my serger!"
"Linen grocery bag totes. I would rather be sewing a wrap dress."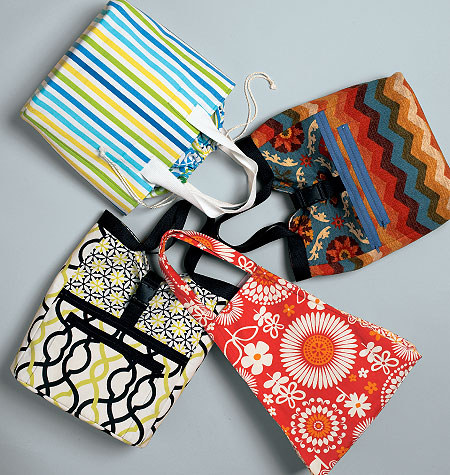 "Cutting out a Cambie dress right now. The first thing I've sewn for myself in ages!"
"I'm working on a dress for a friend, but would much rather be making myself a skirt with the fabric I just bought last week when I was vacationing in beautiful, warm Costa Rica!"
"18-inch doll skirt and shirt samples for an upcoming vacation sew camp from Lynn Weglarz book 'I can sew'."
"I'm doing alterations on pieces I'd previously sewn, and no, I'm not really into it, but if I just plow through, I'll feel a lot better about not having it hanging over my head. Then I can really enjoy myself."
"Have sewing block...any advice on how to stop it?"
"I'm still setting up my sewing spot in my mud room and I'm trying to finish one of four kids' shopping bag. I know it's easy, but I think the whole mud/laundry/craft room vibe is not working for me."
"I'm working on 3 pairs of shorts for a customer, but I really want to sew a top for myself."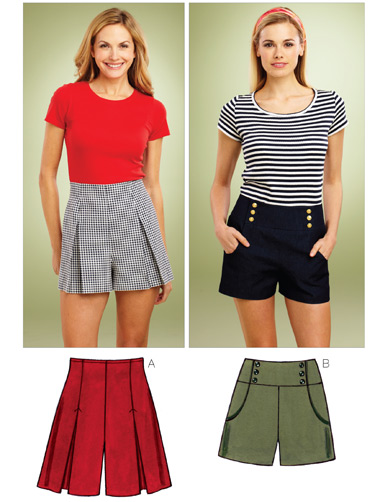 "I'm working on a cute Marfy blouse."
"I am working on alterations of my own and making a small gift to give my mother on MY birthday tomorrow."
"I'm in a sewing slump. No time. Although I think my next project should be something for ME for a change! Perhaps a cute spring dress."
"I'm working on a muslin for the RTW contest."
"I'm about to start my second minoru jacket. I tested it last year."
"Sewing right now = nothing, in the mood to sew = anything (pulled back and can't sit long enough to actually do any cutting or sewing)."
"I'm sewing Gertie's B5814. I've got the muslin done and pretty well fitted, I'm just trying to decide on fabric and color. Red??"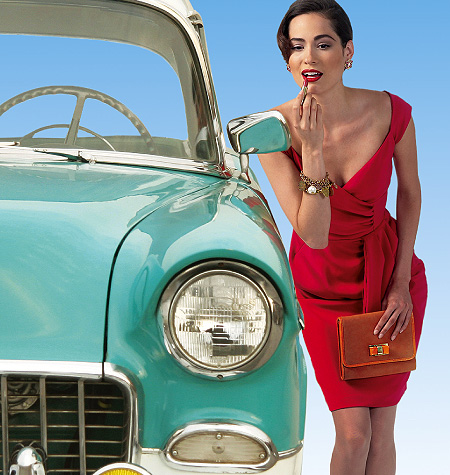 Butterick 5814 Misses' Dress by Gertie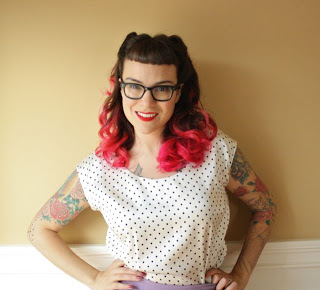 Read the interview with Gertie.
"I'm in the mood to sew tons of clothes for myself yet it's taking too long to finish a skirt I cut out a week ago. Wish I could work as fast as the ideas swirl in my head!"
"I'm working on free motion quilted Spring table topper. I'm in the mood to start the crib quilt for our new grandson due in June."
"Working on a lovely corset for a competition but I really want to sew myself a beautiful lbd."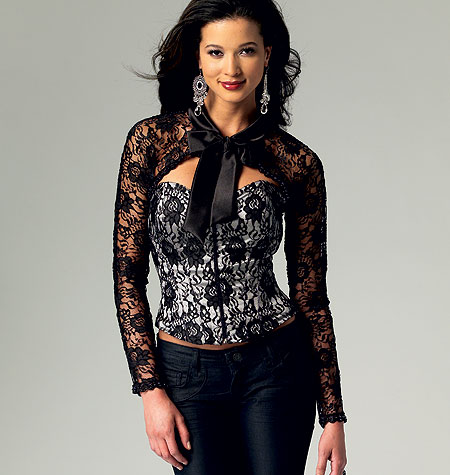 Butterick 5797 Misses' Corset, Sash and Shrug
"Skirts with my granddaughters. My other list is looong this year but starts here."
"Yesterday I received the Vogue jacket pattern (V8620) that I had ordered from PatternReview, and today I found the perfect fabric - $1/yd at a surplus store. Tomorrow I'm going to wash the fabric - black stretch denim - just to make sure that I still like it after it gets washed."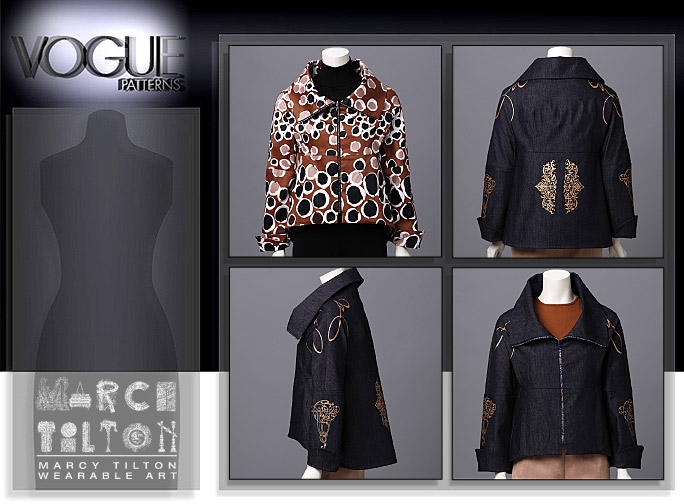 "I'm sewing a wool double-breasted coat because it is cold out and I need a coat. I'd much rather be sewing pants because I have the fabric and pattern picked out, and I've never made pants before!"
"A denim shirt for my husband. I would like to be working on a knit dress for me."
"Just finished a Chanel-type jacket that took forever, now busting my stash with a 50's wrap from a Decades of Style pattern."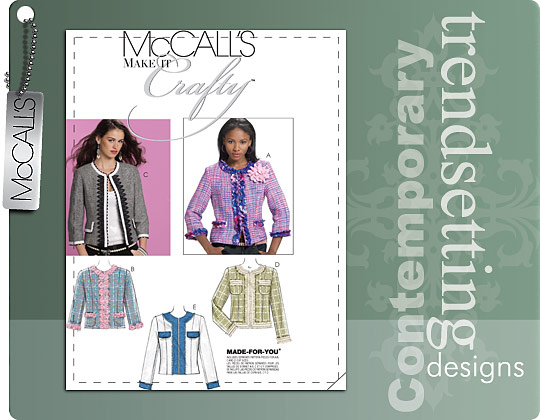 McCall's 6041 MISSES' LINED JACKETS
"Finishing a knit dress for a granddaughter."
"It is good to hear so many people doing great things for others. As for me, I accomplished a major goal. I really love the look and feel of quilted leather and I want to incorporate it into a new spring-colored jade jacket. Tonight I did it, I totally scored, thanks to some great help from my PR community on my blog and here on FB!"
"I am working on a black cocktail dress with lots of tulle. Fun!!!"
"Finishing up three cushions for the window seats at my local independent bookstore. A favor, so I would finally learn piping. I want to make some funky Marcy pants for myself."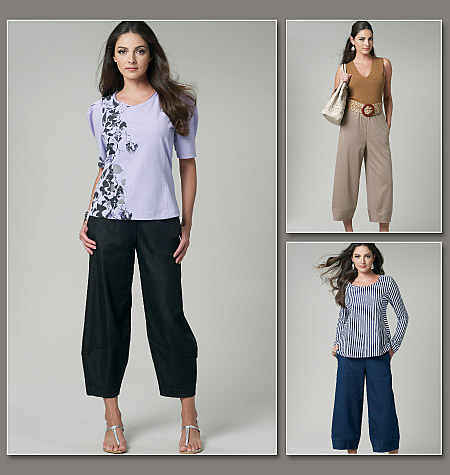 Vogue Patterns 8712 Misses Pants (Marcy Tilton)
"Every time I get ready to begin a project, a pile of mending gets in the way!"
"Making a simplicity peacoat with trench coat details in a dark brown wool. All my previous coats are black."
"Right now I'm making panties. I do this once or twice a year. I can't buy panties that fit, so I make my own. At least I know they'll fit, and I can make them in a fabric and color I like. I really like having undergarments that fit and feel good."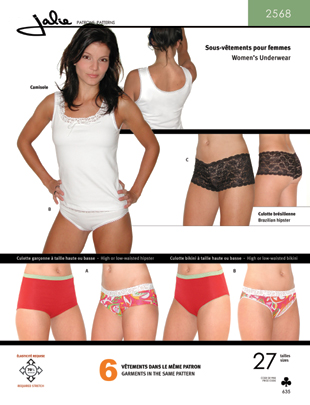 "A pair of houndstooth check pants for myself."
"I am making a cape...and I have another project going on . I am making adjustments to a pair of jeans."
"I have cut out a pussybow top - I just need to get motivated to cut it out. It's too hot.
"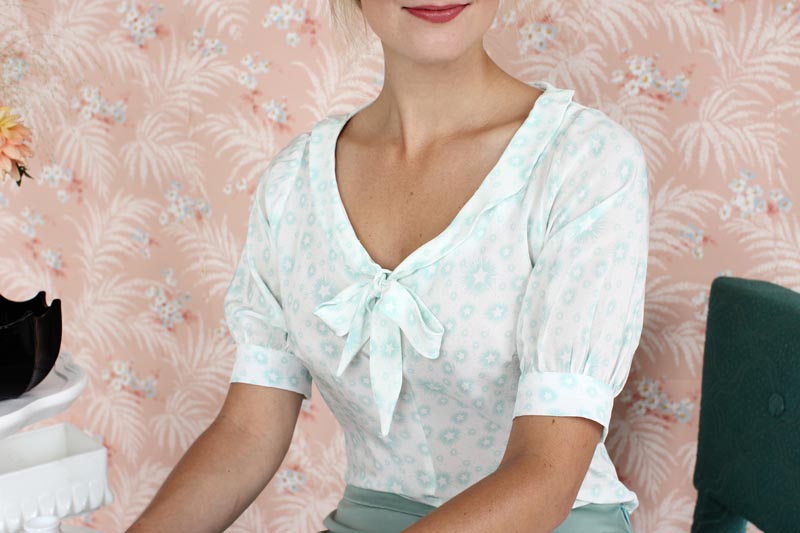 What are you sewing right now? Tell us!
Or, join the discussion on Facebook.
Do you have a question you'd like us to post on Facebook? Send your question to [email protected]. Please include your PatternReview name.