First Prize (by Member Vote): treefrog For Self Drafted Pattern: 125587-1002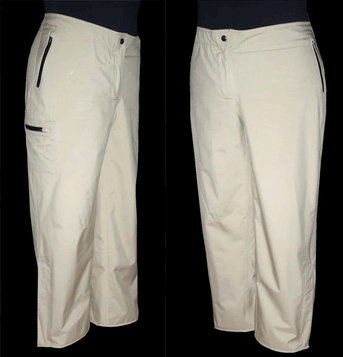 treefrog is an avid hiker and skier, and for 5 years now, she's been yearning for a pair of pants that would provide all the features she's looking for. Inspired by the Patagonia lightweight guide pants, she decided to make her own.

Her fabric of choice was Gore-Tex, a waterproof fabric that breathes. She found a lightweight 3-ply Gore-Tex that feels like fine kid leather and has a protective backing fused into the waterproof membrane.

She added some features of her own to the RTW-inspired piece. She wanted a fully waterproof garment, so she sealed all the seams and constructed the garment so that the zippers were waterproofed. This construction included covers for zipper pulls that protect the last open bit of zipper from the elements. She also added a crotch gusset for better movement and back waist darts for a better fit.

She drafted the pattern from scratch, a first for her. Although the project was difficult and she was blazing new trails in its creation, she feels that the effort was worth it. She expects these pants to last longer than the 10 to 15 years her other Gore-Tex garments have lasted.

Congratulations, treefrog!



Random Entry Prize:
PittyPat For Simplicity: 8739 Coordinates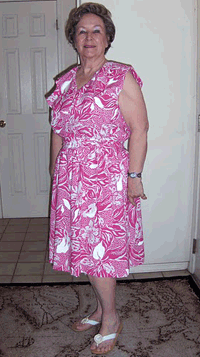 PittyPat had a hard choice ahead of her: which of the 3 RTW dresses that she loved should she use as inspiration? She finally chose an Ann Taylor dress and used OOP Simplicity 8739 as a starting point to make the garment.

She converted the blouse to a sleeveless bodice with facings and cut her own skirt pattern. One of her goals was to use fabric from her stash, so she used a fuschia floral print linen blend. Instead of lining the dress, she used interfacing. She lengthened the dress and added fullness to the skirt. The Ann Taylor dress has a soft tie belt, but she finds that they tend to crumple. She made a modification of this belt with a twist closing and added a separate soft tie belt tied into a bow to give it a look similar to the original.

She loves the result and feels it echoes the look of the original. She will wear it for many summers to come.

Congratulations, PittyPat!