First Prize (By Member Vote):
Patty the Snug Bug for her Mini-Wardrobe Entries.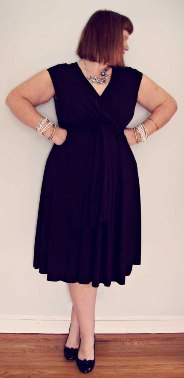 Pictured: Vogue 1027 - The March Dress

Patty the Snug Bug was working on a spring wardrobe and realized if she made one more skirt, she could enter the Mini-Wardrobe contest. And so she did! She used her recycled and altered Rose Garden Cami as the centerpiece of her wardrobe.

She made 4 pieces: Simplicity 2601 - The Wheatgrass Blouse, New Look 6735 - The Polka T, the self-drafted Lotus Blossom skirt, and Vogue 1027 - the March Dress.

She chose Vogue 1027 (pictured above) because she loved the cap sleeves, the pleating at the bust and the fact that it was suited for a knit (even though, she says, "some of the instructions were a bit wackadoodle for a knit").

She made it from a mid-range poly-jersey she bought from Hancock. She calls it "slippery, difficult to serge, but impervious to wrinkles, and, most importantly, white basset hound fur!"

An integral part of her Mini-Wardrobe, she loves it, made it again in a jungle print and plans to make it in hot pink, if she can find the same fabric!

Congratulations, Patty the Snug Bug!



Random Entry Prize
Sewshable1 for her her Mini-Wardrobe Entries.



Pictured: BurdaStyle Magazine: 05-1993-118 (Jean style shorts)

Sewshable1 discovered this contest while she was planning her granddaughter's summer wardrobe. She chose a purchased white T-shirt as the centerpiece of the Mini-Wardrobe.

To match the T-shirt, she made red denim shorts from BurdaStyle Magazine: 05-1993-118, a skirt from New Look 6030, a floral top from Burdastyle 6-1995-116, and a tie-on cami from a Japanese pattern book called Linen.

She'd always wanted to try out BurdaStyle Magazine patterns, and since her DGD is at that early teen stage and not ready for grown-up fashion and sizing, this was a perfect opportunity to sew some patterns from the magazine. The red denim shorts pictured above were her first item.

She was thrilled that the shorts were very easy to sew. They fit together perfectly! And, most importantly, when she finished sewing them, they looked like the photo in the magazine.

She says that the T-shirt goes with all the bottoms and one of the tops for a total of 10 outfits!

Congratulations, Sewshable1!