First Prize (By Member Vote):
Diahn for McCall's: 5242 (Jacket).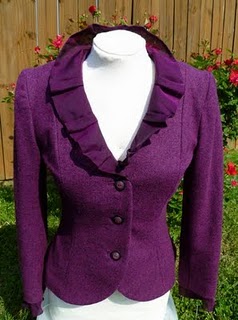 Pictured: McCall's: 5242 (Jacket)

Diahn picked McCall's 5242 to sew for this contest, a below waist, fitted, lined jacket with pleated collar, princess seams, back vent and sleeve flounce. She made a size 6, altering the shoulders, back, and sleeves to a size 4.

She used Vera Wang fuchsia lambswool flannel for the jacket, matching chiffon for the collar and sleeve flounce, and Vera Wang emerald silk satin for the lining.

She found that the silk satin had just the right balance of body and softness for this jacket. An added bonus for this project was that she purchased all three fabrics Fabric.com during their $1.95 sale, so the whole jacket cost less than $8 in fabric!

She found the instructions easy to follow and used them as a basis for incorporating tailoring techniques like bound buttonholes and mitred vents in the back and sleeves.

She will make this pattern again, but not soon, because she has so many other garments she wants to make!

Congratulations, Diahn!



Random Entry Prize
becca a for her BurdaStyle Magazine: 09-2010-113 Trench Coat.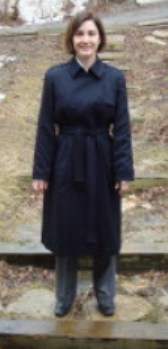 Pictured: BurdaStyle Magazine: 09-2010-113 Trench Coat

becca a saw 4 versions of this trench coat (a longer coat, a shorter coat, and two coat dresses) in BurdaStyle Magazine and decided to make the longer coat.

She started with a muslin and discovered that she needed to make almost no changes to the pattern. She made the coat itself from navy blue wool gabardine and navy rayon blend lining. She added shoulder pads to the final garment to give a neat shoulder line.

She didn't like the fact that the under collar and collar are both cut on the fold from the same pattern piece with no adjustment for turn of cloth. Next time she sews a tailored collar, she wants to try using an under collar cut on the opposite grain to the upper collar and seamed together at the center back.

She loves the way this coat turned out, and may sew it again if she gets through the many other trench, jacket, and coat patterns in her stash.

Congratulations, becca a!