First Prize (By Member Vote):
marjoriekh for Kwik Sew: 3658 Misses' Dress & Top



Pictured: Kwik Sew: 3658 Misses' Dress & Top

marjoriekh made several versions of Kwik Sew: 3658. She chose this pattern because she had made it twice before (unreviewed) with great success! So it was perfect for this contest. She wanted to make a long-sleeved dress, but in order to follow the rules, all her dresses had to be long-sleeved. So she found herself in July sewing long-sleeved dresses! Next year, she swears she'll sew summer dresses instead for the contest.

She used fabric from her stash: green floral lightweight 4-way stretch cotton/lyra knit (for a wearable muslin), a navy blue heavyweight 4-way stretch cotton/lycra knit, a light blue 'brocade' printed medium-weight cotton/lycra knit, and a cinnamon wool/cotton/poly (mostly wool) chunky boucle knit. (marjoriekh, that's an impressive stash!)

She made the same alterations to each version, including raising the v-neck, adding length to the torso and adding length to the sleeve and skirt hems.

She made the muslin first and discovered that it was very wearable. She says it is now her most-complimented dress.

She has sewn this dress 5 times so far and has plans to sew it again. DH says it emphasizes one of her best features.

She credits her family for helping her through this project: her 9-year-old daughter took the photos, her 11-year-old son helped her create the images in Paint, and her husband patiently smiled through a number of very late dinners.

Congratulations, marjoriekh!



Random Entry Prize:
Ejegmama for Oliver + S: OS001TP Tea Party Sundress, Bloomers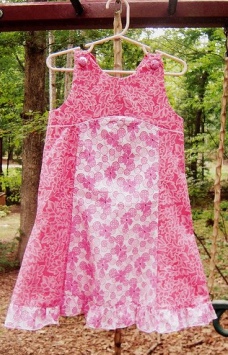 Pictured: Oliver + S: OS001TP Tea Party Sundress, Bloomers

Ejegmama made two copies of Oliver + S: OS001TP, one for DD and one for a friend's daughter. According to the pattern description, this is the proper attire for tea with Bear, Kitty, and friends (just so you know in case you're invited to one!).

This girl's sundress sewing pattern features button straps, curved bodice seam, optional flat piping, and gently flared skirt. The bloomers sewing pattern features an elasticized waist and leg openings.

She found the instructions very easy and only adjusted for the different heights of the girls.

She loved the fact that the pattern did not require large pieces and was able to make the dresses from scraps. One dress was made from leftover cotton fabric from a dress made for an older sister. The other dress was made from the outer layer of a prom dress bought from a thrift store. The fabric was a glittery translucent polyester lined and underlined with batiste.

She has sewn this pattern before the contest and plans to sew it again in the future. She highly recommends it and says that it's a great combination of a cute little girl style with well-written directions.

Congratulations, Ejegmama!