First Prize (By Member Vote):
Hiyoko for Simplicity: 5006 Misses' Lingerie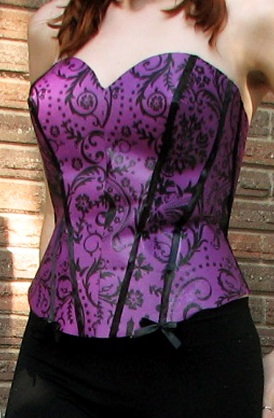 Pictured: Simplicity: 5006 Misses' Lingerie

Hiyoko accepted the challenge of this contest with eagerness. Although she had been a PatternReview member for quite a few months, she hadn't yet entered a contest. She decided to make her debut with this one.

Instead of heading off to the fabric store, she went to the dollar store and spent a total of $10 for this contest. What unconventional material did she use, you ask? She used...gift bags! While she was "hanging out in the Dollarama", she saw some striking extra large purple damask gift bags. She envisioned them as being perfect for making a corset from Simplicity 5006.

In addition to the gift bags, she used 16 eyelets, thread, ribbon, and a glue gun to make the corset. Because she was not using fabric, she had to make some changes in her pattern steps. She didn't need to use boning, because the gift bags were very stiff. She added decorative ribbon and bows, and instead of using grommets, she used eyelets. And she didn't need to use fusible interfacing.

She found the pattern relatively easy, compared to Simplicity 2355, which she has also made but hasn't reviewed yet. She thinks that someone who has never tried making a corset before should start with this one.

She has one caveat, though. Although the corset is very pretty, it is very uncomfortable, especially in the hot weather.

Congratulations, Hiyoko!



Random Entry Prize:
lizziwhizz for No Pattern Used: Apron Shower Curtain/Paper Doily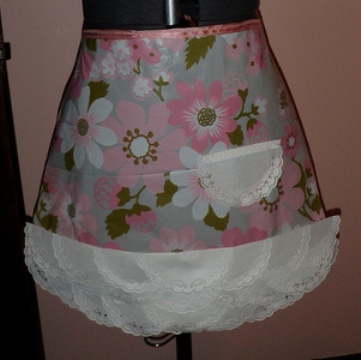 Pictured: Apron - Shower Curtain/Paper Doily

lizziwhizz had a lot of fun with this project. She envisioned making a "frilly" apron out of doilies, then ran out of doilies!

For the base of her apron, she used a piece of vintage vinyl shower curtain that she purchased at a thrift store. She used most of it for other projects, like lining "ditty bags" for traveling.

She cut an apron-shaped piece of the vinyl curtain. She folded the doilies in half and overlapped them in rows, using a dot of glue to tack them temporarily. Then she flipped them open and stitched them to the vinyl near the fold. To keep the vinyl and paper doilies from tearing, she used the longest stitch length.

She used a leftover piece of seam tape for the apron tie.

She says that the apron is not really useful because the paper doilies would wear out pretty quickly. She does think that it would make a cute window display for a store that sells upcycled creations.

Congratulations, lizziwhizz!