As part of our new blog, we'll feature a highly recommended pattern from the past week.

Today we're featuring Vogue 1208 (Tom & Linda Platt bias dress), as reviewed by jenleeC.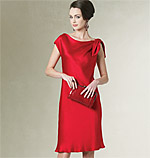 Pictured: Vogue 1208

After much hesitation along the lines of "To muslin or not to muslin" (see her review for details), jenleeC put aside a beautiful piece of emerald green silk and used a satin polyester (95% polyester, 5% spandex) with the same draping qualities to create her version of Vogue 1208, a simple bias-cut dress.

There are only 4 pattern pieces to this pattern (two of which are a bow and a knot), so there was very little sewing to this dress. She found the instructions clear and easy to follow, but she made some changes to the construction.

The bias seams were not as tricky as she feared. And she had some help with the ironing. (Why is it that kitties always want to lie down on the piece of fabric you're working on?)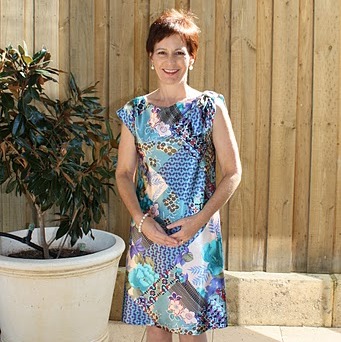 Pictured: jenleeC's Vogue 1208

She loves the simple styling of the dress. She says it's a great dress for petites or tall slim women.

Highly recommended! Thanks, jenleeC!