Who doesn't love children? And who wouldn't love sewing for them!

At least 106 PR members love sewing for children! That's how many entered this contest!

These motivated contestants had two months to sew up something spectacular-- a garment, home decor, or craft item-- for a little one ranging in age from newborn to 12 years old.

It was a chance to showcase sewing in smaller sizes. (The fittings are different for kids too...adults don't usually squirm during them!)

You'll agree that everyone did a great job when you look at the Contest Gallery.

Now on to announcing the winners!



First Prize (By Member Vote):
J Wo for Ottobre Design Magazine: 06-2008-17 "Rosy Red" Velveteen Coat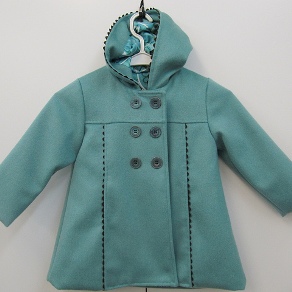 Pictured: Ottobre Design Magazine: 06-2008-17 "Rosy Red" Velveteen Coat

J Wo found this wool/cashmere fabric in Melbourne and just had to use it for this double-breasted, hooded, lined coat because it drapes beautifully. And it was great to sew, too!

She used a patterned quilting cotton for the lining, but decided against the recommended batting, because it just doesn't get that cold in New Zealand, where she lives.

She realized that the panel sections of the coat allowed embellishment, so she placed rickrack along the front seams. She also added it around the hood edge and along the back yoke.

She decided against using the recommended buttons, because the little girl she's sewing for is only four years old. Instead, she used snaps inside with buttons added to the outside for show.

She loves the shape of the coat and the in-seam pockets... a classic style for an adult that she hoped she could achieve for a child.

And she definitely would sew it again, saying it allows for a variety of fabric choices for different looks.

She had two months to sew the coat in this contest, but she'll have to wait longer to see her creation in use, because the little girl the coat's intended for won't grow into it until next winter!

Congratulations, J Wo!

Random Entry Prize:
Ghainskom for Farbenmix: WILLEMIENTJE WILLEMIENTJE

Congratulations, Ghainskom!





And congratulations to all our contestants for their wonderful children's creations!

Thanks to our sponsor:





We also thank PR member ladybegood for managing this contest.

Discuss the contest.

Look at the contest rules.

Look at the contest statistics.

Look at all the contest entries

Never entered a contest before? It's easy! Our contest tutorial will show you how to enter.

Check out the current contests.

Check out the 2011 contests.