It's no secret that we love to make and wear knit tops. The feel of soft rayon jersey with vibrant prints and solids is just something which cannot be described. You have to make one of these tops and see for yourself. It's my favorite knit to sew and wear. Bonus? It sews up very quickly too.

But lets face it, how many same old tops can you sew, so I started reading reviews to get some ideas on which neckline details I could incorporate into my next top using my favorite patterns. My findings were so fun that I decided to share them with you and as Sherril suggested, we're going to start a sew along! So read on and join in the fun.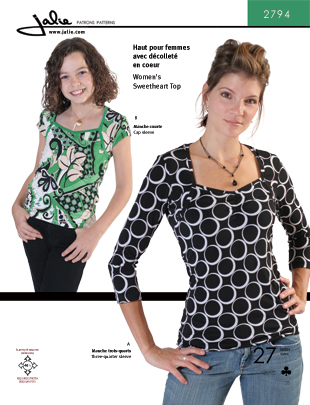 Jalie 2794 is a really cool pattern to begin with, but it also lets you be your own designer. Here are some ideas to switch it up a bit.

Idea #1 - Adding a Ruched Strip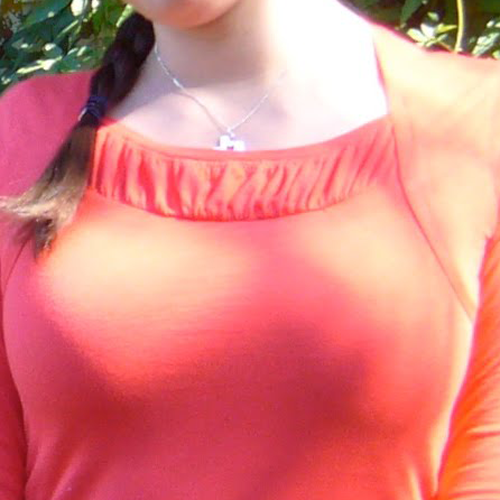 bellelas and Patti B added a strip of ruching to the top.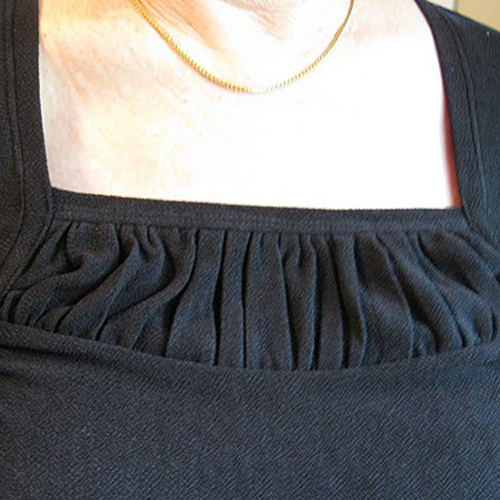 Here's how they did it.

1. Cut a strip 2.75" wide and twice as long as the top of the lower bodice piece. You can either lower the bodice to make room for this strip or choose to make the neckline higher.
2. Gather the strip and sew it to the lower bodice piece.
3. Sew the top following the pattern instructions and you're done!

Idea #2 - Tucks and Beads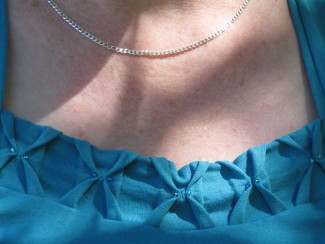 artkat added tucks and beads to her top!

How to:

1. Cut 2 strips of fabric 2.5 inches wide and in one of them make 1 cm tucks approx 4 cm apart (from fold line to fold line).
2. Press the tucks so they are facing each other.
3. Use the other strip as a facing, sewing it right sides together and turning it under.
4. Hand stitch the pleats in the center to face the other way and add some seed beads.

Have you added any fun details to your tops lately? Tell us about them.

Idea #3 - Contrasting Binding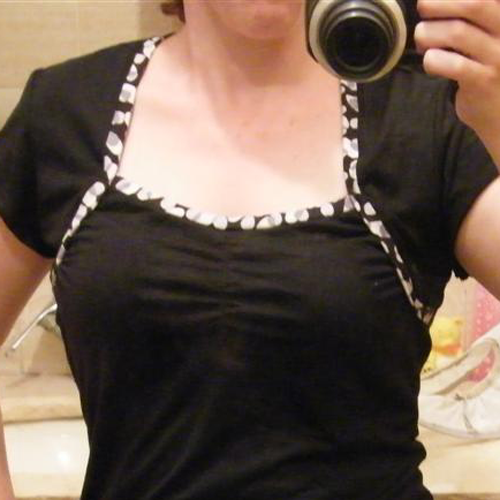 I love this! So simple and yet so dramatic. Take a look at the transformation on michalklimer's black top. Doesn't it look stunning? I suggest using black or dark colors like navy blue or chocolate brown for the body of the top. In fact I've been saving up strips from my funky paisly top to use as binding.

Idea #4 - Braid it!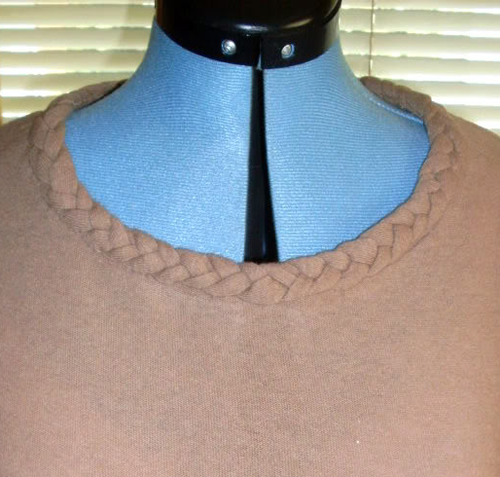 When was the last time you braided hair? Well, you may be rusty but it's time to practice on fabric strips! jannw did it on another pattern but this technique could easily be adapted to any knit top.

How to:

1. Cut three strips from the selvedge edge where the fabric curls naturally. Or cut them on the bias.
2. Pin the strips to a cork board or ironing board and start braiding. It may take a few tries to get the tension even but it's fun!
3. Hand sew the braid at the outer and inner edge of the top.

Since this embellishment is on top of a completed top, it's easy to change it even after you've sewn it.

I am saving my favorite finding for last!

Idea #5. Add Fabric Flowers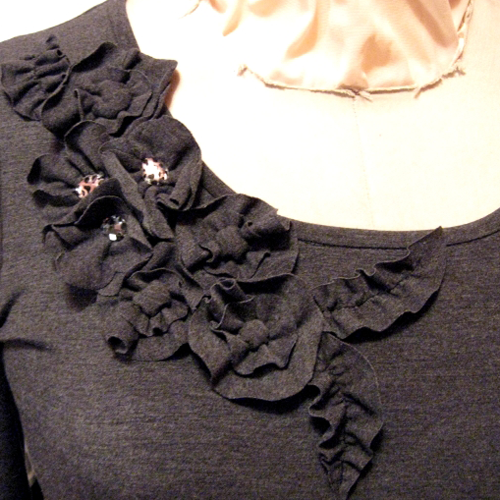 PR member Sherril Miller added fabric flowers to her favorite knit top.

Here's how she did it.

Leaves

Using knit fabric that is either matching or contrasting to your t-shirt, cut long narrow leaf shapes by folding fabric in half and cut a long strip wider in the middle and tapered to a pointed end. It can be a straight strip since it will be shaped later. With matching thread and a long stitch length, sew a single row down the center of each unfolded leaf shape. Gather the stitching loosely to make the leaves. Pull the threads to the back and tie off securely.

Round Flower

Cut two different size circles and stack them. Next, sew a straight stitch in a circle inside the smaller circle of fabric. It doesn't have to be perfect. Gather these threads so that a small bubble is formed in the center of the flower. Pull the threads to the back and tie securely.

Petal Flower

For the shaped petal flower, fold the fabric in half and then in half again the other direction. Cut a modified teardrop shape so that when the fabric is opened, it will have a four petal shape. Make 2 of these--they don't have to be exactly alike. Stack these shapes, rotating one so that the petals are off-set. Then fold the flower stack in fourths again and sew a few stitches across the bottom point. The threads can be tied or backstitched. Once the flower is opened back up again, a jewel can be sewn into the center.

Arranging
Arrange the flowers and leaves in a pleasing manner on your top and sew them down to the t-shirt neckline by hand. For more info, visit Sherril's Blog

What a great technique! I am so excited by my findings that I've started a Sew-Along. Will you join me? Are there any fun techniques you've experimented with? Tell us about them.