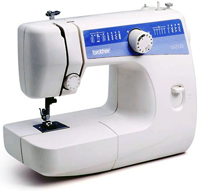 Mikgirl bought the Brother:LS-2125 from Walmart when she started sewing about 10 years ago.

Her immediate goal was to hem pants, but she had almost given up after trying a few sewing machines that she wasn't even able to thread.

But this machine was the charm. She started sewing gift bags and progressed to garment sewing.

In the past 5 years, she has used it heavily. At one point, the machine got loud. When she read the manual, she figured out that it needed to be cleaned and oiled (a task which she hadn't realized she needed to do). After that, she says, it worked like it was almost new.

She recommends this machine to others who are learning to sew. She says it's a pretty good machine for under $100...not that she wouldn't like more advanced features, now that she's seen them on other machines!

Her conclusion: this is a great sewing machine for the price if you are a beginner and just want to sew casually.

Read mikgirl's review of the Brother:LS-2125 Sewing Machine.