Before we talk about the Costume Contest, we have an important request. Let us know what contests you'd like to see in 2012! Take our contest poll.

It's that time of year when the days get shorter and we think about making Jack-o-Lanterns. That's right! It's almost Halloween!

34 PR members have been thinking about Halloween and other costume events since September 1st, when the Costume Contest started. What have they been thinking of?

Why, fairies and Turkish dancers and Patrick from Spongebob and kimonos and Elizabethan outfits and Red Riding Hood and puppy costumes and a costume for a puppy, to mention a few thoughts.

Whew...that's a lot of thinking and dreaming! See all their wonderful imaginings in the Contest Gallery.

Now it's time to announce the winners!



First Prize (By Member Vote):
Aroura for
Self Drafted Pattern: 187297-1012 Tinker Bell Costume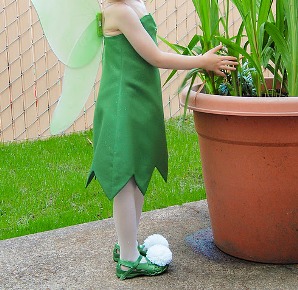 Pictured: Self Drafted Pattern: 187297-1012 Tinker Bell Costume

Aroura's DD decided that she wanted to be Tinker Bell for Halloween, so Aroura looked around for a good pattern. All the Tinker Bell patterns she saw looked like generic green fairies and did not have Tinker Bell's distinctive look. And all of them were two piece costumes with a bodice and skirt (Tinker Bell's outfit is a one-piece dress). So she decided to make her own costume, based on the official Disney Tinker Bell costume from the movie premiere.

First, she sewed a muslin in poplin and made many adjustments to get the perfect fit.

For the actual dress, she used a pretty glitter satin that she found was not too hard to sew, and for the lining, a remnant of crinkled polyester. For the almost invisible straps, she used a nude, not-quite-sheer knit.

DD was very patient through the multiple fittings and alterations.

Aroura made a lot of effort to get the accessories just right. She purchased white Skechers at Goodwill, painted them with 4 coats of matching green paint and fashioned her first-ever pom-poms for the shoes with glitter yarn. She tried making her own set of wings but just wasn't happy with the outcome (see her review for McCall's 5904). She ended up customizing some purchased wings.

The result of all this work was a wonderful one. Both she and DD were thrilled with the finished product, and DD ran around the house all afternoon pretending to fly!

This piece is Aroura's first-ever self-drafted pattern. She says that she found it much more difficult to get a good fit than she expected, but it was a great learning experience.

Congratulations, Aroura!

Random Entry Prize:
ColeConky for Portabello Pixie: Claire Claire

Congratulations, ColeConky!





And congratulations to all our contestants for their wonderful costumes!

Thanks to our sponsor:




We also thank PR member Gelbean for managing this contest.

Discuss the contest.

Look at the contest rules.

Look at the contest statistics.

Look at all the contest entries

Never entered a contest before? It's easy! Our contest tutorial will show you how to enter.

Check out the current contests.

Check out the 2011 contests.