This week's Highly Recommended pattern is the Jalie 2795 Hoodie, reviewed twice by grays08, the first time for a version she made for herself and the second time for a version she made for her two-year-old son.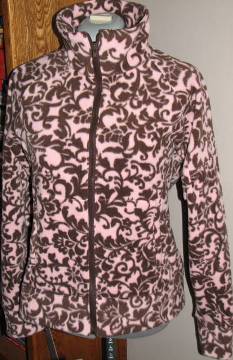 Pictured: Jalie 2795 Hoodie

grays08 has great things to say about this pattern. She made this zip-front jacket without the hood in size U to match her bust measurements, as Jalie recommends. And it fit great!

The instructions were super-easy, which she says is typical of Jalie, although she recommends that they add a step to sew the zipper in instead of catching it by the topstitching. And she loves the topstitching, saying that it makes the jacket look really professional.

She used an anti-pill fleece from JoAnn Fabrics. She says that the print makes it hard to see the details in the photo, but she wouldn't shy away from using a print again, because the print makes the piece unique.

She added zippers to the pockets, because she likes the security of them. Otherwise, she didn't add anything extra.

She made a size G with a hood for her two-year-old son. She thought it would be a little big, but it actually fits him perfectly. She attributes the fit to the fact that the pattern is sized for girls.

She loves how the hood lays down when it's not being used. Again, she loved the topstitching and how professional the garment looks.

She found this pattern a really enjoyable one to work on and plans to make these for her kids again and again over next few years as they grow. She says she'll get lots of use out of this pattern!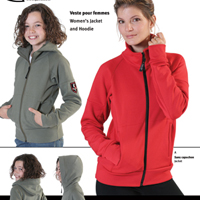 Find out more about the Jalie 2795 Hoodie.

Thanks, grays08!

Show the world that you're proud! Tweet your reviews to family and friends with our new Twitter App and enter the October Giveaway at the same time. It's easy! Details here.