Happy 10th Anniversary to us!

There are just a few more days left to enter the drawing for the October giveaway to celebrate our 10th Anniversary!

But before we get to that, we want to let you know that preparations are well underway to celebrate PR Day on November 19 around the world! Check out the celebrations!

Celebrate now by entering to win the October giveaway!

Sign up for our new Twitter App in the month of October to win a one year's subscription to Threads magazine.




Share your PatternReview activities by automatically sending a tweet to family and friends!

If you don't have a Twitter account already, go to www.twitter.com to sign up. It's free!

Then read our Twitter App tutorial to set up your PR-to-Twitter link.

Or skip the tutorial and get the ball rolling by going to My Account and clicking on the Twitter/PR button: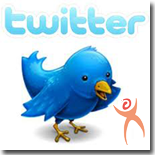 Once you have set up the PR-to-Twitter link, your name will be entered in the random drawing for the giveaway. We're choosing a winner next week!

We thank Threads for donating this fabulous giveaway!