When we think of pink, we think of pink ribbons and the fight against breast cancer.

Although this contest had no direct tie-in to breast cancer, it was a way to remind us that October, National Breast Cancer Awareness Month, is a good time to think pink.

68 PR members had pink in mind as they crafted their creations for this contest. Because color was the only requirement, the entries had a wide range. Members made Lucy and Ethel look-alike outfits (chocolate, anyone?), a fancy corded taffeta skirt, a top made of washed silk dupion, a maternity dress, a military jacket, a hiking shirt, a bustier, and dresses, jackets, skirts, pants, tops, vests and cardis...all in shades of glorious pink!

Be inspired by pink! Look at all the entries!

We usually announce one First Prize winner and a Random Entry Prize winner, but this month is a little different! We have one First Place winner...that's the same. But this time, every participant who entered a project in this contest is going to receive a free pattern from our sponsor, Studio Cherie! So everyone wins! Yay!

Now it's time to announce the First Prize winner.



First Prize (By Member Vote):
Terri A for
Vogue Patterns: 1107 Misses' Dress and Belt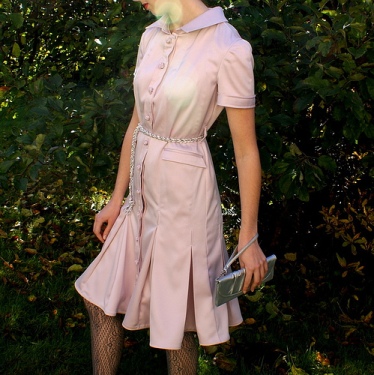 Pictured: Vogue Patterns: 1107 Misses' Dress and Belt

Terri A put a lot of effort into making this version of Vogue 1107. She made a muslin of this lined, A-line fitted dress. It has princess seams, welt pockets with flaps, pleats with underlays, bound buttonholes, self-fabric ball buttons, a belt and fabric carriers for the belt. [Whew! I'm tired just listing these features!]

This pattern is very detailed. The dress has lining and front facings interfaced all the way down and hem facings and separate lining pieces for every component, including bias strip pattern pieces for making bias to cover some of the inner seam allowances (although she did not use the latter).

For fabric for the actual garment, she used a French Pink peau de soie that she purchased a couple of years ago.

She lengthened the pattern in a couple of places, a task that involved lengthening 12 pattern pieces! She made many self-fabric ball buttons and includes a video of the process. She made several belts. She found the bound buttonholes and welt pockets challenging and labor-intensive.

One strangeness she encountered is a curious series of neckline wrinkles and pull lines.

She would not sew it again (it was a lot of work!), but she would recommend it to anyone who is willing to put in the same effort as in making a wedding gown. In fact, she can see this as a great wedding dress.

With many pictures and a video to boot, the making of this dress is well-documented.

This short write-up really cannot do her work justice. So you'll want to read her review to get the full scope of her work on this garment.

Congratulations, Terri A!





And congratulations to all our contestants for thinking pink wonderfully!

Thanks to our sponsor:





We also thank PR member jannw for managing this contest.

Discuss the "Think Pink" contest.

Look at the contest rules.

Look at the contest statistics.

Look at all the contest entries

Never entered a contest before? It's easy! Our contest tutorial will show you how to enter.

Check out the current contests.

Check out the 2011 contests.