by AmyRS

I had just finished hemming my Vogue 8241 dress. I was elated because this was the first sewing project that I'd completed well enough to wear proudly in public. The only thing left to do was to press the hem, and it would be finished and ready for wearing!

I had turned up the heat setting on my iron to press the hem. While happily pressing away, I was momentarily distracted by my fiancé, who wanted me to look at something cute one of our cats was doing. I walked away momentarily, leaving my iron sitting face-down on the corner of the hem. I returned to my iron after a few seconds, lifted it up, and - what do you know – there was a hole in my dress! How original! And melted polyester clinging to my iron!

After a few choice words, I considered re-hemming the dress above the hole. However, about 4 inches would have needed to be hemmed off, and I had just finished hemming it in the first place... the horror!

Instead, I decided to try my hand at patching it. I found a scrap section of the fabric that matched with the dearly departed portion, meticulously lined it up, and Stitch Witchery'd it until the cows came home. It was sort of fun actually, though I think I would have enjoyed myself more if I hadn't burned the dress in the first place.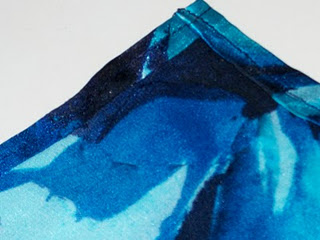 After: wrong side. See the oval-shaped hole (complete
with singed edges)?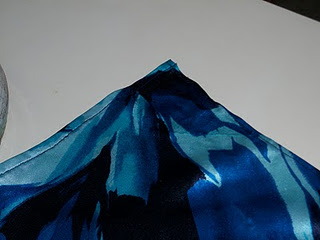 After: right side. See the little line cutting diagonally
from side to side? Plus, the hem is a little warped
due to the Stitch Witchery.

I definitely learned some lessons from this debacle:



No matter how cute the cat may be, nothing he is doing is more important than a hot piece of metal sitting on top of flammable materials.

Once they cool, melted poly-blends flake quite easily off of the face of an iron.

When necessary, questionable construction methods may be employed if the garment is for yourself and no one will notice.


I've worn the dress once since the iron incident, and no one noticed the patched portion on the lower back edge of the hem… that is, until I showed it to them and proudly recounted my feat of textile surgery.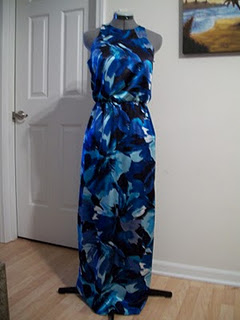 The rescued dress. It's wearable!

Which brings me to my last lesson learned – I shouldn't point out flaws in the garments that I make!

Read AmyRS's review.

Thanks to AmyRS, for letting us use pictures from her blog.

Curious about Stitch Witchery? PR members discuss it here.

Do you have a funny sewing story for In Stitches? We'd like to hear about it in your own words. Send your stories to

[email protected]

. Stories should be between 350 and 500 words in length. Include your real name and PR name, and attach pictures relating to the story.

If we select your story to be published, you'll receive a Friends of PatternReview membership (or an extension to your current membership).