By karen6790

Here in the City of Fabric Love, we had a small get-together - just 10 people in all. Quite a few who initially intended to attend were prevented by illness, other plans and the impending holidays. But some of us never let things get in the way of sewing!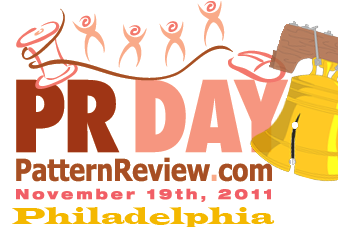 In attendance - karen6790 (organizer), Andrea670, Silknmore, Yardbird, ValerieJ, ElaineSews, pmac, Barb, Nannabelle and Yvonne.

Eight of us met at 4th and Bainbridge Streets, the entrance to Fabric Row.

We went first to Pennsylvania Fabric Outlet, which has a great, unpredictable assortment of fabrics and an amazing array of buttons, trims, interfacing, notions and even leather. Damage was done.

We zigzagged back and forth across the street and went to Baldwin's Fabric and Leather, which had recently consolidated its 2nd store into one location. The fabrics were a little pricier, but their leathers were delicious. We talked to the store employee about possibly organizing future classes.

Another stop at Zoll's to look at supplies, buttons, amazing bridal trims (I think we all left empty-handed), and a stop in Jack B's, one of the older stores left on the street (they opened in 1976). They carry mostly home dec fabrics, but there are garment fabrics scattered throughout, and a lot of their home dec fabrics are the kind you wouldn't object to wearing.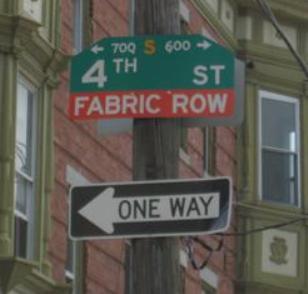 Carrying full PR bags, we adjourned to Alyan's restaurant at 4th and South for falafel, spicy fries and random other bits of Middle Eastern goodness. During lunch, we raffled off a copy of the PR Book (pmac was the lucky winner) and also a 10th anniversary PR bag (ElaineSews snagged the bag). As we were ending our lunch, we were joined by Nannabelle and Yvonne, fresh from a pattern-drafting class in the burbs.

We were sorry not to be able to spend more time together, but it was nice to see faces from PR Weekend Philly again and to meet a few new local PatternReview members. Even though we have a vibrant online community (thank you, Deepika!), it's wonderful to meet face-to-face and exchange ideas, inspiration and leave energized to go home and tackle a new project.

Embarrassingly, no photographs were taken. Even the people who brought cameras forgot to use them. I guess it's a sign that we were having fun.

See all the Flickr photos for PR Day 2011.

Talk about PR Day with other members!