No time to waste, these days! The holidays are coming! And many of us are busy sewing, sewing, sewing!

The contest committee decided way back when that we might need some incentive to sew at this time of year, and so this contest was born!

The items in this contest could be sewn, knitted or crocheted gifts or holiday decorations.

20 PR members put everything else aside and bravely soldiered on, creating all these wonderful projects!

With all this great work, I'm sure you're dying to know who accumulated the most points to win this contest, so I won't keep you any longer!



First Prize (By Points):
swany for
her contest projects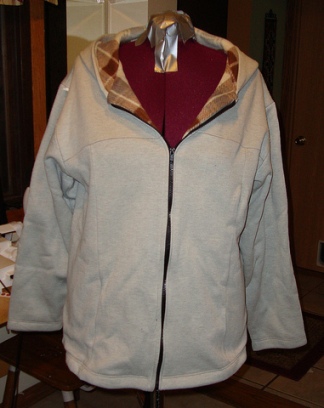 Pictured: McCall's 5252 Misses'/Men's Unlined Vest and Jacket

swany sewed 10 projects for this contest, including the jacket above. Her projects include tops, sleepers, hooded child's jacket, a bib, a kid's ruffled skirt, a dress, a top, and lingerie.

Busy lady! She really was motivated by this contest!

She made the hooded jacket in a grey sweatshirt fleece and lined it with a plaid polar fleece.

She made a little goof by turning the yokes around, from which she recovered. She found it much easier to complete the front of the jacket before attaching the back.

She matched the plaid lining perfectly by laying the pattern out in a single layer with the fronts lined up, followed by the side front and then the back. When she sewed it, she used a walking foot to prevent the plaids from shifting.

Congratulations, swany!

Random Entry Prize:

Judy Kski. See the gallery for Judy Kski's contest projects.

Congratulations, Judy Kski!





And congratulations to all our contestants for their wonderful costumes!

Thanks to our sponsor:





We also thank PR member Jacqui315 for managing this contest.

Discuss the contest.

Look at the contest rules.

Look at the contest statistics.

Look at all the contest entries

Never entered a contest before? It's easy! Our contest tutorial will show you how to enter.

Check out the current contests.

Check out the 2011 contests.