by Jacqui315


When I saw that PatternReview was celebrating its 10th Anniversary by holding worldwide gatherings, I jumped at the chance to organize one in my area. It was the only way to ensure that weíd be celebrating in Seattle. My daughter just finished with her first Nutcracker season, so I finally have a moment to write about it. She danced beautifully in her parts as one of the big mice and in waltz of the flowers. I wish I was as successful in my first year volunteering behind the scenes Ė I volunteered in another committee in addition to my assigned one (apparently a big no no), ran out of big nutcrackers (who knew they would sell after sitting unsold the last few years), made the coffee a bit too strong (no one knew how much to use) and ran short of ranch salad dressing (that one is totally my bad Ė of course everyone prefers ranch to French.) Now Iím an experienced volunteer all ready to start again in nine months.

As November 19th approached, the forecast started showing possible snow showers in our area. Snow in Seattle generally spells chaos on the roads as we are not accustomed to getting much snowfall. Our vehicles are not very snow compatible. Nor are we used to driving on it. I had started receiving messages of cancellations, understandably so. The snowed stayed away but we kept the chilly temperatures. I thrilled when I walked into Nancy's Sewing Basket and saw that several people were able to make it.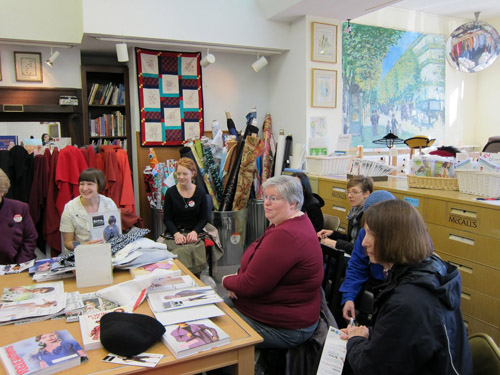 There were fourteen of us to greet our special guests, Liz Pursley and Gina Moorhead of Sewn Square One Patterns. If you havenít heard of this line, maybe itís because itís only one year old. I learned of these patterns at work, where I have a trendy boss who discovered these patterns right from the beginning. We learned that the Sewn Square One pattern line was launched with six patterns and a seventh one was just introduced. We were treated to a trunk show of all their patterns sewn up. What I absolutely love about these patterns is that they can be dressed up or down. Itís the perfect Northwest wardrobe. I wore the Go Anywhere dress. I wore it with flats that day, but I also have the perfect ankle booties to dress it up.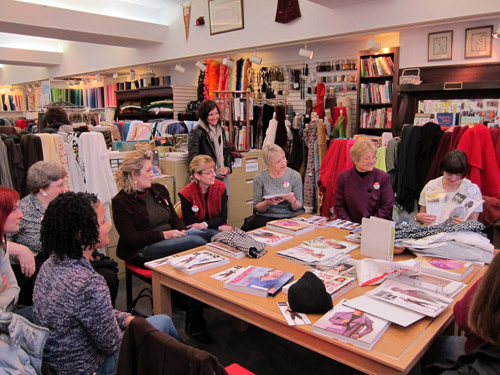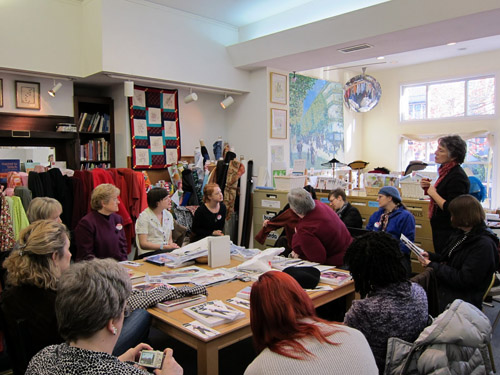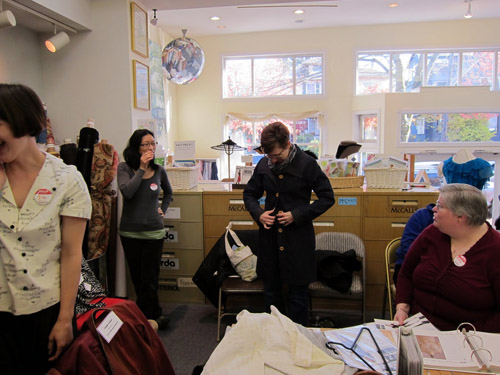 I saw beautiful fabrics purchased by our attendees. I stocked up on specialty ribbons and notions I canít find locally. I canít wait to bring my daughter back to the ribbon room when it comes time to make her confirmation dress. I spotted some beautiful heirloom style trims.

After shopping at Nancy's Sewing Basket (where the staff is as kind as ever!), the majority of us continued onto brunch/ lunch at Emmer and Rye. We had a chance to chat some more with Liz and Gina.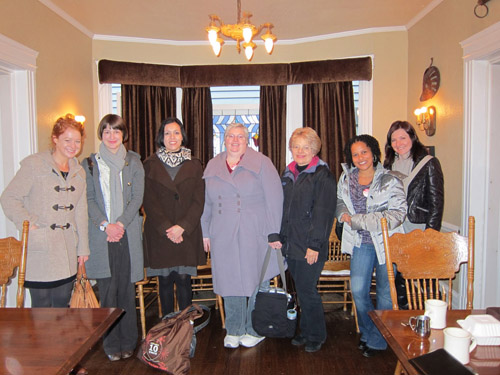 Our tour continued to Seattle Fabrics. Itís the go-to place for ALL activewear fabrics.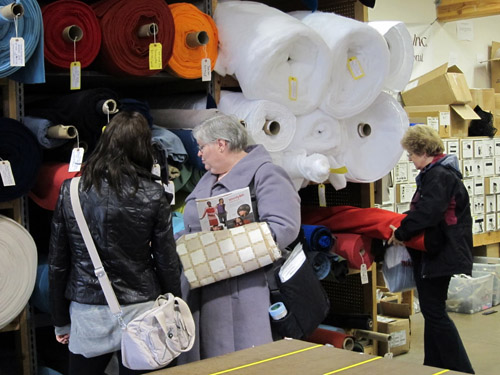 There were huge rolls on tall walls. We found all kinds of Polar Tech fleeces and rain wear like Gore Tex available in great colors.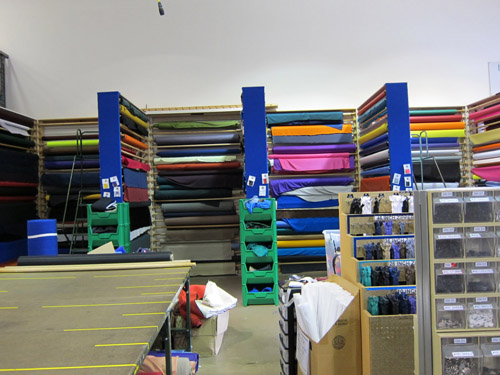 The glittered upholstery fabrics werenít limited for use on boats only Ė they had a great sample of the upholstery fabric sewn up into a messenger bag. Too bad I didnít think of taking a picture of it. They also have an impressive selection of patterns from leotards to sleeping bags to horse capes. I bought a Jalie leotard pattern I had missed seeing before. It looks perfect for my daughterís ballet classes.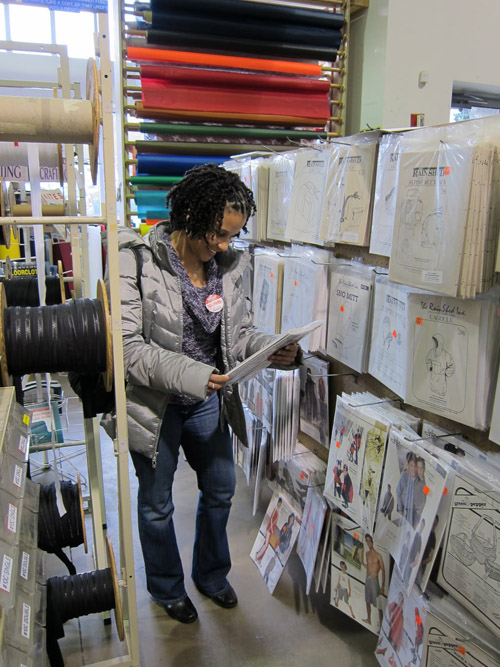 Finally, we ended our day at Pacific Fabrics in Northgate. We found a beautiful variety of fabrics for quilting, apparel and special occasion as well as a big and colorful selection of trims. Again, I wish I would have remembered to take more pictures. I wouldíve liked to show you everything these shops have to offer. I stocked up on corset making supplies at Pacific Fabrics. I was able to find steel boning in a variety of lengths and steel busks.




The staff at Pacific Fabrics was kind enough to let us use their classroom. There we enjoyed our PattternReview celebration cupcake cake. We also held our drawing for an autographed PatternReview Tips book and a 10th Anniversary Patternreview Tote and had a swap. There was a lot of fabric and patterns (including Burda magazines) for the swap thanks to the generous offering of our attendees.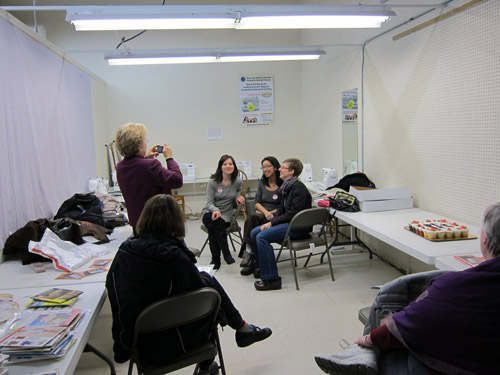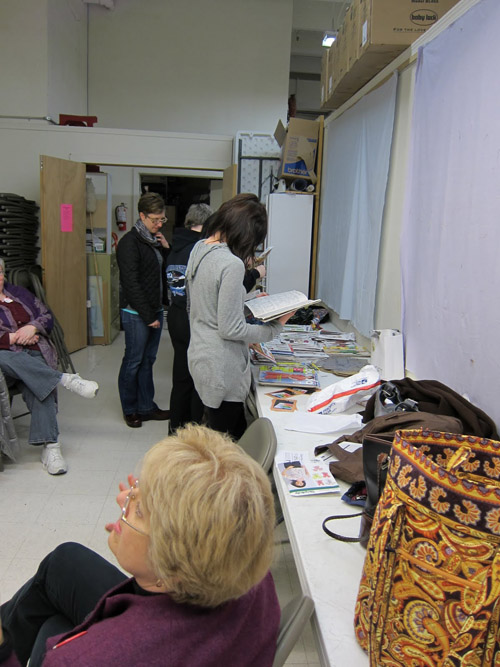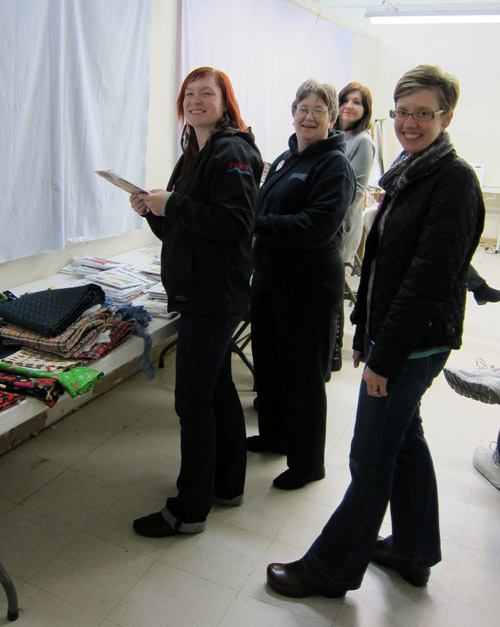 It was a long and chilly day, but I was happy to spend it with a great group of fellow sewists.

Visit Jacqui315's blog.

Read the other blog posts about Seattle PR Day:
Sewn Square One
Sew Maris

Talk about PR Day with other members!

See all the Flickr photos for PR Day 2011.