Your PR Name: BlossomKyle
Your Full Name: Kyle Dana Burkhardt
Member Since: 2008
Your Birthday: October 29
Your Blog: http://vacuumingthelawn.blogspot.com/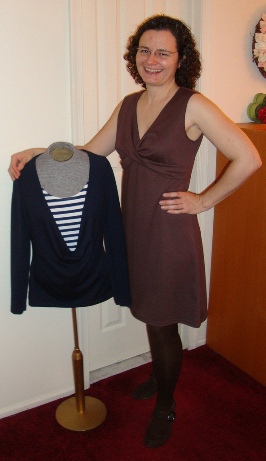 BlossomKyle in her New Look 6071 and
her mannequin Emma in her fresh-off-the-sewing-machine
StyleArc Demi Drape Top.

How did you learn to sew?
My mom showed me how to use the sewing machine when I was 12. I pretty much taught myself the rest! Lots of trial and error.

What aspect of sewing do you find most challenging?
Fit, especially for my swayback. I like garments to look good from the front, side and back, and sometimes itís difficult to achieve that for all views. Fit is the most frustrating part of sewing but ultimately the most rewarding. Locating the fabric I want can sometimes be a challenge.

Which sewing book do you refer to most often?
The Singer Complete Photo Guide to Sewing. I bought it in 1999 and purchased the revised version last year. I like the instructions for lapped zippers and my good friend piping, but Iím ready to graduate to a more advanced and detailed book.

What are your sewing goals for this year?
Gosh, I have a lot of goals for 2012 and beyond! First is to continue to elevate the level of my sewing ó I was inspired by the garments at PR Weekend Chicago this year. I would like to continue to really think about pattern and fabric choices before sewing up a pattern, and to remind myself that sewing is not a race or a competition. I would like to sew a real pair of pants with a zipper fly. I own a second-hand serger but never serged ďfor realĒ, so Iíd like to get it operational and start using it. I want to learn the blind hem stitch on my sewing machine. I also want to purchase a real dress form, and I will attend PR weekend in NYC in May. (Yes, attending PR weekend is a ďsewing goalĒ!)

What are you sewing right now?
I just finished the StyleArc Demi Drape Top ó my first StyleArc pattern ever. The exterior fabric is from my first trip to the NYC garment district (June 2011, Metro Textiles) and the inset is from PR Day Austin (November 2011, TexStyles).

Pick your favorite pattern (only one please).
Only one?! My favorite this year was New Look 6071. I sewed it at the end of October, but itís a dress for warm weather. For this relatively mild fall/winter, Iíve been wearing it with a brown cami, cardi, tights and Mary Janes, and I always get compliments! It looks and feels great to wear. I added back darts to get the side and back views to look as great as the front.

What you love most about PatternReview?
The reviews! When Iím interested in sewing a pattern, I read the pattern reviews first. If a pattern has negative reviews, I wonít sew that pattern. Frequently, members include suggestions or tips that are superior to the instructions included with the pattern; such a time and frustration saver. I love the review gallery for when I want inspiration to sew something new. I also enjoy the PR community. The first commenter on my very first review (PR member phthooey) is now my sewing best friend. Commenters are very friendly, supportive, and helpful. I also love meeting PR members at PR weekends and events. I went to my first PR weekend in May 2010 in Philly. I started the weekend not knowing anyone, and left with friends. Iíve also been to PR Weekend Chicago and PR Day Austin. I cannot stress enough how much fun PR weekends are to attend.

Any other hobbies?
I take group fitness classes at the gym, read, and practice mindfulness meditation. Iím also interested in cooking, not for fun, but for good health (cooking is such a drag to me and it detracts from my sewing time, but itís a necessity).

Your profession, where do you live, etc.
I work at Princeton University where I am an electronic research coordinator. I help manage a piece of software the university uses for tracking faculty grants, which involves testing, training, documentation and help desk work. I live near Princeton, NJ.

What would PR members be surprised to know about you?
I think a lot of sewists are surprised (and maybe even appalled) that I sew knits on my sewing machine and not a serger. I am very comfortable sewing double knits and certain types of jersey on my plain olí Baby Lock 2150 from 1994. I am proof it can be done! I lower the tension and use stretch needles for sewing, then use a stretch twin needle (my other good friend) for hems. From the outside, stretch twin needle stitching looks just like RTW hems on knits. I would like to get my serger operational to use it for other types of knits, though, and for finishing wovens.

Is there anything else that you'd like to tell us about yourself?
Sometimes commenters are curious about my green ďtripod-like thingĒ I use for taking pix ó itís called a Gorillapod.

Thank you, BlossomKyle!

BlossomKyle has 104 reviews!
Read her reviews.