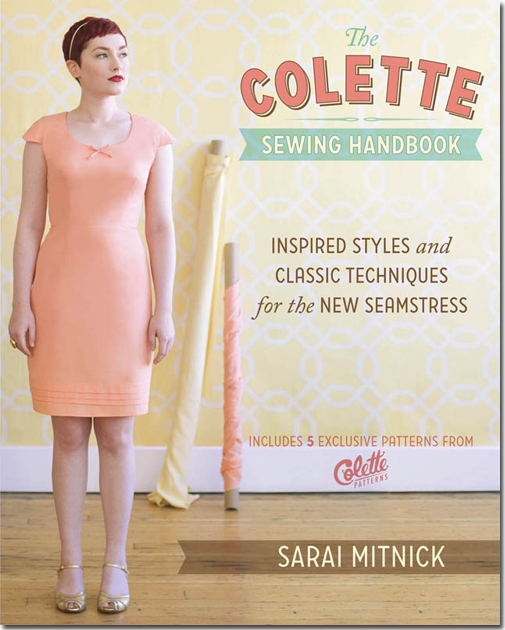 I'll be honest with you. I was attracted to the Colette Sewing Handbook for the patterns. I am a huge fan of pattern books so when this book was published, I picked up a copy right away. I did expect to see some lovely patterns in the book but what really impressed me about this book was the format in which the information is presented to the reader. I certainly don't consider myself an advanced sewer but I have a fairly good understanding of how patterns are put together so for me the incentive really was the patterns and I almost skipped the other pages, but when I opened it, I couldn't help but reading on.

My first LIKE (Besides the fact that it has 5 lovely patterns) - Spiral Bound. Which means it lays flat while you sew. A big plus when you are sewing patterns from this book.

Starting from Chapter 1 - Getting Started to Chapter 7 : Keep Learning, Sarai (The Author) "talks" to the reader as she teaches basic to slightly advanced skills. Most chapters are followed by projects which incorporate the techniques explained earlier. What a great concept!

In Chapter 4 - A Fantastic Fit, is one of my favorites in which she describes fit, ease and finally how to adjust the muslin to achieve the perfect fit. Isn't that the reason we all sew?

Chapter 5 focuses on quite a few commonly used fabrics and interfacings. I love the full page color photographs scattered throughout the book and I can't say enough about the step by step instructions for sewing all the patterns in this book. Even though retro is not really my style, the patterns in this book will work for me. The only problem is - Which one to sew first!

All in all this book delivers what it promises, excellent sewing information presented in a lovely format. I highly recommend this book to sewers of all skill levels.

Buy Colette Sewing Handbook from Amazon.com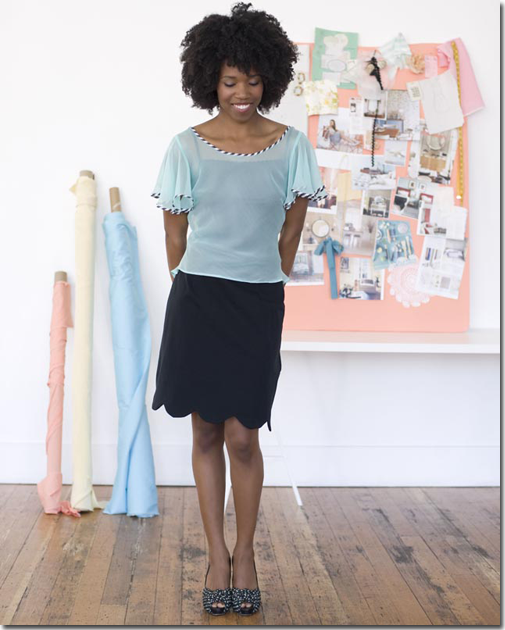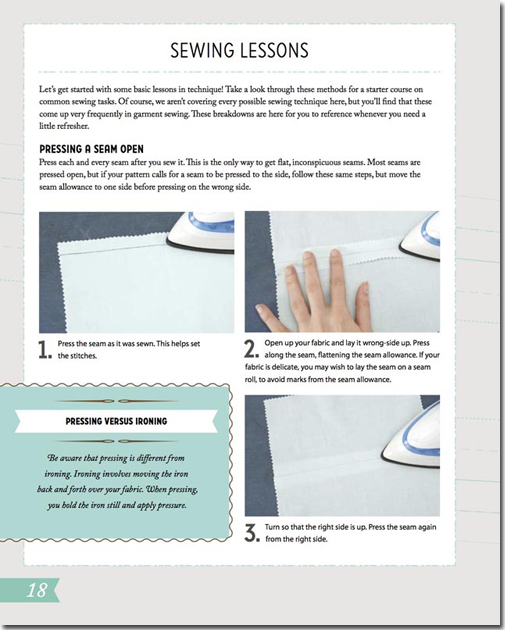 I shared my copy with DianeSev and NoelleMac at the office to get their perspective as well. Here's what they said.

- Diane Severin

Author Sarai Mitnick starts off The Colette Sewing Handbook this way:

"Women come to the idea of making their own clothing for a variety of reasons. Some of us want clothes that fit better, some crave unusual things we can't find in shops, some want to make the luxurious items we can't afford to buy, some are intrigued by the technical aspects of the craft itself."

Now doesn't that sum up the drive we PatternReviewers have for sewing?

Her audience for this book is the "adventurous beginning sewer", as well as the intermediate sewer who want to revisit the important elements of sewing in a relaxed way. She equates learning the craft of sewing with learning a language: each is a complex skill based on some very basic steps, best to learn at a relaxed pace that reinforces the foundation of what you're learning.

And so, Sarai divides this book with chapters that mimic the process of sewing: Getting Started, A Thoughtful Plan, A Precise Pattern, and so on. The idea is build skills, but not to be overwhelmed in the process of learning them.

The accompanying photos are close-ups and illustrate the teaching well. Her tone is friendly and helpful. And the book encourages you to get in touch with your inner seamstress and clothes horse. For example, in the chapter "Editing Your Style", she advises, "Once you have plenty of inspiration, [...] make some editing decisions based on what you will actually wear, and what fits your life."

Good words for those of us who fall in love with a color, a fabric, a style that is wrong, wrong, wrong for us, so much so that we hide it in the backs of our closets so that we don't have to wince at our mistake every time we see it!

She introduces us to techniques we imagine only in the realm of fashion designers ("How to Make a Personalized Croquis"), but again, in ways that are not intimidating. She also broaches a tricky subject for beginners: alterations. The text and illustrations are clear and simple. Even intermediates will learn from these lessons.

Sarai includes 5 patterns in this book (three dresses, one skirt and one blouse) in sizes 0-18 (sorry, plus-sizers!) and she carefully outlines the steps necessary to sew each one of them. I especially like how each of these sections is prefaced with a list of tools, supplies, and a skills checklist that shows the pages outlining the skill.

It's an attractive book, done in Colette's signature pastels. The binding is wire-o, and that allows the book to oh-so-helpfully lie flat, so that you don't need to prop it open with heavy things from your sewing room, like sewing machines and pressing hams.

This book gets my just-now-invented "Golden Scissors" award. Consider giving it a place on your sewing bookshelf!

- Noelle MacMahon

"This book is intended for any adventurous, beginning sewer who wants to branch out, as well as intermediate sewers who'd like to brush up their skills…" says Sarai.

I'd like to think I am adventurous, but the reality is I really need to brush up on my skills, so I gave this book a read.

The author's focus is on making quality, well-fitting garments, while remaining open to inspiration and the creative process. Her approach to this handbook is to provide five elements which are all important to being a successful and happy seamstress. The elements are organized by chapter, with a sewing project at the conclusion of each chapter to practice on. The book is spiral bound (thank you!!) with an envelope at the back filled with patterns.

The first chapter is devoted to tools and basic techniques needed for garment sewing. As someone who appreciates how much better something works with the proper tool, this was a helpful chapter. I even learned there is a difference between ironing and pressing! Who knew?

Chapter two delves into the planning aspect of creating a garment. Her planning process has three steps which some people may find useful, but which seems like a lot of extra work for me. But she does talk about how dressing for your shape and dressing to be comfortable should be compatible goals, which is a refreshing concept.

The next chapter gives details about everything you need to know about using a pattern. The step by step process here is super helpful with great photos and tricks. Again, I found out how much I didn't know about transferring markings-yikes.

Fitting is the subject for chapter four. It looks to be really comprehensive with detailed illustrations and notes, but I must confess, I am either too lazy or not ready to spend this much time constructing a garment, so I kind of skimmed this chapter. Someday.

Chapter five is a fantastic overview of everything to do with fabric, from drape to fibers, to interfacing. It is so helpful to have this kind of visual reference guide. There is also a section covering thread and needles which could have been a bit meatier, but still helpful.

Finishes is covered in chapter six. I would have liked more detailed instruction for really basic finishes like simple hems and how to install facings. I feel like this chapter could have been fleshed out a lot more, but it gives a great overview of using bias tape.

The book concludes with a reference and website guide which is always welcome when learning more about any craft or skill.
This is a really easy to read and pretty book, and having the lovely patterns and projects included make it a tidy handbook for anyone who wants to work on making a well-crafted garment.

Win a free copy of this book!
Sarai Mitnick sent us a signed copy of this book which we'll give to one lucky winner who posts a comment on this blog post. We will announce the winner on the 17th. Good luck!