Well, the big rush to finish garments for the Pattern Stash Contest is over. And now we have a little time to contemplate the entries before the next contest ends!

It's always interesting to see what patterns contestants in the Pattern Stash contest have delayed sewing: a Santa suit, a re-usable tote bag, loungewear, a cardigan, pyjama trousers, a spaghetti chef's hat with matching apron, a New Year's dress, doll clothes, Japanese garden pants, stuffed cat, and more.

And because we're curious, we want to know why these patterns were moved to the "later" pile - lack of time, not the right fabric, machine broken? Maybe this a good topic for the contest discussion board.

The range of pattern companies used was wide: the Big Four Plus, of course, and others like Jalie, BurdaStyle Magazine, Lady Boutique magazine, Sewing Workshop, Silhouette Patterns, La Mia Boutique Magazine, a newspaper pattern, Stretch & Sew, Ottobre Woman Magazine, Patrones Magazine, Advance Pattern Company, free patterns, Studio Kat Designs, Japanese Pattern Book, Favorite Things, Marfy, Controlled Exposure, Lekala Patterns, and Oliver + S. A real smorgasbord! You may want to try some of these yourself after you read the reviews in the gallery.

There were 52 participants in this contest. Wow! Congratulations to them all for sewing up a storm!

Now let's meet the winner!



First Prize (By Points):
jjhallum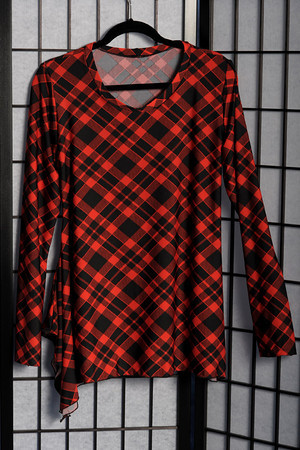 Pictured: Vogue Patterns: 8582 (MISSES' TOP)

jjhallum came out tops in this contest with 35 points for 35 items sewn and 35.375 yards used.

This Vogue 8582 is one of the 35 pieces that jjhallum sewed for this contest.

She made this semi-fitted asymmetrical pullover top in a poly-lycra knit with some modifications to the original pattern design. She combined views and constructed the long-sleeved top with a straight crew neck. She typically lengthens her sleeves by two inches, and she did that for this garment too.

Because poly-lycra likes to c-u-r-l, she decided to use a serger rolled hem edge on all hem edges, except the sleeves. She used a 5/8 traditional hem there.

She found the pattern instructions clear and easy to follow. The result is a figure-flattering top that was very quick to make: she cut it out in the evening and sewed it the next morning in an hour. As you can guess, she highly recommends this pattern and plans to sew it again.

Congratulations, jjhallum!

Random Entry Prize:
khurtdvm. Read her review for Simplicity: 9520 Large Dog Coats.

Congratulations, khurtdvm!




We thank Spoonflower for donating the prizes for this contest.





and we thank PR member Terri A for managing this contest.

Discuss the contest.

Look at the contest rules.

Look at the contest statistics.

Look at all the contest entries.

Never entered a contest before? It's easy! Our contest tutorial will show you how to enter.

Check out the current contests.

Check out the 2012 contests.