Have you entered a contest yet this year?

If not, you haven't seen our new contest face!

From now on, every contest on PatternReview will have a badge to highlight the contest.

Here's the badge for the Fabric Stash Contest: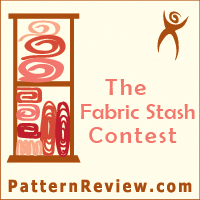 One of the great things about these badges is that you can display them on your blog when you've entered contests on PR!

How do you do that?



Click on the title Contests in the right-hand column of the PR home page.

On the contest page, find the contest you're entering and click on Join.

Once you've joined, you'll get a welcome message and the html code for two sizes of badges for your blog. Copy the html code for the size you want and paste it into your blog.


Now everyone who visits your blog will know that you are sewing up a storm for the contest, and you can bask in the admiration of your blog fans!

BTW, the Fabric Stash Contest ends on February 1st. Enter now and reduce the size of your stash!

Check out the badge for the upcoming Jeans contest!